I have a bunch of racquets at home for testing and the biggest surprise of the bunch is the performance of the Prince Beast 98. Below I will tell you more about it in my Prince Beast 98 Racquet Review.
The Prince Beast line of racquets replaces the Prince Warrior series and introduces some new options. You can read more about the other racquets in the Prince Beast series here, this is the Prince Beast 98 racquet review.
The Prince Beast 98 is a racquet that takes up the fight with other frames in the same category: spin-friendly, easy-to-use racquets made for a modern game. Other solid racquets in this category are: Babolat Pure Strike 98, Wilson Blade 98 CV and the Angell K7 Red (click on the links to read my review).
Prince Beast 98 Racquet Review – Here are the specs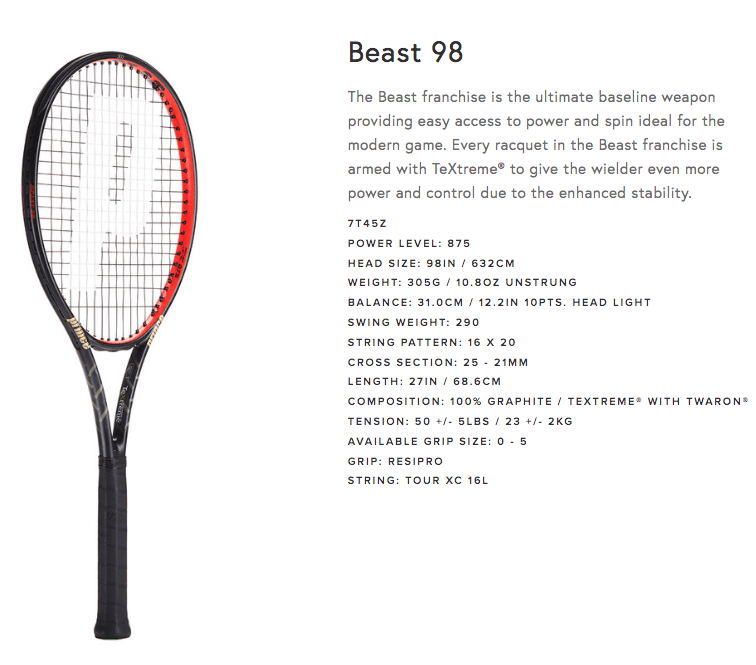 I think the spec sheet from Prince doesn't really reflect the Beast 98 that I have (it's not exactly "beastly" either). The 290 swing weight and 10 pts head light unstrung is lower than what I have. Mine came at around 330 grams and 32,5 cm balance strung an which felt like a close to perfect setup for it. I just added a few grams of lead at 3 and 9 and an over grip it was good to go. (It played fine also in stock form). The RA of 64 strung is pretty much spot on for this style of racquet.
Like most recent Prince racquets, the Beast 98 comes with Textreme technology. I have enjoyed pretty much every Textreme racquet I've hit with, so I think they've found something that works. If you want to hear/see Prince brag about what the Textreme tech does for the racquet – see below screenshot from the Prince website.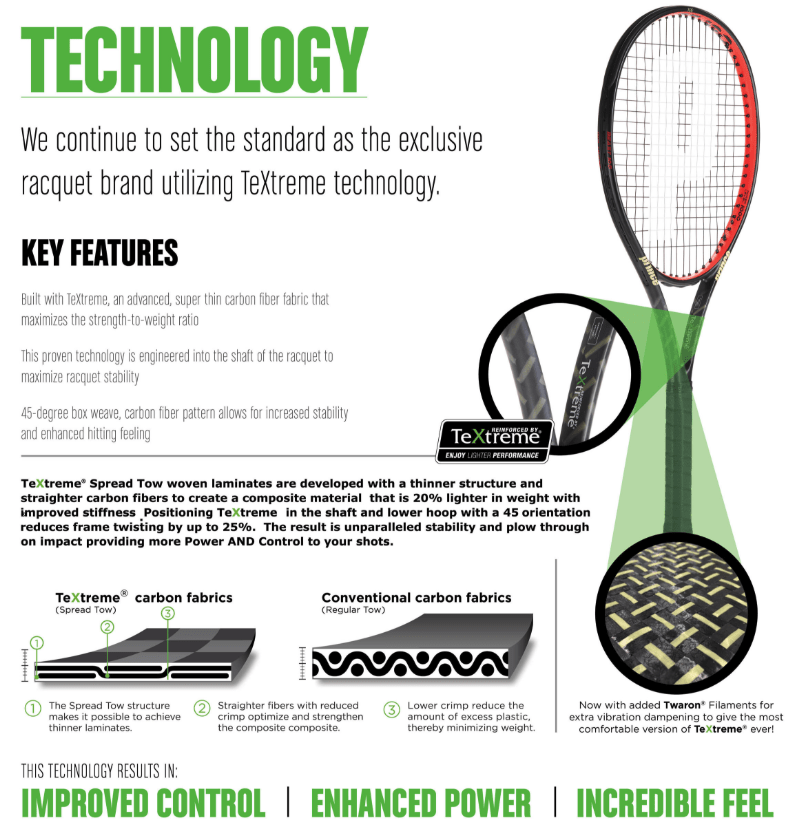 Prince Beast 98 Racquet Review – How it plays
I had a lot of fun doing the Prince Beast 98 Racquet Review simply because this racquet is a lot of fun to play with! Strung with Volkl Cyclone 1.25 (yellow)
 you can really hit some nasty angles and wicked spins that you rarely attempt with heavier racquets. I had to keep my swing speed up not to land short, but I felt free to swing out and go on the attack. This was really a nice racquet to be aggressive with and I have already hit my fair share of forehand winners.
The Prince Beast 98 is not for players who like to caress beautiful drop shots and play serve-volley tennis, but more of a controlled Babolat Pure Drive that offers the modern player a nice, crisp yet comfortable response. It's really a great stick for baseliners who like to play aggressively and move their opponents around the court. It's fast, yet stable and easy-to-use. I thought the Prince Beast series would be fairly unexciting, but after trying this racquet…I'm definitely impressed.
Prince Beast 98 Racquet Review – Video review
What do you think of the Prince Beast 98? Would you be keen to try it? Please comment below.
***
Do you like Tennisnerd? Don't miss a word or video by stalking us on social media. Every like and follow is appreciated!

YouTube
Instagram
Twitter
Facebook Page
Amazon Influencer
Buy tennis gear
EU
Racquet Depot
Pro Direct Tennis

USA
Tennis Express
Do It Tennis
Amazon.com
Racquet buying guides
Here is a great racquet buying guide to get you started.
What tennis racquet should I buy?
Top tennis racquets to buy right now
The Gear of the Year 2017
The Gear of the Year 2016
Tennis racquets for juniors
Tennis racquets for kids
Popular posts
What the ATP pros play
Questions about pro stock tennis racquets
Is a pro stock racquet better than a retail one?
Do professional players change racquets?
Racquet Commitment Issues