This might be seen as nonsense news to many of you, but it is always fun to speculate before the last Grand Slam of the year. After losing a poor final to Djokovic in Cincinnati, Federer is practicing with his old racquet (paint job) at the US Open. Why?
A nice video of Federer practising with his "old racquet" at the US Open was released and made me wonder why he is hitting with his old paint job (the racquet should be the same) and not the new one with the white sides. Okay, this is a practice session and might not have a huge significance, but Wilson cannot be happy that Federer is practicing with his old racquet when they are trying to sell the new one
. Especially since there is a lot of people watching his practices, as well as filming them.
Below you have a great video from his practice session uploaded by Love Tennis. See below.
Federer is practising with his old racquet at the US Open – Why?
There could be a couple of reasons why Federer is practising with his old racquet at the US Open. One of them could be that there was an issue receiving the right batch of racquets from Wilson. This sounds unlikely however, since every time Federer enters a court is a fantastic marketing opportunity for his sponsors Wilson, Uniqlo and Nike.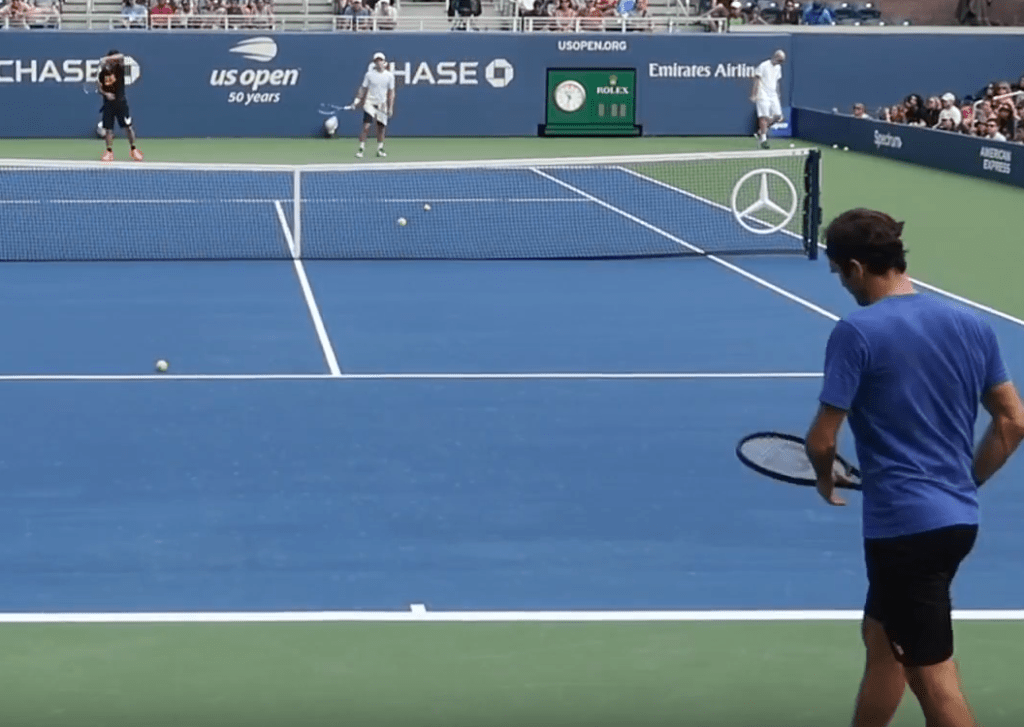 Another reason is that Federer is testing a new racquet. He has done some tweaks to his current setup and those are not yet available in the latest paint job, but instead blacked-out.
The third reason could be that Federer feels that the paint job somehow alters the feel and performance of his racquet, and he wants to go back to the old paint job. Remember how Juan Martin Del Potro refused to change his Hyper-Pro Staff in k-Factor paint? He only had a couple of frames and years passed before he moved over to the Wilson Burn FST 95
paint job.
A fourth possible reason could be that Federer is superstitious and since he got all his recent Grand slams with the other paint job, he wants to see if that works better than the new one did at Wimbledon for example.
Definitely a topic for an unhealthy discussion 🙂 Start your speculation engines in the comments below!