There has been plenty of buzz online about Roger Federer's new racquet that is being released soon. It will be the third generation paint job of the Wilson Pro Staff RF97 Autograph that Federer himself helped to design.
Roger Federer's new racquet is therefore not really a new racquet, but a different paint job to an already bestselling model. It started out as Red and Black, went all black with the current edition and apparently the next version will be black with white sides at 3 and 9. This is kind of the heritage design for Wilson racquet so in a way it makes sense, but a key question is – is this release necessary? (The pics come from Twitter account Love Roger Federer Live).
Roger Federer's new racquet – A practice video
I hope to see Roger Federer's new racquet up close when I travel to Stuttgart for the Mercedes Cup next week, but for now all I have is this quite poor quality practice video from Instagram poster Humberto Machado (who also got to take a selfie with the Fed). But despite the poor quality you can see that Federer is indeed playing with a paint job similar to the picture above from Letour tennis.
Watching @rogerfederer practice ????(? via IG/humbertomachadohm) pic.twitter.com/YIUk6gxQjN

— Suama (@suamax8) June 7, 2018
It will be great to have Federer back on tour for the grass court season, and it will be interesting to hear the reaction on the new paint job of the Wilson Pro Staff RF97 Autograph (read my review here)
. My personal opinion is that it is such a small cosmetic change (and not an improvement) that I think it would have been far more interesting to see an all-white racquet with gold sides, or something a bit "over the top".
Another idea would have been for Wilson to run a voting competition on their website or Instagram account which would have let fans choose what paint job Federer will play with for the rest of 2018 (and 2019). At least that would have been an interesting way to drive engagement among the tennis community.
Check out Roger Federer's Wilson Pro Staff RF97 Autograph on Tennis Warehouse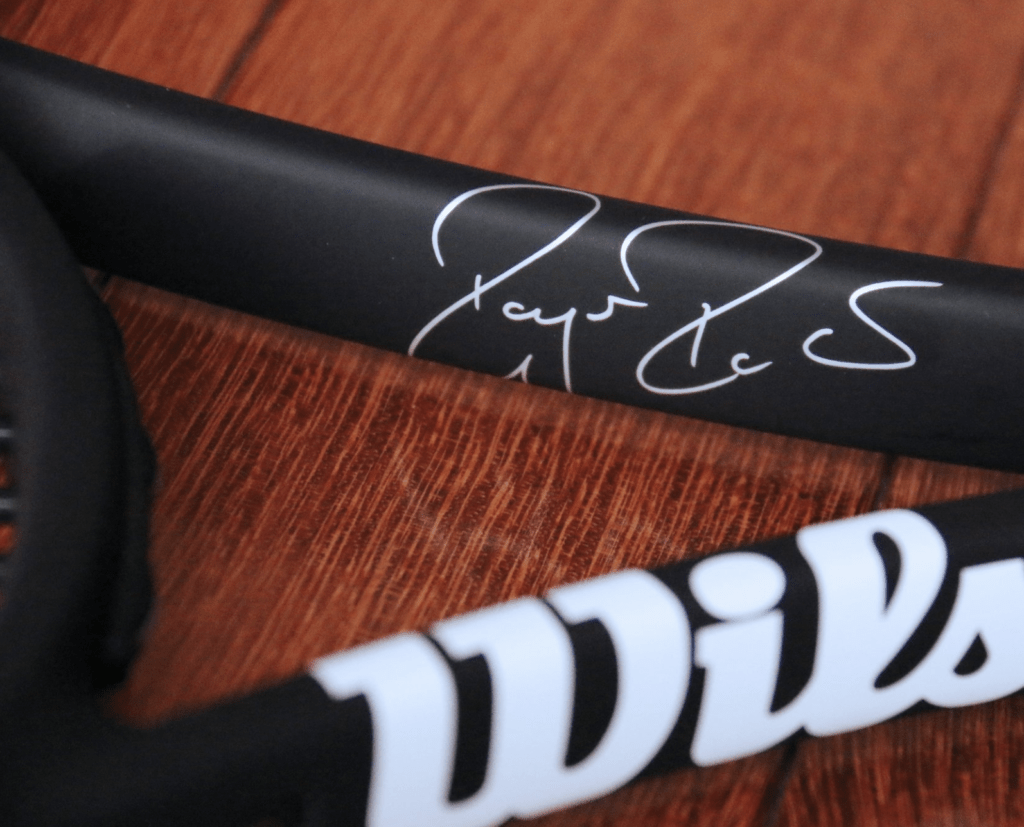 I have written quite a few posts about Federer's new racquet (and old racquet):
Roger Federer's racquet
Roger Federer's racquet setup
New paint job for RF97A?
Has his new racquet helped Federer become number one again?
Wilson Pro Staff RF97 Autograph racquet review
Wilson Pro Staff RF97A vs Yonex VCORE Pro 97 330
What do you think of the new paint job? And do you think this is at all necessary? Please comment below!
***
Racquet buying guides
Here is a great racquet buying guide to get you started.
What tennis racquet should I buy?
Top tennis racquets to buy right now
The Gear of the Year 2017
The Gear of the Year 2016
Tennis racquets for juniors
Tennis racquets for kids
Popular posts
What the ATP pros play
Questions about pro stock tennis racquets
Is a pro stock racquet better than a retail one?
Do professional players change racquets?
Racquet Commitment Issues