One of the most discussed topics on tennis forums is Roger Federer's racquet setup. Is Federer really playing with the Wilson Pro Staff 97 Roger Federer Autograph or is he using a special pro stock racquet? What are his strings? And so on.
I have written about Roger Federer's racquet setup and specs in this post and I reviewed the Wilson Pro Staff 97 Roger Federer Autograph racquet here. Since I had a RF97A with Federer's exact specs on weight and balance, I decided to get some Champions Choice strings
, power pads, string savers
and try it out. Of all my RF97A racquets, the heavier one felt by far the best. I thought it 366 grams strung would be cumbersome to swing, but it is not bad at all.
I really enjoyed this racquet with a full bed of the Luxilon Alu Power
string (it was not as bad on my arm as I thought it would be), but with the Champions Choice hybrid string in the racquet (Wilson natural gut
and Luxilon Alu Power Rough
) the racquet felt more comfortable, had more feel and power. If you find the right tension with a natural gut hybrid like this, it is simply another level.
Roger Federer's Racquet Setup – Is it for mere mortals?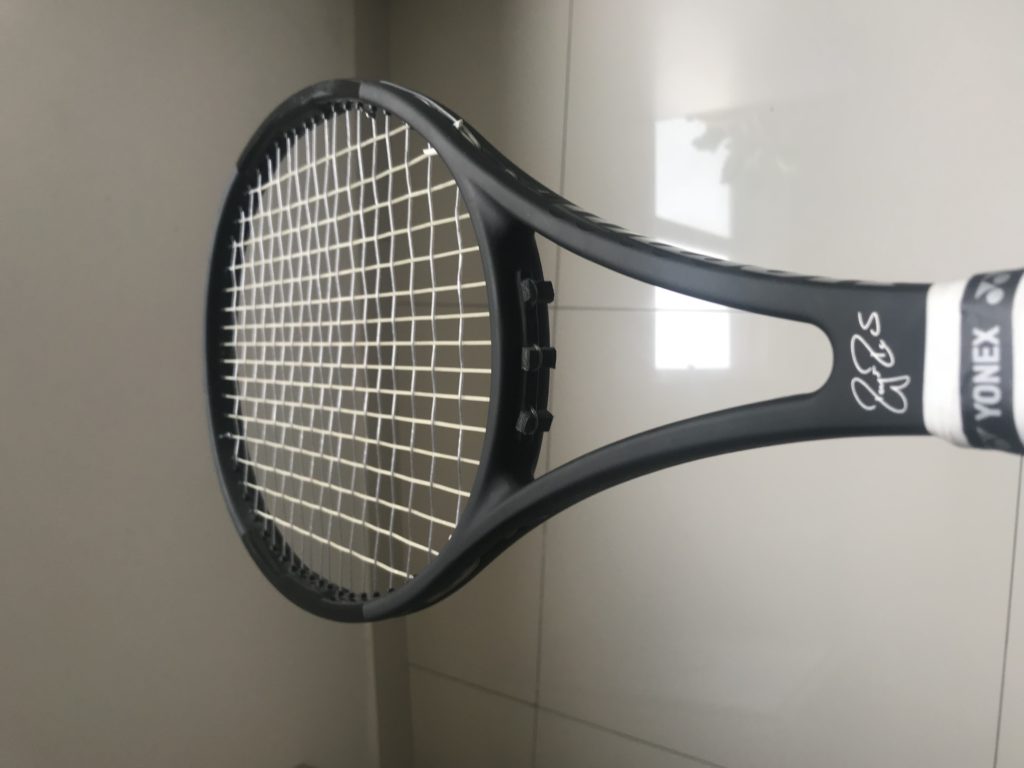 The issue with Roger Federer's racquet setup, except for the heft of the racquet that definitely does not appeal to everyone, is that the string setup costs more than 50 bucks per set. If you commit to it, you can of course buy natural gut and Alu Power Rough separately for a better price, but it is still going to cost you a lot more than your average poly or multifilament string. For Federer this extra cost is obviously nothing, but for recreational tennis players it can slice an unnecessary hole in the wallet lining.
You can obviously try cheaper hybrid string setups that can work more than fine for you. Babolat has their less expensive VS Touch + Pro Hurricane Tour set
 (there is one with RPM Blast too
) and you can obviously switch the natural gut for something else too. If a hybrid consisting of Wilson Sensation
and Luxilon Alu Power Rough
 is good enough for top 20 player Kyle Edmund (read about his setup here), I think it should work for a lot of rec players too!
Roger Federer's Racquet Setup – A short video
My knee is still troublesome (will hopefully heal in a few weeks) so there is not much video footage of me using Roger Federer's racquet setup, but I tried to put something together at least. I have been using Wilson Champions Choice in various racquets over the years and enjoyed it a lot also in my Wilson Six One 95
, but I felt it was just perfect in the stiffer RF97A.
I hope you enjoy the short video and that you consider trying a hybrid setup such as the Champions Choice, if you have not tried it before. It sure is worth a test!
***
Do you like Tennisnerd? Do not miss a word or video by stalking us on social media. Every like and follow is appreciated!

YouTube
Instagram
Twitter
Facebook Page
Amazon Influencer
Buy tennis gear
EU
Racquet Depot
Pro Direct Tennis

USA
Tennis Express
Do It Tennis
Amazon.com
Racquet buying guides
Here is a great racquet buying guide to get you started.
What tennis racquet should I buy?
Top tennis racquets to buy right now
The Gear of the Year 2017
The Gear of the Year 2016
Tennis racquets for juniors
Tennis racquets for kids
Popular posts
What the ATP pros play
Questions about pro stock tennis racquets
Is a pro stock racquet better than a retail one?
Do professional players change racquets?
Racquet Commitment Issues