I've been asked if I could do a post on the Wilson Pro Staff RF97 vs Yonex VCORE Pro 97 330 situation. They are both heavy player racquets with a 97 sq inch head size and 16×19 string pattern.
As you know I've been giving my first impressions on the Yonex VCORE Pro 97 330 here and I've recently written and recorded an updated review on the Wilson Pro Staff RF97 Autograph here. Playing these racquets side to side has been truly interesting and I'll keep doing it for a while more, but here are my general impressions in the Wilson Pro Staff RF97
vs Yonex VCORE Pro 97 330
matchup.
Wilson Pro Staff RF97 vs Yonex VCORE Pro 97 330 – looking at the specs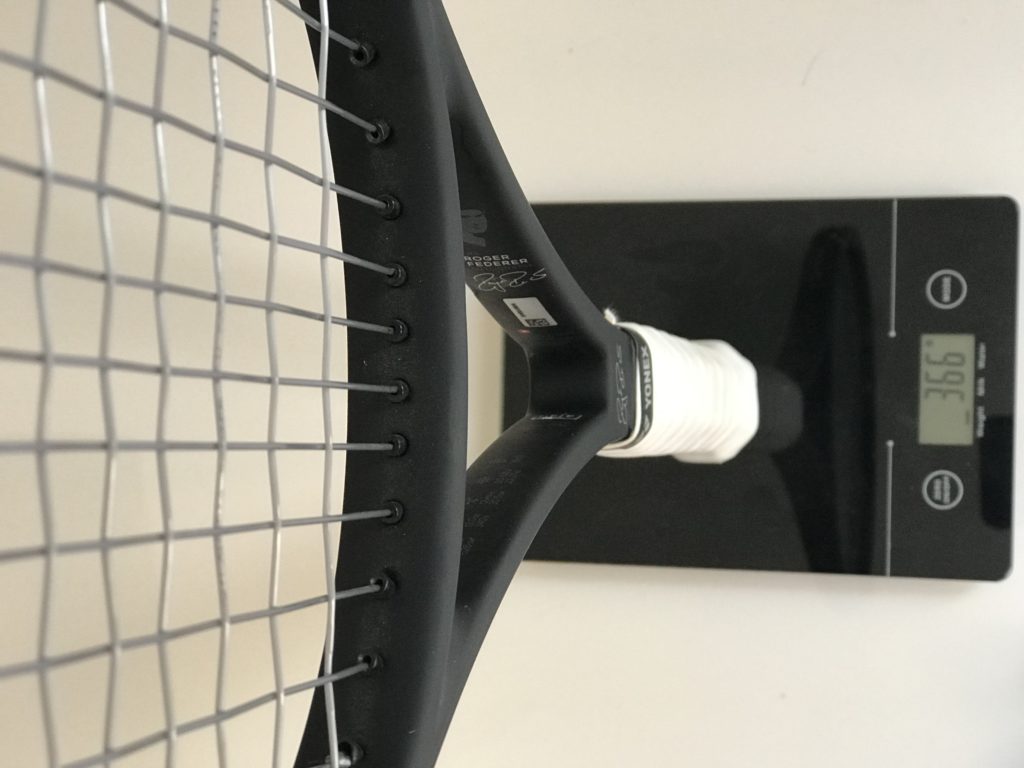 For more detailed specs and information per racquet:
Wilson Pro Staff RF97 Autograph
Yonex VCORE Pro 97 330
Doing the Wilson Pro Staff RF97 vs Yonex VCORE Pro 97 330 comparison starts with looking at the stiffness of the two racquets because that definitely has a large say in the playability, comfort and performance. The Wilson Pro Staff RF97 is a stiffer and heavier racquet weighing in at 340 grams unstrung and with an RA (stiffness rating) of 68 strung. With the wrong string setup this racquet tends to feel like hitting with a chopping board, but with the right string it has exactly the right crispness in my opinion.
The Yonex VCORE Pro 97 330 is only measured 3 points lower on the RA scale at 65 strung, but you definitely feel that it's a more flexible racquet. Especially when missing the sweet spot. It was actually quite noticeably not as stable in the hoop as the RF97. The beam width of the VCORE Pro is 20 mm, while the RF97 is 21,5 mm and what means is you'll get more stability with the RF97, but more manoeuvrability with the VCORE Pro 97. The slightly lower weight of the VCORE also helps in making it easier to swing of course.
Wilson Pro Staff RF97 vs Yonex VCORE Pro 97 330 – How they play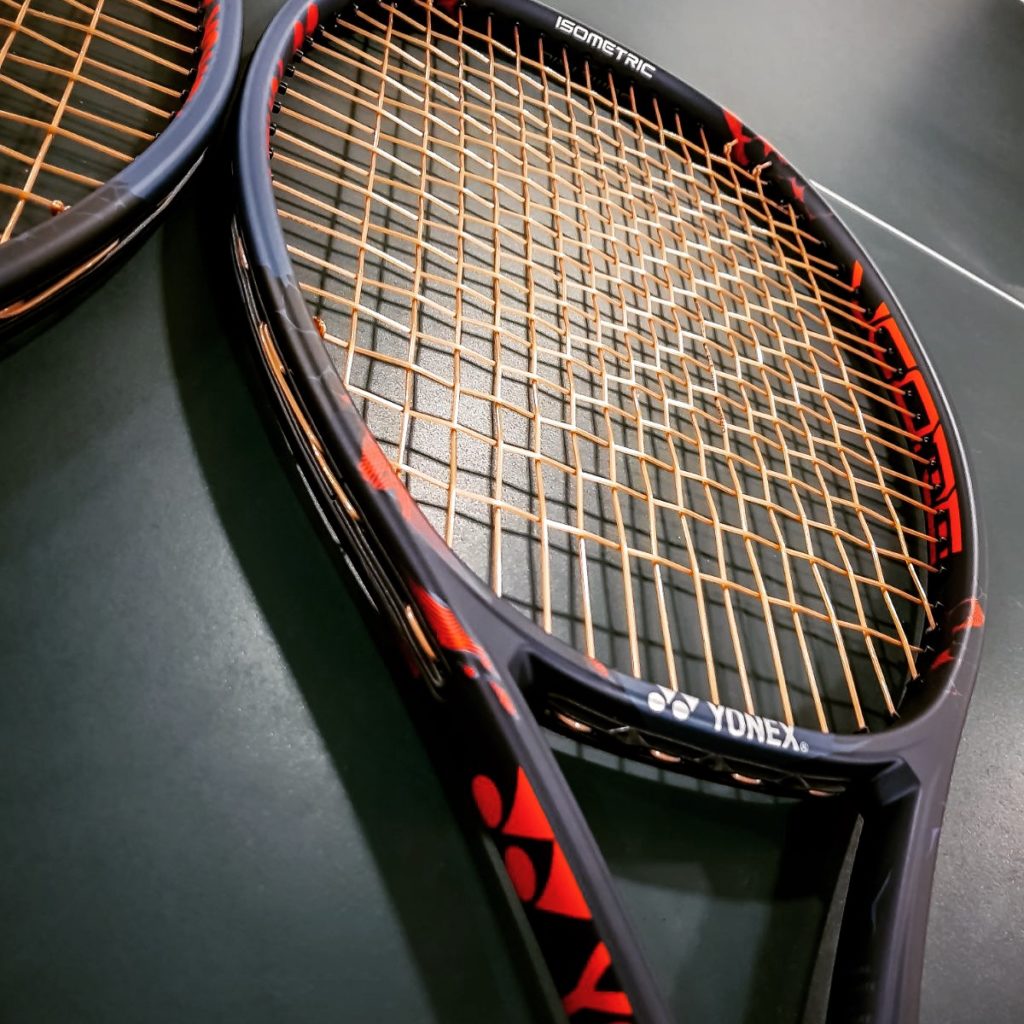 The plow-through of the RF97 Autograph is quite addictive. If you can get the swing speed up you can really "murder" the tennis ball. And on slice and volleys, the stability is intoxicating. The VCORE Pro is a relatively stable racquet (and it should be at 330 grams strung), but at times it feels more flexible than its stiffness rating and off-center shots are punished more on the VCORE than the RF97.
What you do get with the VCORE is better manoeuvrability and that translates into faster swing speed and for me personally, more powerful serves. Actually both the forehand and the serve in my game requires more racquet head speed and that's why I preferred the VCORE slightly on those two shots. On my backhand however, the rock solid stability of the RF97 was a winner. I simply hit that shot flatter and got some extra help with the Wilson there.
BUT, and a big but to some, the RF97A is the less comfortable racquet and with the wrong string setup and less good footwork and technique – you might run into arm issues quite quickly. I have played it with Luxilon Alu Power
for a few weeks and fingers crossed have not had any issues, but it's good to note that it's NOT the most comfortable racquet on the market. Luckily, the heft helps the stiffness a bit and reduces the vibrations. If you're looking for a lighter and softer RF97, the Wilson Pro Staff 97 CV
might be worth checking out.
Wilson Pro Staff RF97 vs Yonex VCORE Pro 97 330 – Summary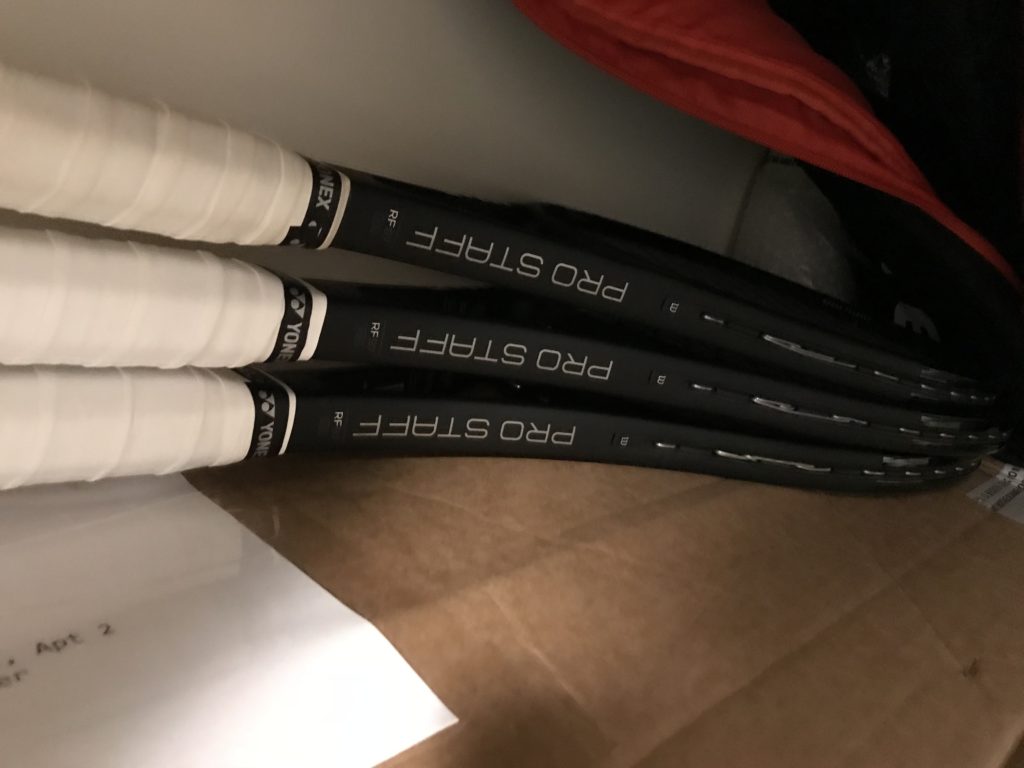 Doing the Wilson Pro Staff RF97 vs Yonex VCORE Pro 97 330 comparison is joyful in that they are both really nice racquets and I have a hard time deciding which one I would switch to. Right now, I find the crisper, more stable and direct response of the RF97 appeals to me more. My shots have a little more weight and depth and my usually weaker wing – the backhand – benefits from the RF97.
However, the VCORE is easier to use and it's easier to generate top spin with that racquet since you can get more racquet head speed. Not sure that's a priority for my game right now as I'm trying to attack more and more in my matches, but if you're a baseline player, I'd probably choose the VCORE Pro 97 330 over the Pro Staff RF97. You definitely notice that the RF97 Autograph was made for Roger Federer's game and if you want to hang back at the baseline and play defensive tennis, it won't be your best bet.
To summarize, a tight race between two high-performing racquets, but I'll choose the RF97 personally for my game with a slim margin.
Have you used either of these racquets and what do you feel about them? Let me know in the comments below!
***
Do you like Tennisnerd? Don't miss a word or video by stalking us on social media. Every like and follow is appreciated!

YouTube
Instagram
Twitter
Facebook Page
Amazon Influencer
Buy tennis gear
EU
Racquet Depot
Pro Direct Tennis

USA
Tennis Express
Do It Tennis
Amazon.com
Racquet buying guides
Here is a great racquet buying guide to get you started.
What tennis racquet should I buy?
Top tennis racquets to buy right now
The Gear of the Year 2017
The Gear of the Year 2016
Tennis racquets for juniors
Tennis racquets for kids
Popular posts
What the ATP pros play
Questions about pro stock tennis racquets
Is a pro stock racquet better than a retail one?
Do professional players change racquets?
Racquet Commitment Issues