Robin Soderling had a strong career but retired already at age 27 due to health reasons. But why is there a nail in Robin Soderling's racquet?
Robin Soderling's racquet
Robin reached two Grand Slam finals (he lost both at the French Open to a certain Rafa Nadal), won 10 ATP titles, and was as high as number 4 in the world in the ATP rankings. He retired early in his career due to health issues, both physically through mono, but also suffering from anxiety and mental health issues. This is what he said to Noah Rubin from Behind the Racquet in April, 2020:
"It was extremely difficult to decide to retire. I played my last match when I was only 27 years old. In my head, I had many more years left in tennis. I was at the peak of my tennis career when I got sick with mononucleosis around two years before I retired. For a long time before I was diagnosed, I was stressed, tired and rundown. Through this all, I kept playing. I became sick because my immune system was weak, but I kept pushing. Deep down in my mind, I knew something was wrong, but all the tests doctors took returned fine. Even though I played well, it was all up and down until I got mono. I feel like my bad immune system and serious overtraining affected me. Mono was just the last thing my body could handle. Doctors said I first got it in Indian Wells in 2011. It wasn't too bad initially but worsened after my last tournament in Bastad. I didn't leave my house for six months.
After retirement, Robin has set up his tennis brand called RS, which produces tennis balls, strings, and apparel. He has also been the Swedish Davis Cup captain for a number of years, but has just retired due to health reasons.
Robin's racquet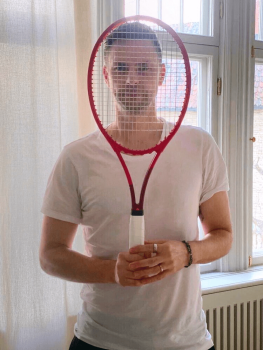 You can watch my video about Robin Soderling's racquet here. Robin played for most of his career with a PT57A, the pro stock code of the legendary HEAD Pro Tour 630 (or 280). Many players use this racquet: Haas, Murray, Simon, Ivashka, Karatsev to name a few. His specs are heavier than all those players, though.
He has the nail in the handle because his handle is completely foamed (no butt cap), which is the easiest way to add weight to it. It does look a little strange, but the grip shape and style are one of the most personal things about tennis racquets. Dan Evans uses a foamed grip in the shape of a leather grip and adds one overgrip to it, for example (no base grip).
Robin has his racquets strung with Luxilon Big Banger Alu Power 1.25 at 23.5 kg (52 lbs).
Robin's strung racquet specs are heavy:
371 grams (13 oz)
32.3 cm balance (5 pts HL)
386.5 swing weight
Monsterous specs to achieve more power and stability in the control and feel-oriented PT57A.
Would you be able to play with Robin's specs?