There's been a lot of hype among racquetholics about the new Angell K7 Red racquets that is Angell's venture into the "commercial" racquet market. But how good is it?
I've been using the Angell K7 Red for a couple of hours and I can already say it is one of the most impressive releases of 2017. It's simply in my mind a more comfortable version of the Babolat Pure Strike and the Wilson Blade 98. I thought it would be pretty powerful, but the Angell K7 Red is a control racquet with a focus on arm comfort.
Is it the mix of Aramid and Carbon Fibre that creates this very comfortable frame? The Angell K7 Red is not foam-filled like the Angell Custom 97 racquets, but to me it felt equally, if not more, comfortable, than those more traditional racquets. I've personally been moving back and forth between this kind of spec (98 sq inches, 16×19 string pattern, 305 grams etc) and a more traditional players' racquet (95 sq inches, 18×20 string pattern, 325 grams unstrung) and even though I've committed to my HEAD Liquidmetal Radical Tours, this is a racquet that could potentially make me move back to this "tweener" style of frame.
Check out the Angell K7 Red and other Angell tennis racquets here.
My issue with the both the Babolat Pure Strike and the Wilson Blade 98 (I preferred the 2015
version over the new Countervail version
) was in the end the stiffness, but with the Angell K7 Red I feel that I get a nice responsive feel while my arm doesn't feel a thing, which is pretty much exactly what I've been looking for.
I'm also impressed with the lower launch angle that is more focused on control than spin. This is a great characteristic of the Angell K7 Red, it simply seems to give you what you put into it, which is the kind of features that all tennis players should look for. What is better than a comfortable frame that gives you ample control and spin which at 305 grams unstrung also offers plenty of room for customization?
As you can hear, a few hours of hitting with the Angell K7 Red has made me enamoured with the frame and I've only played it stock so far. Since I'm used to 350 grams strung, I'm going to try to add some lead to the hoop and see how it plays. But it's for sure a great start and an impressive product. The closest racquet I can compare it to is the Yonex Ai 98, with the K7 Red being a little more muted (it is also lighter).
So to summarize my first impressions of the Angell K7 Red:
Great control and touch, decent spin and amazing comfort in an easy-to-use frame. For sure one of the top racquets released in 2017 along with the Wilson Ultra Tour.
I strung up my Angell K7 Red with Weiss Cannon Ultra Cable
around 23 kg and I think the combo both looks and plays great.
Please note that the grip size of the Angell K7 Red runs as little big so it might be wise to order a racquet with a smaller grip than you're usually playing with. On the other hand, I was fine with my standard grip 3, but for many grip 2 with an overgrip will be better.
Angell K7 RED (Unstrung specs)
Headsize – 98
String Pattern – 16×19
Weight -305g / 10.7oz
Balance – 320mm / 7 pts HL
Stiffness – 64RA
Length – 27" / 685.8mm
Grip shape – B
Grip type – High Tack PU Black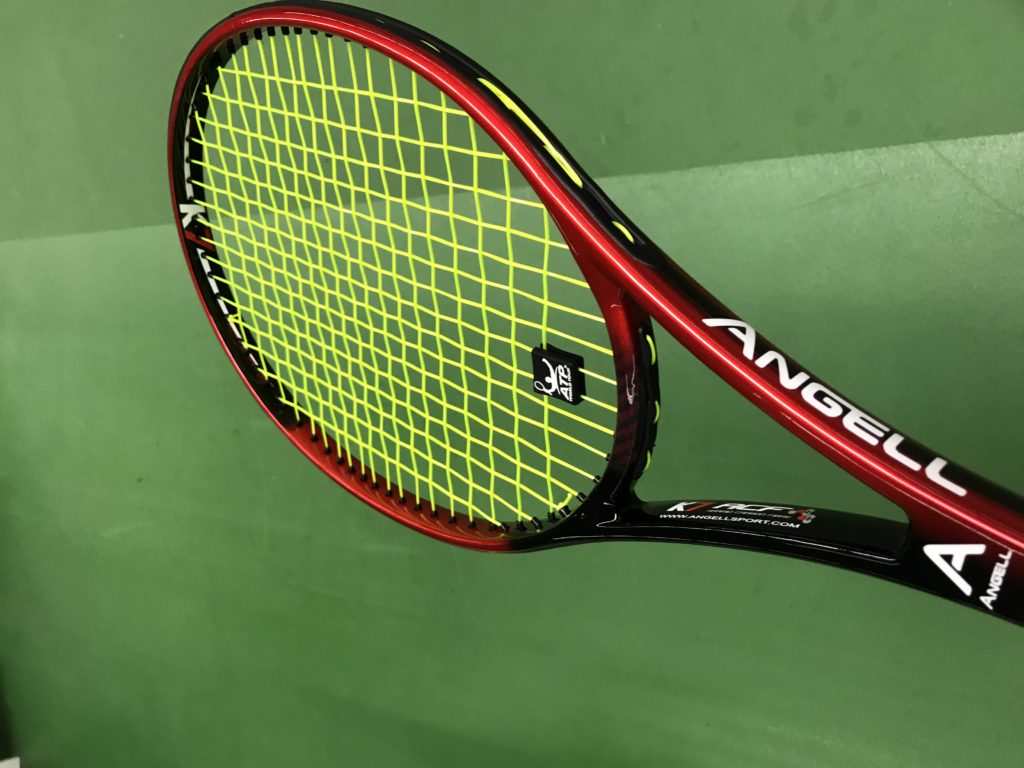 What are your thoughts around Angell K7 Red? Does it entice you? Please comment below!
***
Do you like Tennisnerd? Don't miss a word or video by stalking us on social media. Every like and follow is appreciated!

YouTube
Instagram
Twitter
Facebook Page
Amazon Influencer
Buy tennis gear
EU
Racquet Depot
Pro Direct Tennis

USA
Tennis Express
Do It Tennis
Amazon.com
Racquet buying guides
Here is a great racquet buying guide to get you started.
What tennis racquet should I buy?
Top tennis racquets to buy right now
The Gear of the Year 2017
The Gear of the Year 2016
Tennis racquets for juniors
Tennis racquets for kids
Popular posts
What the ATP pros play
Questions about pro stock tennis racquets
Is a pro stock racquet better than a retail one?
Do professional players change racquets?
Racquet Commitment Issues