The Pure Drive is an icon for the power it provides. But what about its little brother? Here is my Babolat Pure Drive 98 Review.
Babolat Pure Drive 98 Review
The Babolat Pure Drive 98 is the predecessor to the Babolat Pure Drive VS. That was a fun racquet, but it lacked stability and weight. The Pure Drive 98 has a higher static weight (305g unstrung compared to the 300g), and the swing weight has moved from around 290 unstrung to the relatively "beefy" 300 unstrung.
I thought Babolat would aim to reduce the stiffness, but it seems to be approximately the same or even slightly higher. They listed it at 74 RA unstrung on their official website, one of the highest stiffness ratings in a racquet today. Babolat are famous (or infamous, depending on who you ask) for producing stiff racquets, and while the new Pure Aero and Pure Aero 98 went down in stiffness, the new Pure Aero Rafa line and this Pure Drive is above 70 RA.
Like with the VS racquets, you can choose whether you want to buy one racquet or two at a time. Tennis Warehouse currently does not stock the 98 among their Babolat Pure Drive racquets, but you can get them at other retailers or straight from Babolat.
There is a video version of this review on my Patreon.
Specifications
Head Size 630 cm² / 98 in²
Length 685 mm / 27 in
Weight (unstrung) 305 g +/- 7g / 10.8 oz
Balance (unstrung) 325 mm +/- 7mm
Swing Weight 300
Stringing Pattern 16/19
Stiffness (RA) 74
Section 21/23/21
Composition CARBON
Recommended String RPM Blast / RPM Power
Tension Recommended 23-27 Kg
Recommended Grip Syntec Pro
How does it play?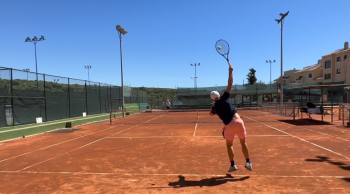 As can be expected with such a high swing weight and stiffness rating, this racquet packs a lot of power. I strung it with Tecnifibre Razor Soft 1.25 at 24 kg or 53 lbs, and the ball still exploded from the string bed.
The increase in weight/swing weight makes the racquet more stable, which is great for volleys, but it could feel sluggish on groundstrokes. However, if you have a big weapon, it might be even bigger with this racquet.
On serves, it was spectacular. Easy to get power, spin, you name it. Just get the racquet moving and you have a weapon on your hands.
The touch was decent. It had a bit too much power for me to play with loads of confidence and control, but the dampening was enough to remove some harsh vibrations without messing with the feel and sensation.
In terms of comfort, the stiffness is felt, at least with this string setup. I have not struggled with tennis elbow or similar symptoms for a long time, but my arm felt slightly sore after an hour of hitting. And since it was quite difficult to control the racquet with all that power, it wouldn't be easy to change the tension or string setup without losing too much confidence in my shots.
Summary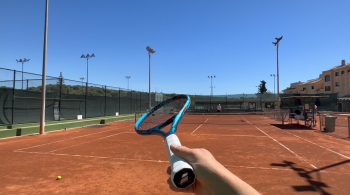 This racquet has the true DNA of a Pure Drive: power and stability. However, the swing weight will be a bit much for a lot of players. So I would have preferred a slightly lower swing weight, around 320-325 strung, and a lower stiffness, but perhaps the high RA makes it a Pure Drive.
The stiffness and swing weight makes the power easy on serves and groundstrokes and the racquet solid on volleys. But feel, maneuverability, and comfort are trade-offs.
If you have any arm concerns or a history of tennis elbow, I would not recommend the Babolat Pure Drive 98. You can find a list of my recommended racquets per level and playing style in the Road to the Right Racquet (includes an e-book and many relevant videos). But if you are an advanced player who wants the power of a Pure Drive but a in smaller head size, then the Pure Drive 98 is worth a demo.
Let me know what your experience with the new Pure Drive is in the comments field below. I will also be testing an extended 27.5-inch version of this racquet from Ring&Roll and Longbodies.com.