It is high time for the head graphene touch prestige tour racquet review. I have play-tested this racquet for a few weeks and I was surprised to like it as much as a I did.
As I wrote in my first impressions version of this HEAD Graphene Touch Prestige Tour racquet review, the Austrian racquet company has not had an easy time with the racquetholics and tennis nerds since they introduced Graphene in their racquets. As most racquet lovers know, the HEAD IG series is seen by many as the last "true" HEAD racquets. Is this true or just exaggerated?
I understand where the racquet purists are coming from. The HEAD IG line of racquets was impressive and offered modern classics such as the HEAD IG Prestige MP and the HEAD IG Radical Pro as well as a nice HEAD IG Prestige Mid. It is simply tough to improve on these racquets. The Graphene was HEAD's idea to take up the fight with stiffer racquets on the market and their main competitors Wilson and Babolat.
Some people love the Graphene feel, but I personally did not care much for the first and second iterations (Graphene and Graphene XT). The Graphene Touch is for me a step in the right direction and I have played racquets from all of their lines (MxG, Radical, Instinct, Extreme, Speed and Prestige). The Radicals and Extreme are still a bit too stiff for my taste, but the HEAD Graphene Touch Speed MP
 (read my post) was not bad and the Prestige Tour
is definitely my favorite from the new Graphene Touch line so far.
HEAD Graphene Touch Prestige Tour Racquet Review – The specs
Let us start by looking at the specs. I already wrote about this in my first impressions post, but a 99 sq inch head size and a 18×19 string pattern is not your typical racquet on the market. But I really think this works nice in this racquet. You get a nice, controlled response despite a bigger than average sweet spot. I think HEAD might be on to something here and if they can refine this model for the next iteration, it could be a truly great racquet.
The racquet is definitely more comfortable than your typical Graphene racquet. The stiffness rating of 65 RA strung feels high in my opinion. I would have guessed around 63, but since the head size is bigger than your average 95 sq inch you need to stiffen the racquet a bit. I was surprised that the racquet played well also in stock form, but as always for me, some lead at 3 and 9 helped to give it some extra power, plough-through and stability. It might play even better with a leather grip and lead at 12, that is up to personal preference of course.
Unstrung specs
Head size: 99 sq inches
Length: 27 sq inches
Weight: 305 grams
Balance:  7 pts HL
Stiffness: 65 RA
Beam width: 21,5 mm
HEAD Graphene Touch Prestige Tour Racquet Review: Performance
The racquet plays controlled, but the string pattern does offer extra spin. You need full swings to get good depth and that is why I would recommend this racquet to players with decent technique and power. If you need extra help to get your balls deep in court, there are many more powerful racquets on the market to give you that extra boost. I have always enjoyed control racquets however and I think the HEAD Graphene Touch Prestige Tour succeeds in blending control with a more modern feel and performance.
I tried the racquet both with multifilament and poly strings and found the multi a bit too powerful and a thick poly a bit too low-powered. That is why I would recommend either a thin gauge (softer) poly, a hybrid string setup or a poly at a lower tension. If you can get the string bed to play plush, yet controlled, you are in for a nice ride.
I really enjoyed playing with the HEAD Graphene Touch Prestige Tour. It might not be a racquet I switch to (but after some customization, I definitely could), but it ignites some hope in me for other and future HEAD Prestige racquets from HEAD.
HEAD Graphene Touch Prestige Tour Racquet Review: First ratings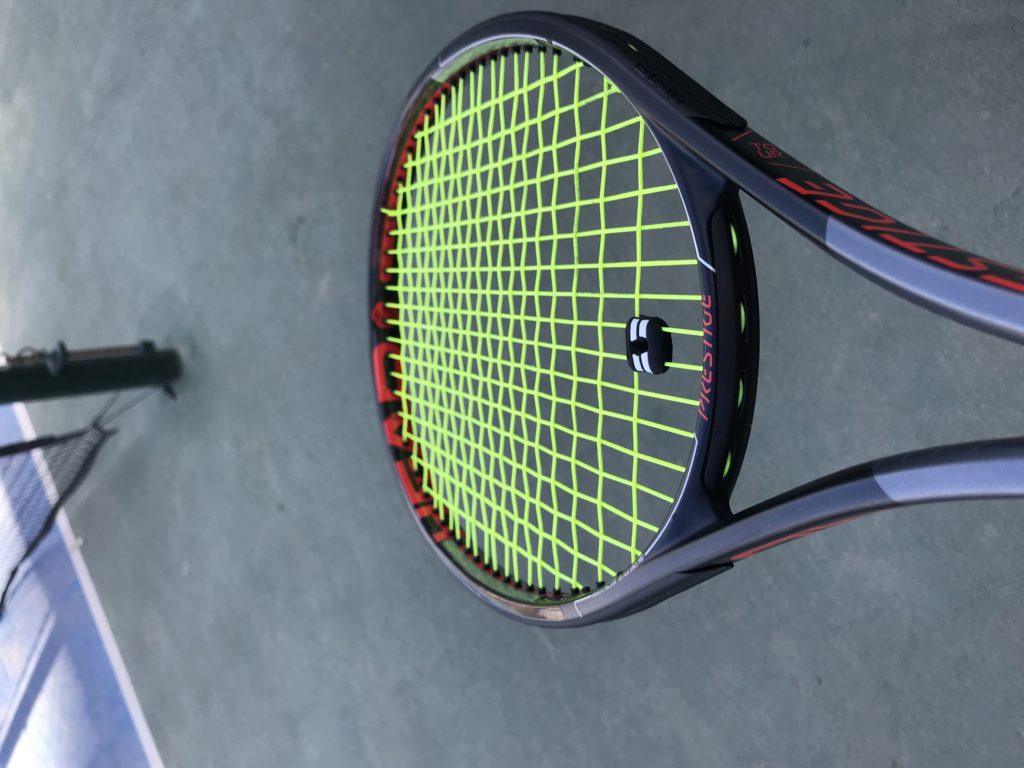 POWER: 6/10 – Quite controlled for a 99 sq inch racquet.
CONTROL: 8/10 – You definitely know where the ball is going here.
TOUCH: 8/10 – Really enjoyed this racquet on drop shots!
COMFORT: 8/10 – Even with a thick poly, I did not feel any arm pain or potential issues.
SPIN: 8/10 – The right balance of spin and control. Good launch angle with the 18×19 pattern.
GROUNDSTROKES: 7/10 – Happy grinding from the baseline with this stick.
VOLLEYS: 7/10 Some more stability is needed in the hoop to be able to place hard hit balls in the right place.
SERVE: 6/10 – It is no Pure Drive, so you need to provide the pace.
SLICE: 8/10 – Impressive knifing abilities with this tennis racquet for the weight and head size.
OVERALL: 7.5/10  – I was not sure whether to give this racquet a 7 or a 8 so ended up in between. It is a very nice racquet, but I think compared to other modern frames on the market a lot of players will find it too low-powered. However, if you have the technique to swing out and go for your shots, you will appreciate the control and comfort this racquet provides.
Below is my video review of the HEAD Graphene Touch Prestige Tour:
For a second opinion on the HEAD Graphene Touch Prestige Tour, check out this blog.
Are you curious about the HEAD Graphene Touch Prestige Tour? If not, why? Let me know in the comments below.
***
Do you like Tennisnerd? Do not miss a word or video by stalking us on social media. Every like and follow is appreciated!

YouTube
Instagram
Twitter
Facebook Page
Amazon Influencer
Buy tennis gear
EU
Racquet Depot
Pro Direct Tennis

USA
Tennis Express
Do It Tennis
Amazon.com
Racquet buying guides
Here is a great racquet buying guide to get you started.
What tennis racquet should I buy?
Top tennis racquets to buy right now
The Gear of the Year 2017
The Gear of the Year 2016
Tennis racquets for juniors
Tennis racquets for kids
Popular posts
What the ATP pros play
Questions about pro stock tennis racquets
Is a pro stock racquet better than a retail one?
Do professional players change racquets?
Racquet Commitment Issues