I have not had as much time with the HEAD Graphene Touch Prestige Tour Review as I would have wanted, but enough to give my first impressions about this interesting racquet from HEAD.
HEAD have not received a lot of positive feedback for their Graphene racquets, but as you can see in this HEAD Graphene Touch Prestige Tour Review (first impressions), this might not be completely warranted. I have tried pretty much every HEAD racquet technology series there is in some form. Sure, the legend status of HEAD Pro Tour 630 or HEAD Prestige Classic 600 might not be easy to achieve, but you also have to understand that they wanted to move on and adapt to the faster pace modern tennis. Hence: stiffer racquets and Graphene technology.
The first two iterations of Graphene racquets were not reviewed positively due to them being too stiff and not responsive enough. There were some racquets that rose above the mundane, such as the HEAD Graphene Radical Pro, which is a nice-playing albeit stiff racquet. With Graphene Touch, HEAD wants to mute the crispness of the previous iterations and found a better balance of touch and power. It is not always successful as you have seen in my HEAD Graphene Touch Extreme MP review, but it is not all bad such as the HEAD Graphene Touch Speed MP review. HEAD Graphene Touch Prestige Tour is the best a HEAD racquet has felt, if you ask me, since the Innegra MP series (which is used by plenty of ATP pros under 293.2 and 293.1 pro stock codes). I really loved the HEAD IG Prestige MP
and thought it would be tough to beat, but this "deviation" in specs is very interesting.
HEAD Graphene Touch Prestige Tour Review: Specs
The specs of the HEAD Prestige Touch Tour
is definitely not your typical Prestige racquet characteristics. First of all, the head size is a "true" 99 sq inches, not the usual 95 (HEAD used to measure the outside of the hoop and call it 98, no longer so). To add to this, the string pattern is not your control oriented 18×20, nor your more spin friendly 16×19, but a hybrid of 18×19. If you remember Agassi's HEAD Radical OS
from back in the days, this is the pattern he used on his 107 sq inch racquet. What is also interesting to comment is that Djokovic is trying this exact string pattern in his new racquet (read more about his new racquet setup here). Although Djokovic supposedly stays with his 95 sq inch head.
The stiffness rating of 65 RA strung is not stiff and not flexible and finds a good balance from first hit. Yeah, just picking this racquet up and swinging it feels surprisingly positive. It seems like they have found just the right weight and balance for the HEAD Graphene Touch Prestige Tour. I have not yet played it with lead tape and will be curious to see if I can maintain this feel with some extra weight on it (I will counterbalance in the handle as well). But even in stock form the racquet impresses.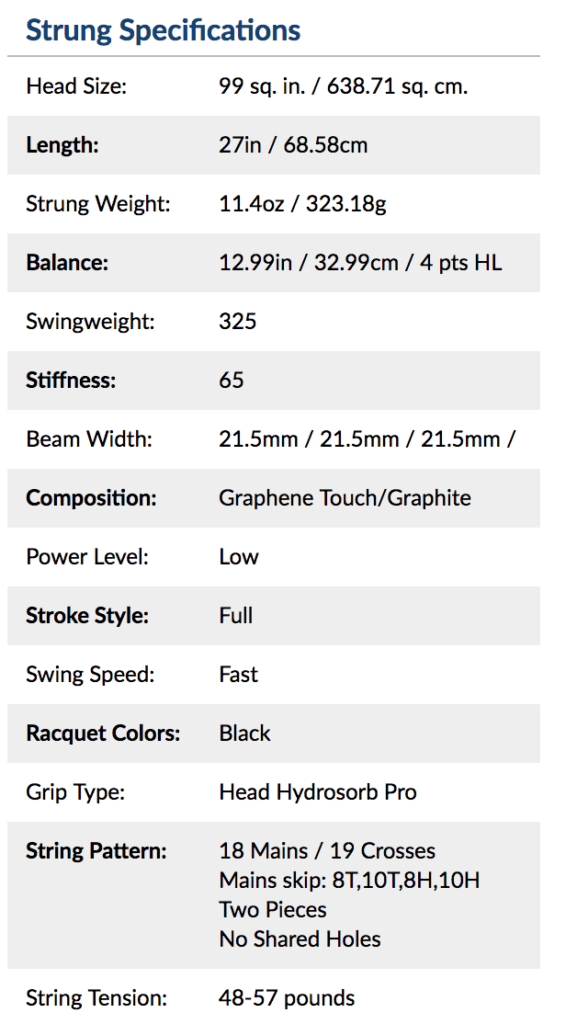 HEAD Graphene Touch Prestige Tour Review: Performance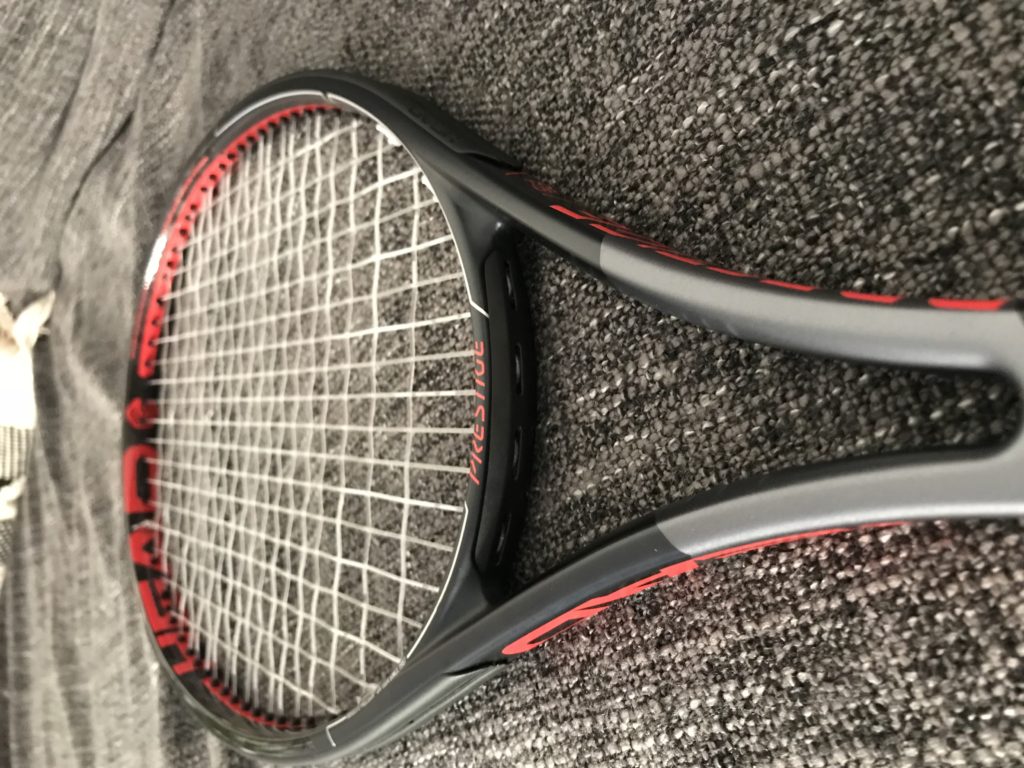 I had no idea what to expect from this racquet. A Prestige that is close to a Babolat Pure Aero
in head size? 18×19 string pattern? And to add to that, my racquet came with a Prince multifilament string that does not exactly do it any favours. Still, I managed to find good control, nice access to spin and even a knifing slice in the this racquet setup. I think the racquet will come to life even more with the right poly string (I am starting out with Volkl Cyclone
to see how it responds to a stiff poly) and some lead at 3 and 9 should help stability and plow-through.
But like I mentioned above, the racquet also plays nice in stock form. Good to note that this is indeed a Prestige in the way it controls the ball, but slightly more powerful and spin-friendly than you would note from the old Prestige line. I am not sure why they named it Tour, but the MP, Pro were already used I guess. It is definitely the best playing modern control racquet from HEAD I have played in recent years. I know I say this after only one hit, but after hitting and play-testing hundreds of racquets over the year my arm knows what it knows I guess. Good to note is that I have not hit the other racquets in the HEAD Graphene Touch Prestige series yet, but this does make me curious.
HEAD Graphene Touch Prestige Tour Review: First ratings
POWER: 7/10 – Quite controlled for a 99 sq inch racquet.
CONTROL: 8/10 See above, I believe with a poly I will feel completely dialed in here.
TOUCH: 7/10 It is not a HEAD Pro Tour 630, but I definitely feel the ball quite well with this one.
COMFORT: 8/10 I only played this with a multifilament so far, but I have a feeling this rating will remain also with poly strings.
SPIN: 8/10 The right balance of spin and control. Good launch angle with the 18×19 pattern.
GROUNDSTROKES: 8/10 Really happy grinding from the baseline with this stick.
VOLLEYS: 7/10 Some more stability is needed in the hoop to be able to place hard hit balls in the right place.
SERVE: 7/10 It is no Pure Drive, but it serves well, with some good control.
SLICE: 8/10 Impressive knifing abilities with this tennis racquet for the weight.
OVERALL: 8/10 Too early to say, but I have a feeling this could be a surprising gem in 2018.
HEAD Graphene Touch Prestige Tour Review: Summary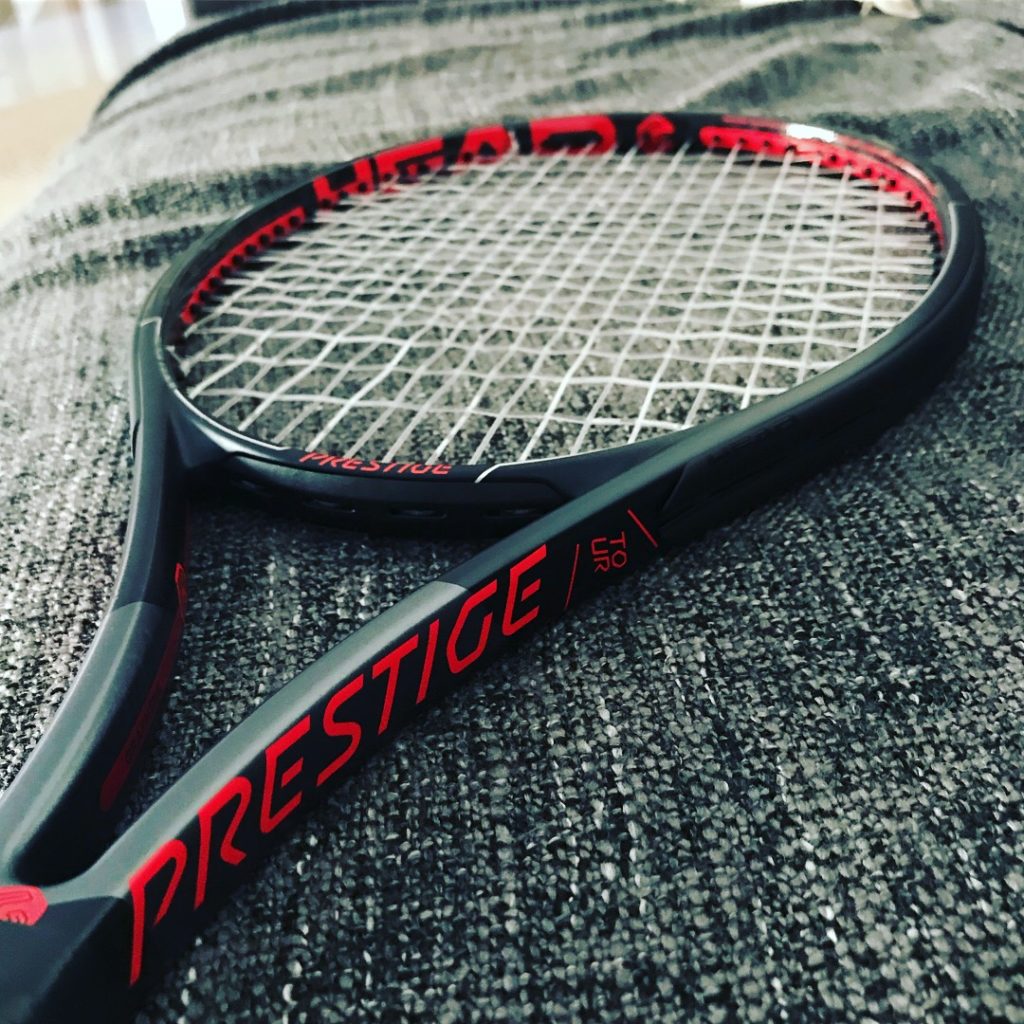 Due to my knee injury I have not put in enough time with this HEAD Graphene Prestige Touch Tour Review to make a complete review, but since I am not sure when I will be back on the courts, I wanted to give you a taste of my positive impressions of this racquet since a lot of racquetholics discard new HEAD racquets without even testing them. Will be fun to play around with weight and string in this one.
For a second opinion on the HEAD Graphene Touch Prestige Tour, check out this blog.
HEAD Graphene Touch Prestige Tour Review: Video
Are you curious about the HEAD Graphene Touch Prestige Tour? If not, why? Let me know in the comments below.
***
Do you like Tennisnerd? Do not miss a word or video by stalking us on social media. Every like and follow is appreciated!

YouTube
Instagram
Twitter
Facebook Page
Amazon Influencer
Buy tennis gear
EU
Racquet Depot
Pro Direct Tennis

USA
Tennis Express
Do It Tennis
Amazon.com
Racquet buying guides
Here is a great racquet buying guide to get you started.
What tennis racquet should I buy?
Top tennis racquets to buy right now
The Gear of the Year 2017
The Gear of the Year 2016
Tennis racquets for juniors
Tennis racquets for kids
Popular posts
What the ATP pros play
Questions about pro stock tennis racquets
Is a pro stock racquet better than a retail one?
Do professional players change racquets?
Racquet Commitment Issues