I have been testing the new Instinct MP for a couple of weeks and here is my HEAD Instinct MP Review. Nice power frame.
I should not really write HEAD Instinct MP Review because the full name of this racquet is HEAD Graphene 360+ Instinct MP. Graphene 360+ is referring to the material inside the frame: Graphene and the 360 means that it's placed in various positions inside the racquet and the + means that it includes spiral fibers for a more flexible feel. Each current HEAD tennis racquet comes with this material composition right now, but hopefully, the naming will be different. I prefer Wilson's approach of calling it by generations: V6 or V13 etc, but you can also just label it by the year it came out like with the HEAD Radical Pro 2021. But to simplify, I call it HEAD Instinct MP for now.
The Instinct is HEAD's power line, which is similar to the Wilson Ultra 100, the Babolat Pure Drive, the Yonex Ezone 100 and the Dunlop FX 500 if we look at the other main brands. Neither of these racquets should be heralded for great feel and control. These provide easy spin and power, which will translate into "free" depth and height over the net.
This doesn't mean that they are made for beginners. Also, advanced players can utilize the pace that these racquets bring if they use enough spin to control the ball. I made a video about an ex 200 ATP player who uses the Pure Drive 2018 for example. You can watch that below.
HEAD Instinct MP Review – Specs
The specs of the HEAD Instinct MP are similar to the other racquets I mentioned above. The below is taken from the Tennis Warehouse Europe website.
Head Size:
100 in² / 645 cm²
Length:
27in / 68,5cm
Strung Weight:
318g / 11,2oz
Unstrung Weight:
300g/10,6oz
Balance:
32,99cm / 4 pts HL
Unstrung Balance:
32cm/7 pt HL
Swingweight:
314
Stiffness:
64
Beam Width:
23mm / 26mm / 23mm
Composition:
Graphene 360+/Graphite
Racket Colours:
Blue
Grip Type:
Head Hydrosorb Pro
String Pattern:
16 Mains / 19 Crosses
Mains skip: 8T,8H
Tension:
21-25kg / 48-57lb
My racquet speced almost to the gram, which is sadly quite rare these days but good news.
I strung it with String Project Rocket 1.25, which is a soft poly that I enjoy, and took it out for a spin.
How does it play?
Free power is always nice, but for my game style, I prefer a bit more control (which is why my racquet of choice is the Prestige MP). Still, I do enjoy bringing out a power frame and see what happens to my game. It definitely makes tennis easier. But over time and in tense situations, I start missing and go back to power frames.
What I liked about the Instinct MP is that it has a tighter string pattern in the center than the Babolat and the Ultra. More in the style of the Dunlop FX 500, which I also liked a lot. However, the Instinct has a lower flex rating and feels more comfortable. I could actually play it with a full bed of softer poly at 50 lbs / 22.5 kg without arm issues. And that's impressive.
I liked it most on serves and at the net. It sounds counter-intuitive, but it's fast and stable at the net, which is great for punching and blocking volleys. I think doubles players would enjoy this racquet a lot. From the back of the court, it's a bit too powerful for my game, but compared to the other power racquets I mentioned above, the Instinct MP came out on top. The improved comfort is a key reason, but I also enjoyed the feel of the racquet, although it's not a feel-based racquet.
The Pure Drive and Ultra 100 are both a bit more powerful than this, so if you want to go all-in on power and don't have arm issues, those are better options. However, if you want a slightly more comfortable and a little lower-powered "tweener" frame, the Instinct should be on your list.
Seb made the switch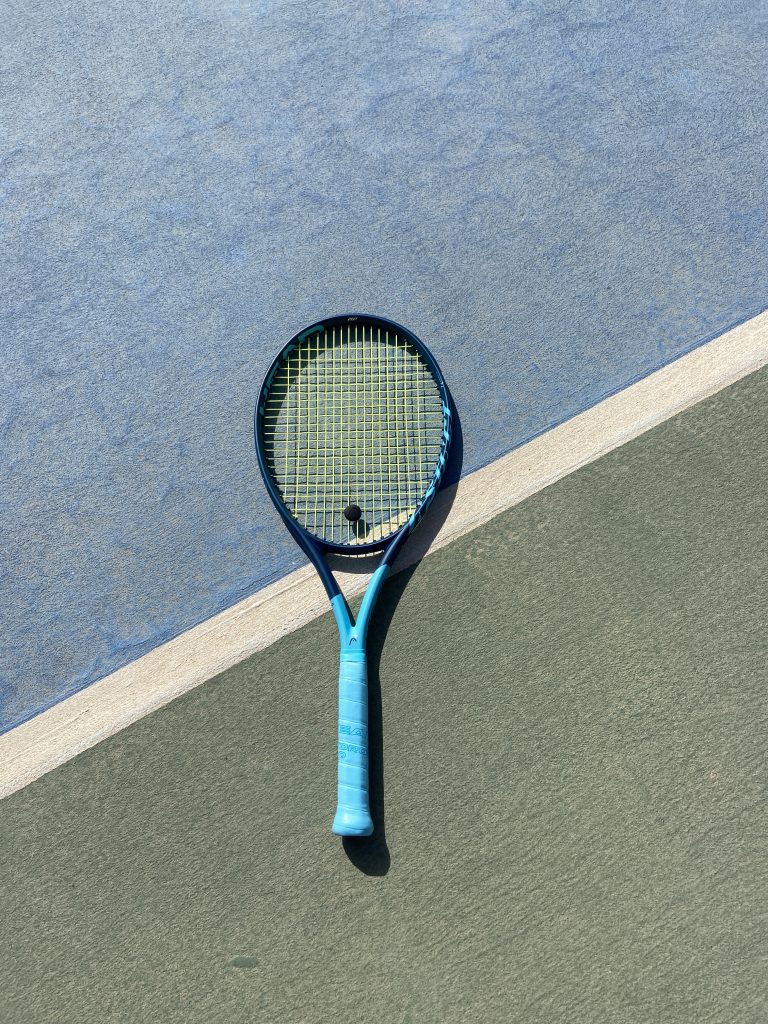 My hitting partner Sebastian, who hits with a lot of topspin, has been using the Pure Drive 2009 for years. But occasionally complains about elbow pain. He compared his older racquet and Instinct MP with the same string setup and ended up making the switch almost instantly. He felt like he could hit a cleaner ball without pain, so it was an easy decision.
The sound of the Instinct paired with the Rocket string is quite addictive (video review to come).
In short, the Instinct MP is one of the power racquets on the market in my opinion. It gives you good power and spin without being uncontrollable and uncomfortable (it's still stiff, but not harsh, so players with sensitive elbows should think twice). It doesn't have the feel of more control-oriented racquets like the Prestige or Gravity, but that's not to be expected. It has to be compared with other racquets in the same category and in that comparison, it does extremely well.
Another big pro with the HEAD Graphene 360+ Instinct MP is the price – it's priced lower than most other racquets in the same category. 189 USD at Tennis Warehouse, 299 AUD at Tennis Only, and 139 EUR Tennis Warehouse Europe.
If you purchase this racquet (or anything else) through the links above, a small commission goes to Tennisnerd which helps me create more content. Thanks.