One highly anticipated racquet for tennis nerds is the Prince Phantom Pro 100P and I'm lucky to currently be play-testing one. Here are my first impressions after the first couple of hours of play.
The Prince Phantom Pro 100P is something so rare these days like a box beam, sub 60 RA racquet and I really appreciate Prince for trying to release something different from the standard thick beam, powerful racquet with some sort of dampening material.
The Prince Phantom Pro 100P comes with a CTS Beam, which goes from a thin 16mm in the shaft (for feel) to a thicker 20mm in the head (for power), which is in contrast to the Prince Textreme Tour 100P
's more traditional 22.5mm / 23.5mm / 21mm beam. Also, the RA of the new Phantom Pro 100P is three points lower (RA 59! compared to the Tour 100P with RA 62). What Prince also has done for the Textreme Phantom Pro 100P is to increase the swing weight from the 100P's 321 to 329 which I think is a move in the right direction since for a lot of players it won't need lead tape
 to play stable.
I'm usually not a fan of 100 sq inch racquets, but the control of the Prince Phantom Pro 100P is exceptional and I didn't feel the need to immediately add lead tape to it to go out and play a competitive set. Also, I felt the racquet to be more powerful than I had expected with an RA of 59, but definitely not like the other racquet I'm going to be testing after the Phantom – the Babolat Pure Drive Tour Plus!
Contrasting racquets! The beam width of the Prince Phantom Pro 100P is less than half the one of the Babolat Pure Drive Tour Plus. Also: RA 59 vs RA 71! The Babolat Pure Drive Tour Plus is of course also extended, but I still think the comparison of these two very different racquets will be interesting and I hope you agree.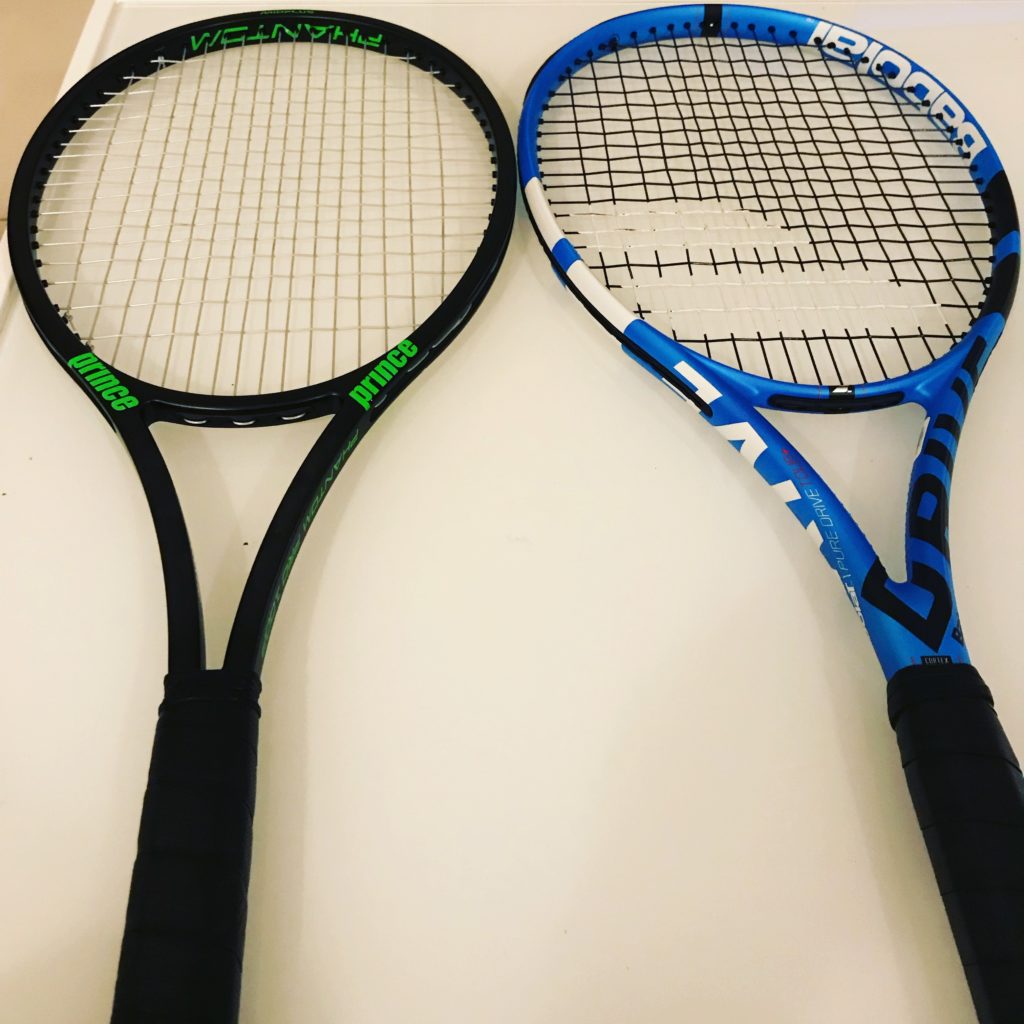 I still need to dial in my forehand with the racquet since I'm so accustomed to playing with a 95 sq inch racquet (the HEAD Liquidmetal Radical Tour), but that shouldn't take too long I hope. The slice and touch of the Prince Phantom Pro 100P is what I appreciate the most, with its thin box beam it really cuts through the air reminiscent of a Wilson Pro Staff 85 but its 100 sq inch racquet offers a large sweet spot. I'm yet to find out how consistent the string bed is, but after the first couple of sessions, I'm really enjoying this racquet from all areas of the court. I think it's especially good as a racquet if you're an all court player who likes to mix it up with different spins, drop shots and the occasional storming of the net.
What surprised me was that it worked really well on my serve without any practice. It wasn't as much of a serve monster as the Babolat Pure Drive Tour Plus
, but it was easy to get some good swing speed and placement consistency.
I'm currently playing the racquet in stock form with a Yonex Super grap over grip
and with RS Lyon strings. I'm really curious about how it would play and look with Solinco Hyper-G strings
(green on black).
Here's a clip from the first practice set with the racquet with some comments on how I think it plays.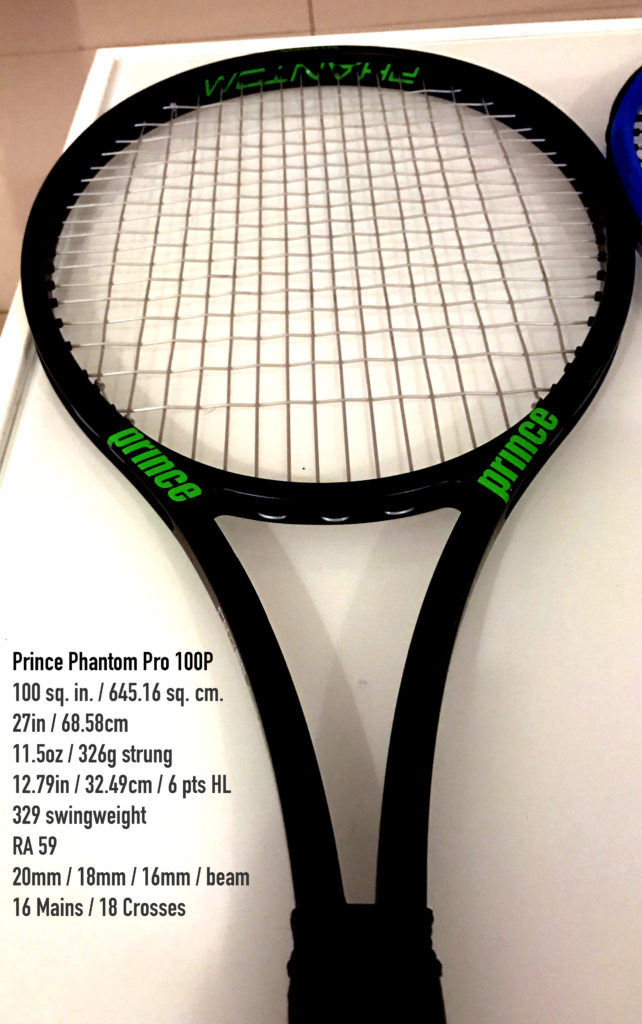 Strung Specifications
Head Size: 100 sq. in. / 645.16 sq. cm.
Length: 27in / 68.58cm
Strung Weight: 11.5oz / 326.02g
Balance: 12.79in / 32.49cm / 6 pts HL
Swingweight: 329
Stiffness: 59
Beam Width: 20mm / 18mm / 16mm /
Composition: Textreme/Graphite
Power Level: Low-Medium
Stroke Style: Medium-Full
Swing Speed: Medium-Fast
Racquet Colors: Black
Grip Type: Prince ResiPro
String Pattern: 16 Mains / 18 Crosses
Mains skip: 8T,8H
Two Pieces
No Shared Holes
String Tension: 45-55 pounds
Are you intrigued by the Prince Phantom Pro 100P? If so, why? If not, why?
***
Do you like Tennisnerd? Don't miss a word or video by stalking us on social media. Every like and follow is appreciated!

YouTube
Instagram
Twitter
Facebook Page
Amazon Influencer
Buy tennis gear
EU
Racquet Depot
Pro Direct Tennis

USA
Tennis Express
Do It Tennis
Amazon.com
Racquet buying guides
Here is a great racquet buying guide to get you started.
What tennis racquet should I buy?
Top tennis racquets to buy right now
The Gear of the Year 2017
The Gear of the Year 2016
Tennis racquets for juniors
Tennis racquets for kids
Popular posts
What the ATP pros play
Questions about pro stock tennis racquets
Is a pro stock racquet better than a retail one?
Do professional players change racquets?
Racquet Commitment Issues