I loved the Prince Phantom pro 93P 18×20 version and was close to making the switch. Still, it was difficult to defend with at times. Is a more open pattern the solution? Read this Prince Phantom 93P 14×18 racquet review to find out.
There are not many midsize racquets on the market right now, the sport is moving towards larger head sizes, even on the pro tour level. The sport is getting faster, racquets are getting lighter, swing speeds are increasing and you need a bigger sweet spot to contact the ball properly. That does not mean that midsize racquets such as the Prince Phantom Pro 93P are obsolete. You can still play great tennis with them depending on your playing style. I really enjoyed the 18×20 pattern and I was excited to do this Prince Phantom Pro 93P 14×18 racquet review.
I was quite surprised that Prince decided to release another version of the Phantom Pro 93P. It seems like they really listened to the feedback from players who loved the racquet but wanted a bit more forgiveness and spin. The 14×18 midsize racquet is not new to Prince, they have released a somewhat similar spec before but I had never tried that racquet. Since I really loved the response of the tighter pattern, and Tennis Warehouse reviewed this favourably, I thought it would possibly be love at first hit.
Prince Phantom Pro 93P 14×18 Racquet Review – Specs and tech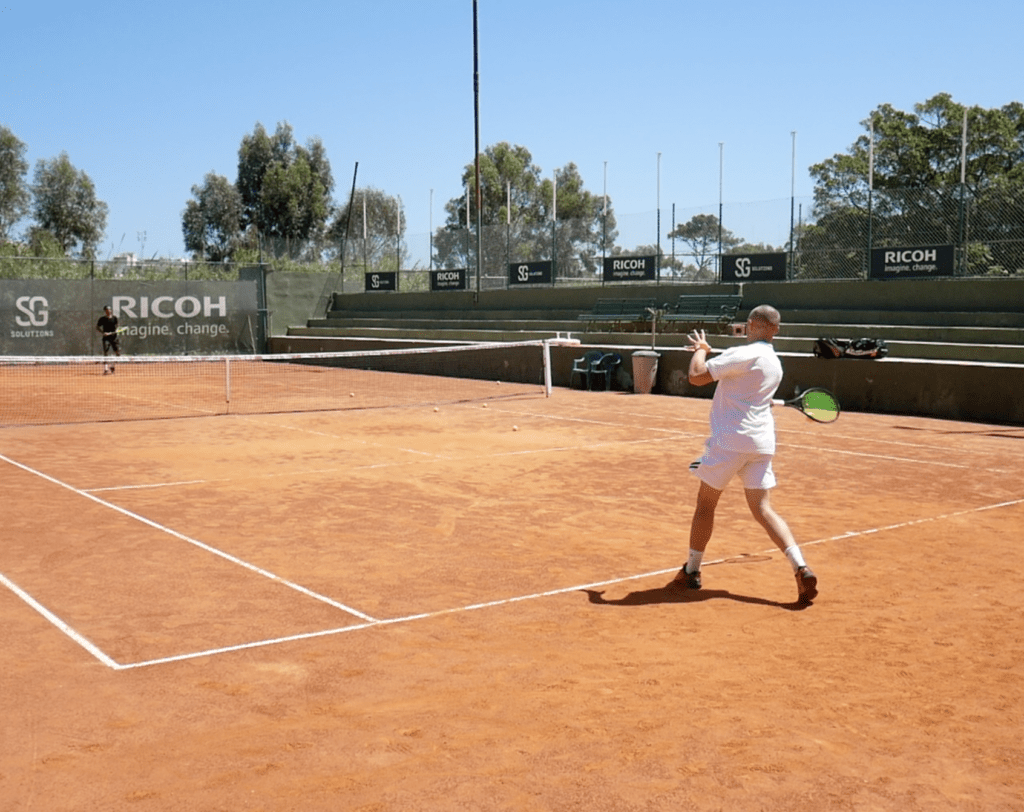 The Prince Phantom Pro 93P 14×18 comes with similar specs to the 18×20 pattern version, but with some differences. They have stiffened up the feel a bit with a few points higher stiffness rating but otherwise, the string pattern is the key difference. And it does make a difference!
When it comes to technologies, this is a no-frills-frame. It is made of Textreme which is a super thin carbon fabric that increases stability without adding extra weight. These are the approximate unstrung specs:
Head size: 93 sq inches / 600 cm2
Length: 27 in / 68.6 cm
Weight: 11.6 ounces / 330 grams
Balance: 12 pts HL, 30,5 cm
Swingweight: 300
Stiffness: 66
Beam width: 20/18/16 mm
String pattern: 14×18
Prince Phantom Pro 93P 14×18 Racquet Review – How does it play?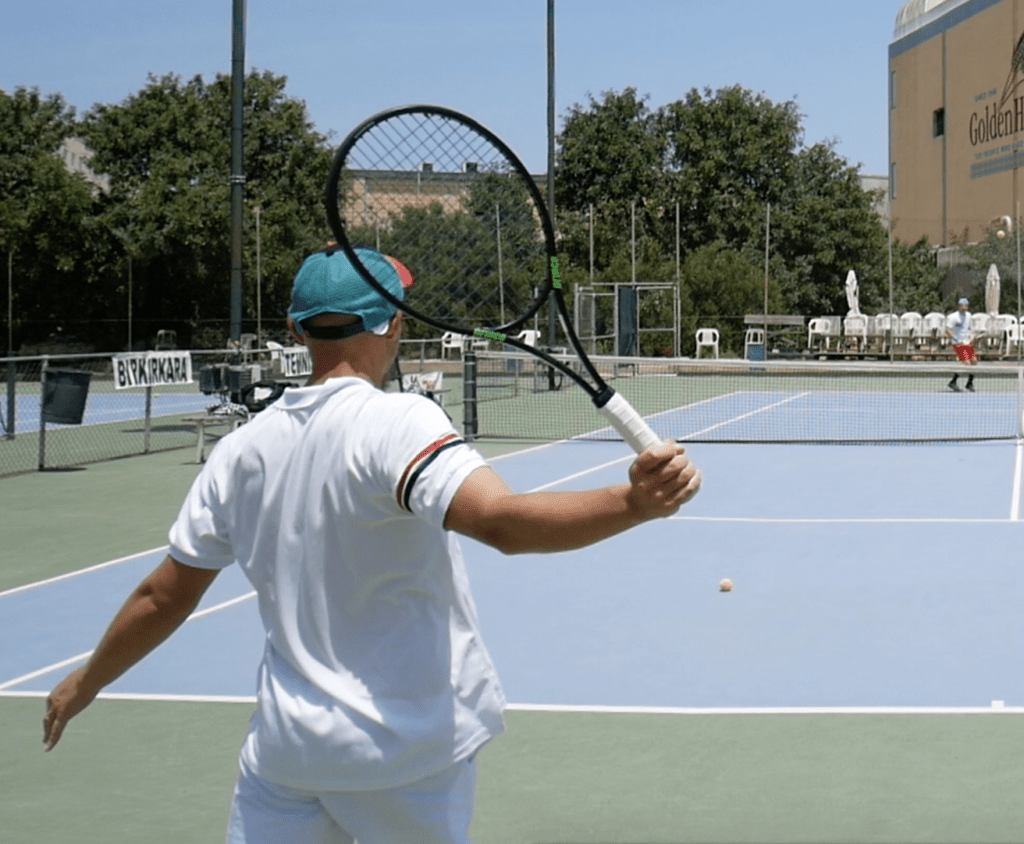 What was immediately noticeable with the open pattern Phantom 93P was the spin potential and the launch angle. The ball jumped off the string bed and dove straight down deep at my opponent's side of the court. The spin was so good it almost felt like cheating. But, I also needed to hit with a lot of spin to make sure the ball landed in. If I was late on my shots or hit the ball somewhat flat, it would sail a bit. When I focused, moved well and played on a slower clay court, the racquet felt great. But when I played on a faster hard court against a flat hitter, I missed the pinpoint precision of the 18×20 pattern.
The racquet is definitely nice to play hit. Still pretty plush despite the higher stiffness, great access to spin, excellent feel on the ball. There are issues that remain of course. The smallish sweet spot (large for a 93 sq inch racquet, but small compared to others) that will not allow for the best defensive play ever, is the main one. The head size and the thin beam makes this more of an attacking weapon. My other issue with the racquet is exactly what I mentioned before, it was not as easy for me to feel confident with the open pattern. Many of my shots just went long, and it was strung with Solinco Hyper-G
and that is a string I am normally very much at home with. This leads me to the conclusion that for my game, this string pattern is just a bit too open.
Prince Phantom Pro 93P 14×18 Racquet Review – Summary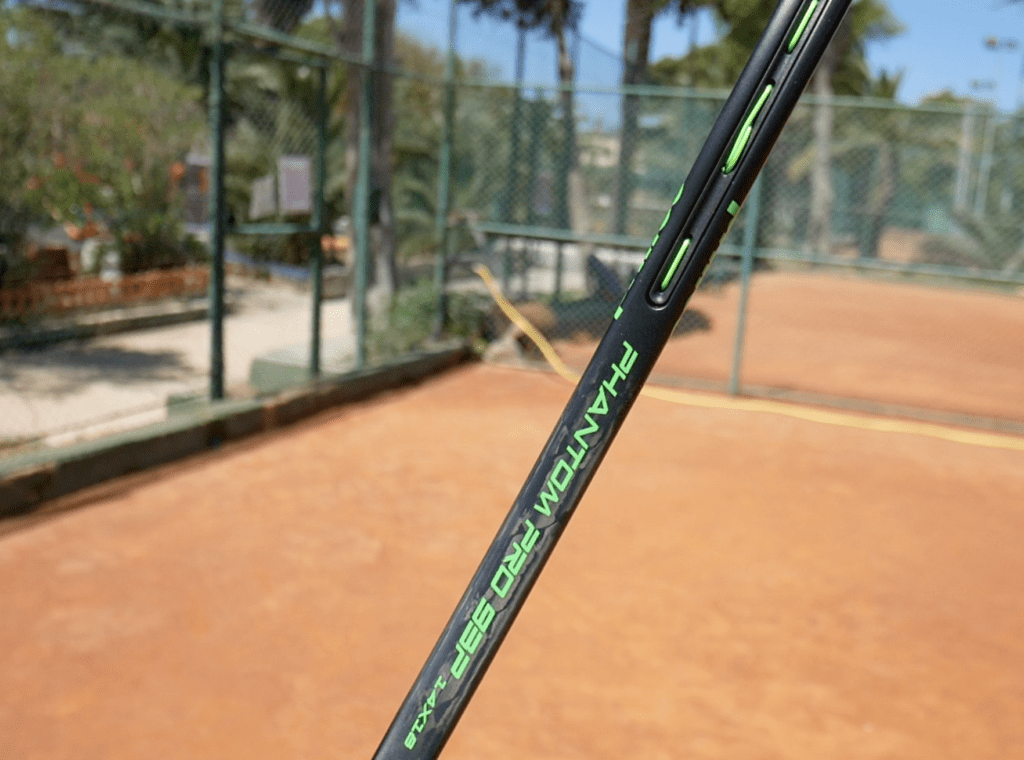 For players who hit with a lot more spin, this might be an excellent frame, but I prefer tighter patterns and never felt completely at home with this racquet as I did with the 18×20 version. Let us look at the pros and cons of the Prince Phantom Pro 93P:
Pros:
+ Spin-friendly
+ Great feel from the thin beam, lovely for drop shots and volleys
+ Comfortable
+ Fast
Cons:
– "Wild" launch angle
– String-breaker
– Not the easiest racquet to use
Could they not have done a 16×18 version instead? Possibly, but you must applaud the bravery from Prince to release a very open thin-beam racquet. It plays really nicely for advanced players who use heavy spin, I just prefer a bit more control myself. I also need to add that string job will not last very long in a 14×18 pattern frame, which should not come as a huge surprise to anyone. My set of 1.25 gauge Solinco Hyper-G started notching after 90 minutes on clay.
Nice racquet, brave update, just not for me. I prefer the control of the 18×20 version, which is a racquet I loved. Read my review here.
Are you curious about the Prince Phantom Pro 93P 14×18? 
Buy the Prince Phantom Pro 93P
on Amazon.
Prince Phantom Pro 93P 14×18 Racquet Review – Video
Coming soon!
***
Do you like Tennisnerd? Please also follow and share our other channels. Every like, share and follow is deeply appreciated! You can now also become a Tennisnerd patron and receive unique content and reviews before everyone else!

Patreon – Support and get VIP content
YouTube – In-depth video reviews and vlog
Instagram – Racquets, racquets, racquets
Twitter
Facebook Page – New content daily
Facebook Group – Join the discussion with other tennis nerds
Amazon Influencer
About tennis racquets
All racquet reviews
Here is a great racquet buying guide to get you started.
What tennis racquet should I buy?
Top tennis racquets to buy right now
The Gear of the Year 2018
The Gear of the Year 2017
The Gear of the Year 2016
Tennis racquets for juniors
Tennis racquets for kids