ProKennex has been around since the late 70s and is now promoting themselves more as a "science and design company", rather than a standard racket manufacturer. They are the only company using Kinetic tech and that is why I was so excited about this ProKennex Ki Q+ 5X Pro Racquet Review.
ProKennex is not a well-known brand on the market, but they have been relevant in tennis racquet history. They launched the ProKennex Destiny racquet in the 90s that later Babolat bought from them and made into the Babolat Pure Drive, one of the most popular tennis racquets of all time. ProKennex then decided to focus on arm-friendly racquets and they some real classics such as the Redondo 98 and 93 in their catalog. Nowadays, they are most famous for their kinetic technology which has micro-bearings moving around inside the racquet as you swing it. This makes the racquet sound like a music instrument (maracas) and takes some getting used to. And it is one of the most noticeable features in this ProKennex Ki Q+ 5X Pro racquet review.
* You can buy the ProKennex Ki Q+ 5X Pro racquet from Amazon here
. *
ProKennex Ki Q+ 5X Pro Racquet Review – Specs and tech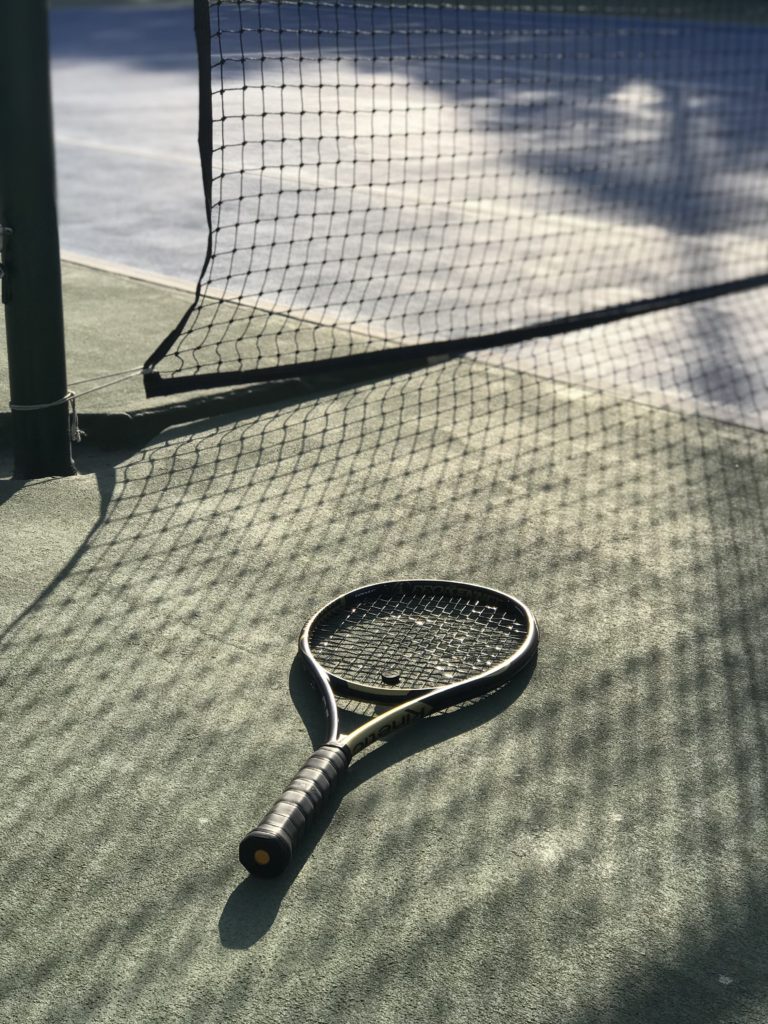 The ProKennex Ki Q+ 5X Pro 310 gram version comes with an extended length of 27.5 inches (69.85 cm) and the following specs.
Specs:
Head size: 100 sq inches
Weight: 310 grams unstrung / 325 grams strung
Balance: 6 pts HL (32,5 cm) strung
Swingweight: 340
Stiffness (RA): 67 strung, 70 unstrung
Beam: 21.5 mm all over
String pattern: 16/20
As you can see from the swing weight, this racquet packs a punch. Extended racquets offer higher swing weights, which increases stability and power, but makes the racquet more difficult to swing (less maneuverable).
Tech:
Quad focus technology – Larger kinetic energy chambers to increase vibration dampening/shock reduction and offer greater torsional stability.
The kinetic chambers are located at 10, 2, 8 and 4 o'clock which is supposed to make the racquet feel solid. The kinetic system sounds like sand moving around inside your frame, but it is actually thousands of micro-bearings moving around inside those chambers loading energy as the racquet moves. So when the racquet hits the ball, the bearings move forwards which transfers power and reduces shock.
ProKennex Ki Q+ 5X Pro Racquet Review – Performance and playability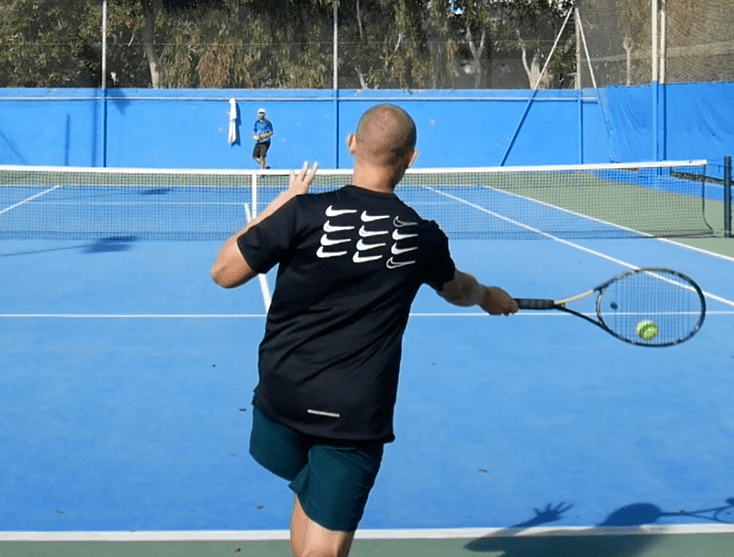 Besides all the interesting tech, the specs also intrigued me with this racquet. Recently I have enjoyed the plow-through of playing with extended racquets. I am not the tallest guy (176 cm / 5.8 feet) so that extra length, especially on serves, is welcome. And I do like hefty swing weights so that is not an issue.  However, extended racquets require some getting used to since the maneuverability is somewhat hampered and you need to make sure to prepare your shots earlier.
When I timed the ball properly, I loved hitting with the ProKennex Ki Q+ 5X Pro. It really blasted the ball to the other side of the court with good power and spin. It really feels a bit like hitting with Babolat Pure Drive Tour Plus
(click here to read my review, click the name for the Amazon link), but with better comfort. It really plows the ball with that intoxicating power and the stiffness is not really noticeable thanks to the kinetic system.
Talking about the kinetic system. The sound of the micro bearings moving around inside the frame takes some getting used to. But when you got over the fact that something is moving inside your frame and it doesn't mean that the racquet is broken – you don't think about it.
ProKennex Ki Q+ 5X Pro Racquet Review – Summary
The ProKennex Ki Q+ 5X Pro is an excellent racquet for players looking for extra power without sacrificing comfort. I enjoyed this racquet on serves and groundstrokes and if you can handle the swing weight and the sound of "sand" moving around inside your frame, I bet you would do too. The racquet is also very stable on volleys, but I did struggle somewhat on touch shots. Powerful racquets tend to be more difficult to "feel" and I think this is the case also with this ProKennex racquet. But everything else worked really well with this racquet and I won't hesitate to recommend it to players who can handle the swing weight, like a powerful racquet but don't want to skimp on comfort.
*Pro Kennex Ki Q+ 5X Pro Racquet Review video to come soon!
Have you tried ProKennex racquets? What do you think of them? Please comment below.
***
Do you like Tennisnerd? Do not miss a word or video by stalking us on social media. Every like, share and follow is appreciated!

YouTube
Instagram
Twitter
Facebook Page
Amazon Influencer
About tennis racquets
All racquet reviews
Here is a great racquet buying guide to get you started.
What tennis racquet should I buy?
Top tennis racquets to buy right now
The Gear of the Year 2018
The Gear of the Year 2017
The Gear of the Year 2016
Tennis racquets for juniors
Tennis racquets for kids
Popular posts on Tennisnerd
What the ATP pros play
Questions about pro stock tennis racquets
Is a pro stock racquet better than a retail one?
Do professional players change racquets?
Racquet Commitment Issues