It's been a while since I released my first impressions of this frame. Finally, here is my Tecnifibre Tfight RS 315 racquet review.
The Tecnifibre Tfight RS 315 is an update from the Tfight XTC 315 racquet. The main news is the RS Section, which is a 5-sided R shape to keep the frame more stable through impact. They have also injected foam to deliver a more solid and dampened feel. The beam is also slightly thicker, 23mm / 23mm / 22.5mm compare to the 22.5mm/22.5mm/21.5mm from the XTC version. I used two different string setups for this Tecnifibre Tfight RS 315 racquet review: Tecnifibre Triax 1.38 at 55 lbs/25 kg and String Project Armor 1.25 at 53 lbs/24 kg.
Specs and tech
Cosmetically, this racquet follows the Tecnifibre trend. It's French-inspired with white, blue, and red. I think it looks fresh and different and stands out from the mostly black, blue, red or yellow frames on the market.
The RS-section is quite noticeable, also to the hand. You can really feel the edges of it, which can be great to some and annoying to others. I tend to grip the throat while preparing for my shots and then it can feel a bit strange, but it's not a big deal. The thicker beam is not all the way to the Tflash CES, but it's still pretty thick. Here I preferred the slightly thinner beam of the predecessor, although this one feels more powerful.
Unstrung specs:
Head size: 98 in² or 632 cm²
Length: 27 in or 68.5 cm
Weight: 315g or 11.1 oz
Balance: 31 cm or 10 pts HL
SW: 290
Stiffness: 70+ (Stiff)
Beam: 23mm / 23mm / 22,5mm
Grip: Synthetic
String pattern: 16/19
Strung specs with Tecnifibre Triax 1.38 and overgrip: 340g, 31.5 cm, and 321 SW
Strung specs with leather grip, overgrip, and String Project Armour 1.25: 348g, 31 cm, 319.5 SW
How does it play?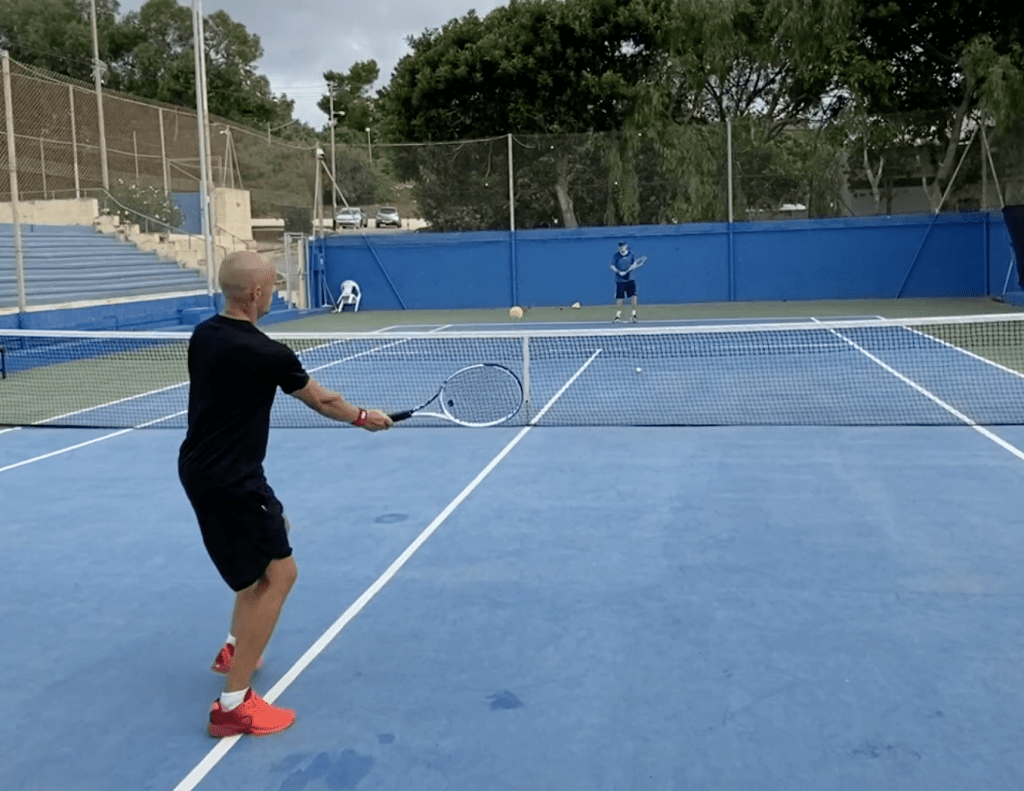 This is a fast-feeling and whippy racquet. The swing weight is pretty low for a 315g unstrung and despite the thick beam and high static weight, it felt fast. It's definitely made for players who want to stay aggressive from the baseline. The high stiffness makes it powerful and not suitable for players with arm issues. It does feel pretty well-dampened though and I had no real issues with elbow or wrist pain after using it.
Let's look at the different areas.
POWER: Not all the way Pure Drive, but more in the style of a HEAD Speed Pro.
CONTROL: Decent, but not it's forte. It doesn't launch the ball but packs a punch.
TOUCH: It's not a "drop shotters dream", but it's not too muted either. Pretty good touch for a power frame.
COMFORT: Tennis elbow sufferers stay away, but not particularly harsh for the stiffness either.
MANEUVERABILITY: Fast frame, easy to swing despite the weight.
STABILITY: Thanks to the stiffness and the foam, this is a stable frame, great on volleys.
SWEET SPOT: Above average for a 98 sq inch racquet.
SPIN: Not Aero levels, but pretty good. Controlled launch angle, which flatter hitters will enjoy.
Stroke-by-stroke
SERVE
This racquet is great on serve. You can whip up a fast swing speed and a high power level.
FOREHAND
Players with big top-spin forehands will enjoy this frame, finesse players perhaps not.
BACKHAND
I liked this frame a lot both on the one-handed and two-handed backhand. It feels like it has a huge sweet spot on that wing.
VOLLEY
Fast, stable, pretty big sweet spot. It's a great frame for doubles players.
SLICE
The controlled launch angle makes for a pretty good slice, it's not as heavy or skidding as the RF97A, but nice.
Who is it for?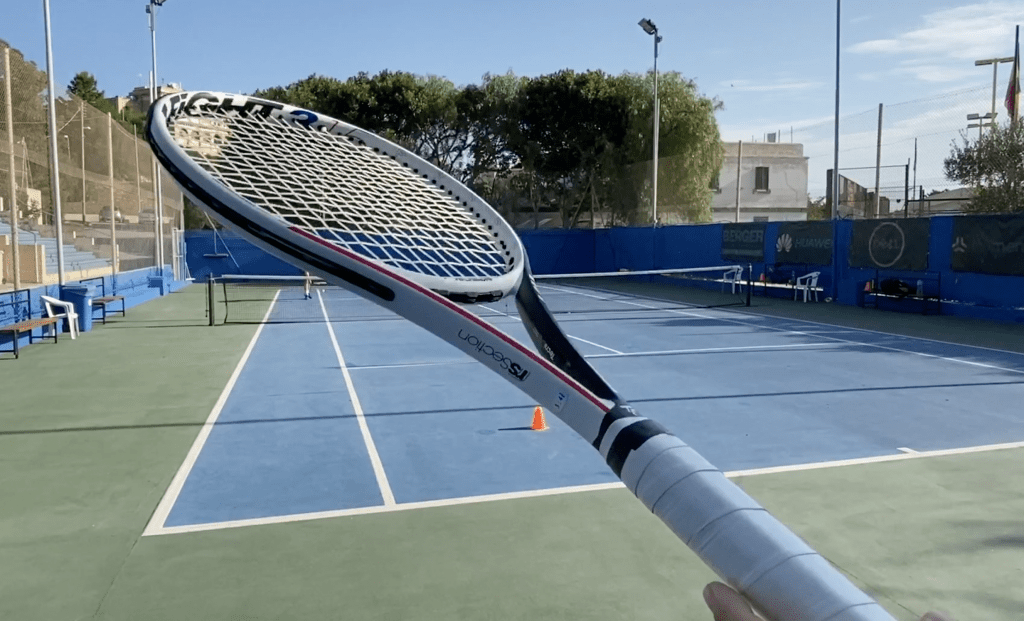 Crafty control players will not appreciate the thick beam and high power level of this frame. The Tecnifibre Tfight RS 315 is made for big hitters who like to take charge from the baseline and dominate the rallies. It reminds me of the Pure Strike Tour, but with a lower swing weight and a whippier feel.
I think doubles players will enjoy the abilities on serve and volley that this frame provides. Stable, fast and powerful. Hit a big serve and close it!
PLAYER LEVEL:
The static weight will leave players below 4.0 NTRP wanting for something a bit lighter.
PLAYER STYLE:
Big-hitting baseliners looking for extra power.
Double-players who want a racquet that is fast and powerful, but not uncontrollable.
NOT FOR:
Players mainly looking for control and comfort. (Too powerful and stiff)
Beginners (too heavy).
Summary
I really enjoyed this frame. The extremely rectangular Tecnifibre grip shape bothered me at times but felt a bit better with a leather grip. I am a bit wary of using frames in the high 60s RA category, but it was pretty well-dampened and I did not sense any discomfort after a session. Since these things might creep in after playing with it a lot, I would warn players who are sensitive in their elbow or wrists.
My favorite areas were serve and volley. The Tecnifibre Tfight RS 315 is fast, stable, and powerful. It really feels made to dominate. It was lacking a bit in finesse and feel, but I did not expect that from a frame with these specs.
It has not made my MRR-list (match-ready-racquet list), but it's not far. I might use it in an upcoming doubles tournament and report back!
Buy it
If you're interested in buying the Tecnifibre Tfight RS 315, consider buying it from one of our affiliates to send Tennisnerd a tiny commission.
All Things Tennis UK (use the code TENNISNERD and get 5% off and a free stringing)
Amazon
(works for all countries where Amazon operates)
Do It Tennis – US