TenX Pro is a relatively new brand on the tennis market. Based in Sydney, Australia, a father, and son has launched a tennis racquet that is supposed to play exactly like a "pro stock racquet". They call it the Xcalibre and this is my TenX Pro Xcalibre Racquet Review.
The idea behind TenX Pro is to offer top quality racquets with a so-called pro stock feel for the advanced and improving player. The technology they offer is something called Uniflex (uniform flex) which makes the racquet flex as a whole unit. The idea is to offer better stability, comfort, and feel. They have a constant beam width of 20 mm and a flex rating of 66 RA unstrung. They come in a headlight feel with the idea that you can customize it yourself with lead tape if you want an even higher swing weight or more stability. If you want to find out how this racquet plays, keep reading this TenX Pro Xcalibre racquet review.
Listen to co-founder Andrew Bennett talk about the thinking behind the Xcalibre racquets on the TenX Pro official website.
You can buy and check out TenX Pro racquets here.
Tenx Pro Xcalibre Racquet Review – Specs and tech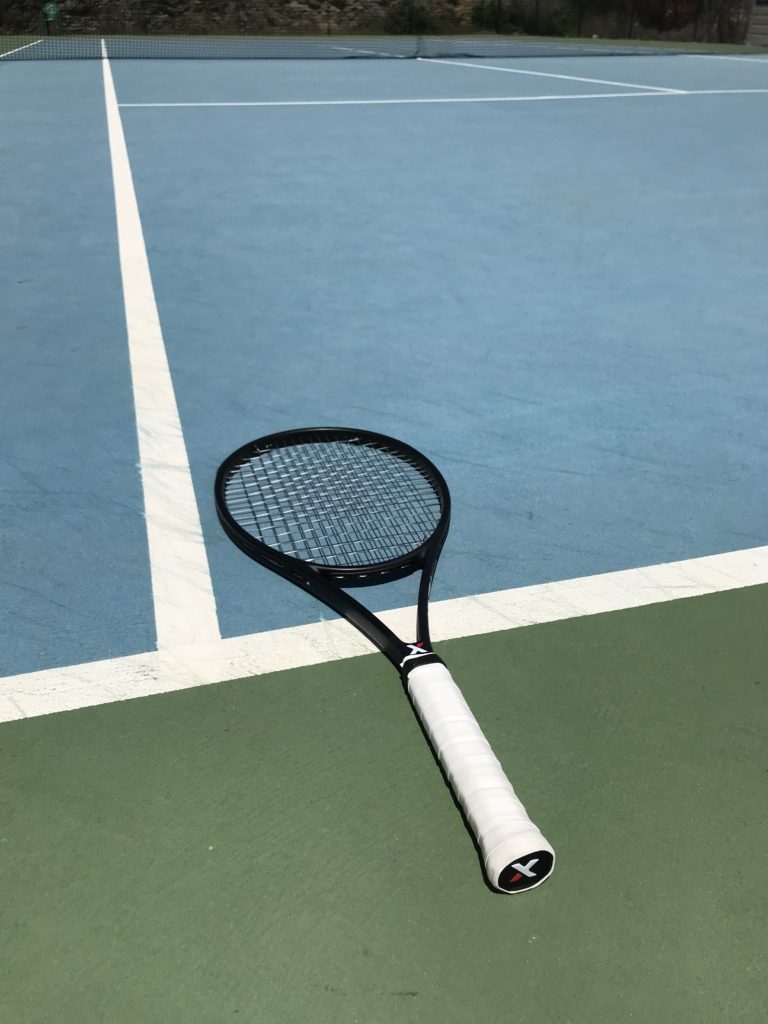 First of all, I want to mention the classy cosmetics, which is pretty much all black with the TenX logo on the butt cap, side and above the handle. I think this is a style that a lot of players will like. And the inspiration is likely from blacked-out racquets that the pros are using when they are testing new frames or are in between paint jobs. I think the specs are spot on for an advanced player, but one thing I want to point out is that all Xcalibre racquets are extended racquets at 27.5 inches. This might not be everyone's cup of tea, but it did not feel clunky or difficult to maneuver to me.
Tenx Pro Xcalibre Racquet Review – Specs of 303 and 315
Head size: 98 sq inches
Length: 27.5 inches
Beam width: 20 mm constant beam
String pattern: 16×19 (tight pattern)
Balance point: 31,6 cm
Stiffness. RA 66
TenX Pro were kind enough to send me two racquets for testing, one 303 gram racquet, and one 315 gram racquet. The lower weight gives you more room for customization, while the higher weight makes it easier to play in stock form without applying any extra weight.
Tenx Pro Xcalibre Racquet Review – How do they play?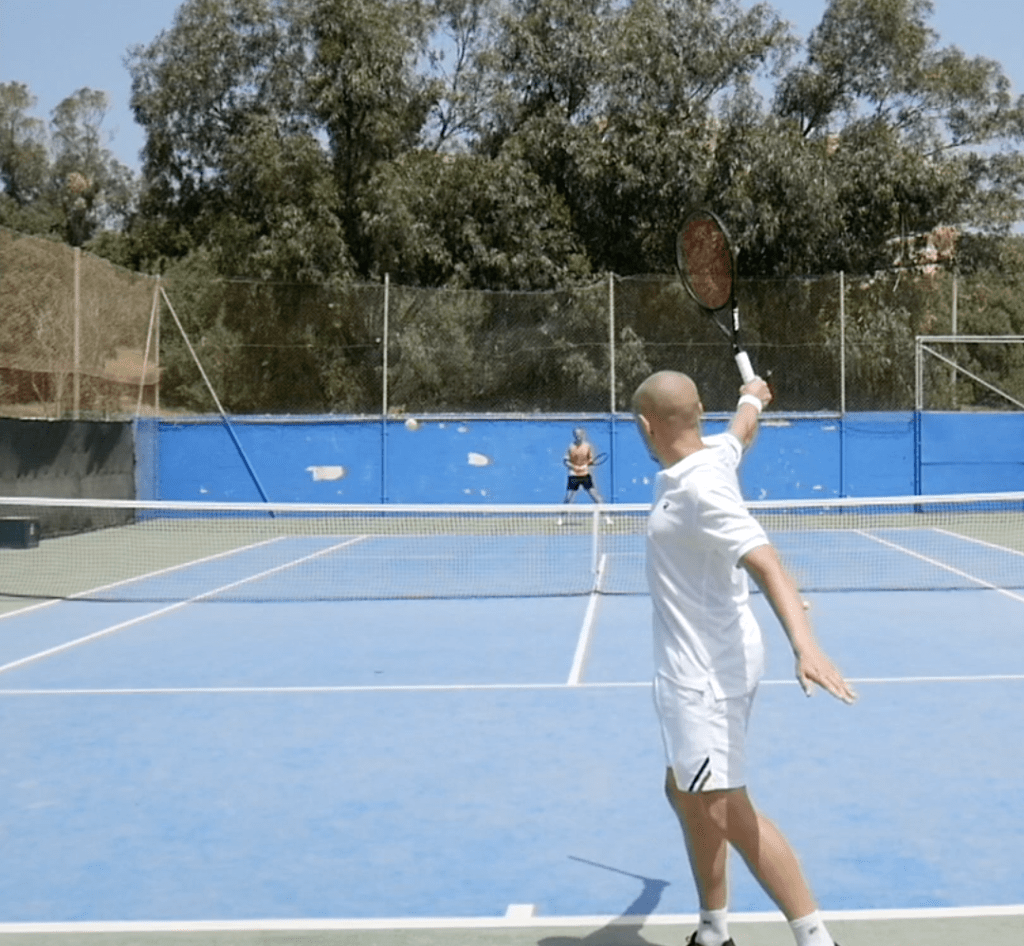 I tried these racquets with two string setups: HEAD Hawk Touch (click for my review of this string) at 22 kg and Luxilon Alu Power Rough
 (Amazon link) at 23 kg. They both played well with these strings, but I gravitated towards the HEAD Hawk Touch.
The racquets do feel solid from the get-go, but personally, I liked the 303 more with some lead tape added. The extended length makes these racquets play solidly without a massive weight and as I said, the thin beam and makes them relatively easy to maneuver anyway.
When TenX Pro claims their racquets play like pro stock, it can be hard to know exactly what they mean. There are a lot of pro stocks (what is a pro stock? read here) out there and many of them are of course different. I think they mean that the quality of the carbon fiber as well as the attention to detail and the feel, are supposed to be close to for example HEAD pro stocks like the PT57E or TGT 293.2.
And they do play very close to a controlled Prestige mold racquet. The flex is noticeable, but not noodle-like. The control is top notch. You are definitely connected to the tennis ball with these racquets. So if you are on the market for a proper "players frame" and not afraid of the extended length, these racquets are definitely worth checking out.
Tenx Pro Xcalibre Racquet Review – Performance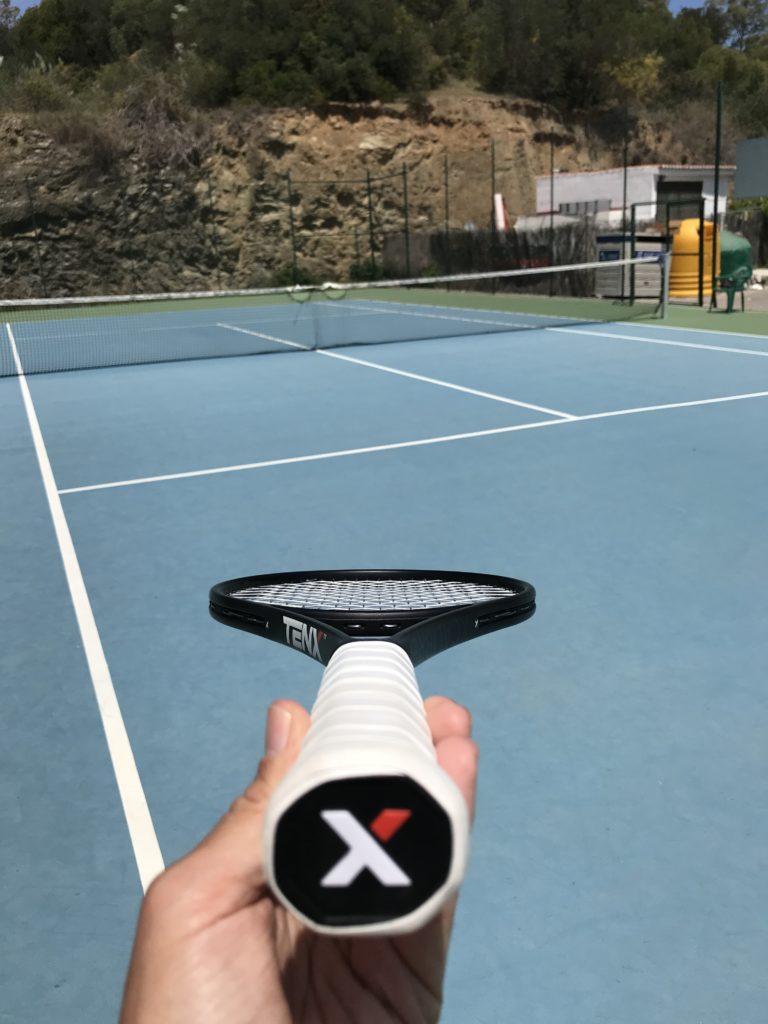 The TenX Pro racquet plays very close to a more comfortable Wilson Pro Staff 97. The string bed is tight and controlled. The sweet spot is not huge, but precise. The spin is there and the power too (if you bring it). It is a well-balanced frame that demanding players will likely enjoy. Sure, this is a control-oriented frame that doesn't give you anything for free, but if that is what you're looking for, this one pretty much checks off all the boxes.
It was not easy to fault this racquet anywhere. Comparing it to other 97-98 sq inch racquets, it is more controlled than a Yonex VCORE 98 for example, but more powerful than an Angell K7 Lime. Like with the K7 Lime, I really loved it on my slice as the thin beam really helps to knife the ball. The sweet spot is not huge for players who hit their forehand with an extreme SW or W grip, so I think there are other more spin-friendly racquets. I think this racquet liked it best when I went on the attack, played a bit of a flatter style and took the game to my opponents. It was stable enough to deflect pace from hard-hitting players and offered plenty of feel on volleys.
Of the two weight classes, I personally preferred the lighter 303 with some extra lead tape. I have noticed that I tend to like lower weights with more room for customization recently and that one did not need a lot of lead tape to play great.
Tenx Pro Xcalibre Racquet Review – Summary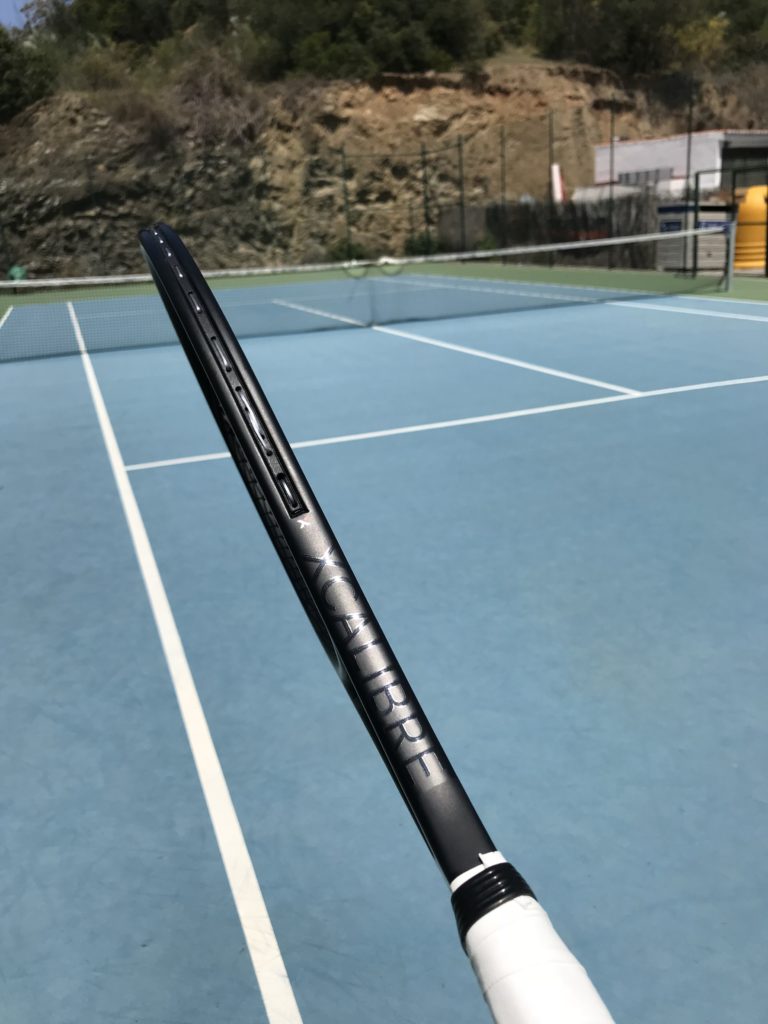 TenX Pro is simply another new brand making quality tennis racquets. These Xcalibre racquets will offer the advanced attacking player some really nice features to elevate their game. I also like that TenX offer a global sponsorship program where players ranked within the 5000 on the ITF can get a nice discount on their racquets. Competing on the tennis tour is tough and expensive and any help the players can get is welcome.
I really liked my TenX Pro Xcalibre racquets. If I was in the market for another players frame, this is something I could definitely switch to. I think they have found an interesting niche with a focus on player frames and I appreciate the clean black, no BS design. This is definitely a solid effort and I am quite surprised to see so many new, smaller brands coming up with good products lately. It is a good sign and hopefully pushes the industry through higher quality standards and more innovation.
TenX Pro Xcalibre Racquet Review – Video

Do you like Tennisnerd? Please also follow and share our other channels. Every like, share and follow is deeply appreciated! You can now also become a Tennisnerd patron and receive unique content and reviews before everyone else!

Patreon – Support and get VIP content
YouTube – In-depth video reviews and vlog
Instagram – Racquets, racquets, racquets
Twitter
Facebook Page – New content daily
Facebook Group – Join the discussion with other tennis nerds
Amazon Influencer
About tennis racquets
All racquet reviews
Here is a great racquet buying guide to get you started.
What tennis racquet should I buy?
Top tennis racquets to buy right now
The Gear of the Year 2018
The Gear of the Year 2017
The Gear of the Year 2016
Tennis racquets for juniors
Tennis racquets for kids