The Wilson Blade is one of the most popular racquet series on the market for control-oriented players. Now it is time for version 7 and our guest writer Henrik Wallensten got his hands on the new racquet for a brief play-test. These are his Wilson Blade V7 Racquet Review – First Impressions.
During spring 2019 there were rumors about a new Blade from Wilson. The first hints on some tennis forums said it would include technology from the popular Clash-series. When I then got the first frame from Wilson to try out it sure looked a lot like the Clash, at least when it comes to the Paintjob. But would it have the same unique feel as the Clash?
The design of the new Blade-series, that Wilson have named "V7" is the same as the Clash-series, with a black bottom part, grey center and the classic Blade-green color in the top. The first impression was that it looked really good live despite what some keyboard-warriors say on the forums about the design. Another impression was that the grip is a tad longer compared to the CV Blade, to better suit two-handed backhands. I can't confirm this as I don't have any CV Blade to compare to, but the impression was a better handle for my backhand.
Wilson Blade V7 Racquet Review – Specs and racquets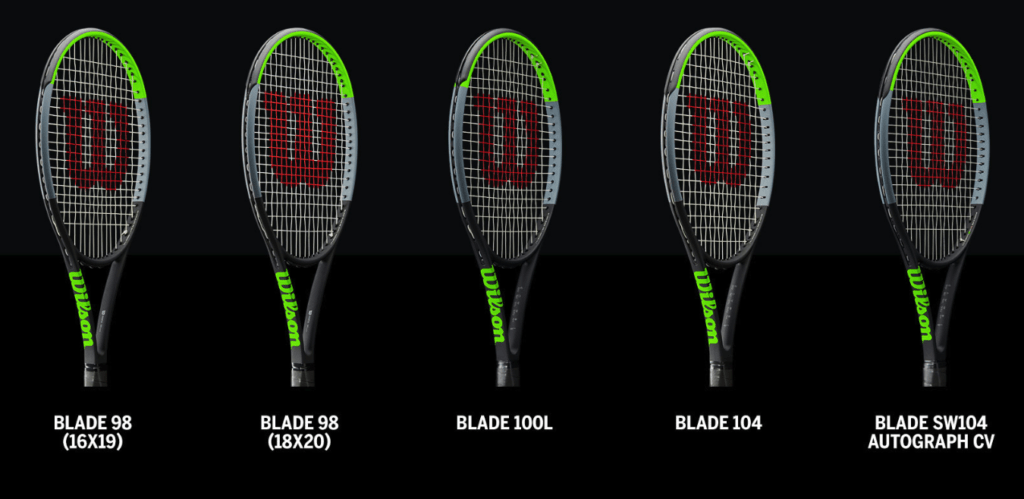 The new Wilson Blade V7 does not only come in 98 sq inch head size, but there are a number of different racquets released on August 15. This model will be endorsed by Stefanos Tsitsipas, David Goffin, Milos Raonic, Karen Khachanov and Serena Williams to name a few players.
Below you have the various specs of the new Wilson Blade racquets.

Wilson Blade V7 Racquet Review – How does it play?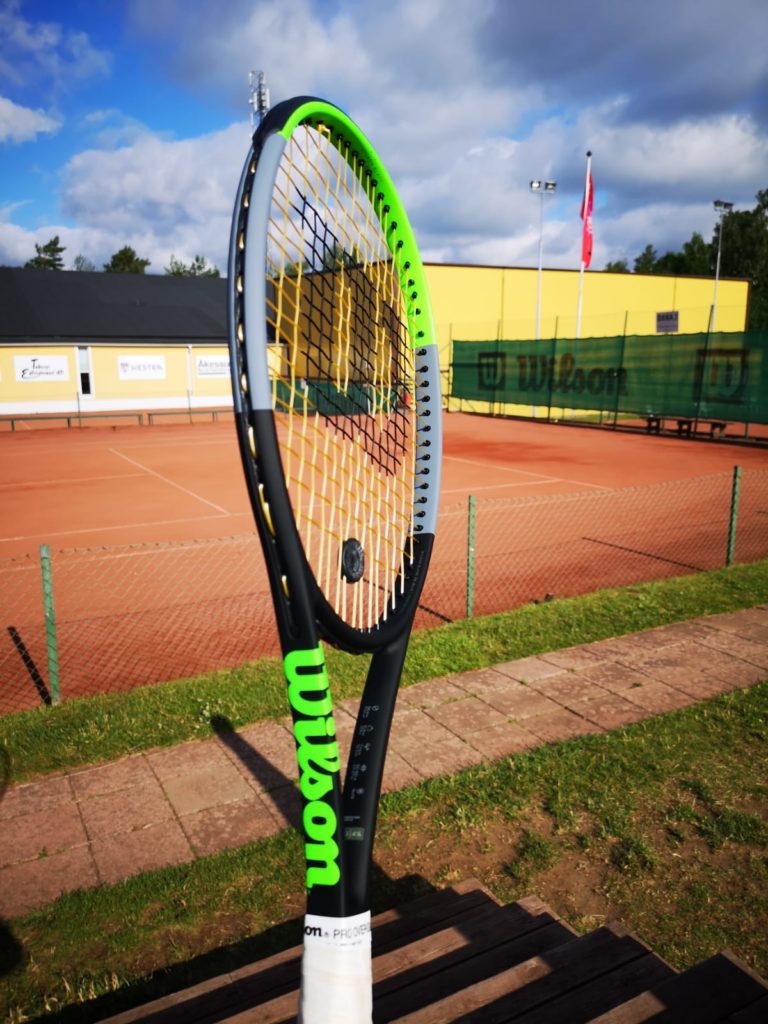 I strung the 16/19 98´version I got with Luxilon 4G 1,25 in 48 lbs, painted the "W" logo and was ready to go. When I tested this Blade, I was also in the process of testing the new Gravity Pro and MP, Wilson Clash 98 and the Babolat Pure Strike 100 and 98. Perfect to compare all frames at the same time.
The test was done on slow Swedish clay (or it´s more like gravel – you know the type of gravel that is used on old school running tracks that is located around a football-pitch). I can honestly say that I was not a big fan of the Blade 98 CV but had bigger hopes for this new Blade. The first few shots were immediately telling me that this is something good! The solid, rich feel in the frame was absolutely something new and almost had a pro-stock feel about the entire frame. Wilson calls it "FeelFlex" and according to Wilson, this creates a more connected to the ball feel. The flex in the frame is noticeably lower compared to older versions and there was not a hint of arm pain. So it seems that this new tech really works.
If you want to read more about the new Wilson tech and the Blade V7, check out their website.
Wilson Blade V7 Racquet Review – More control, less pain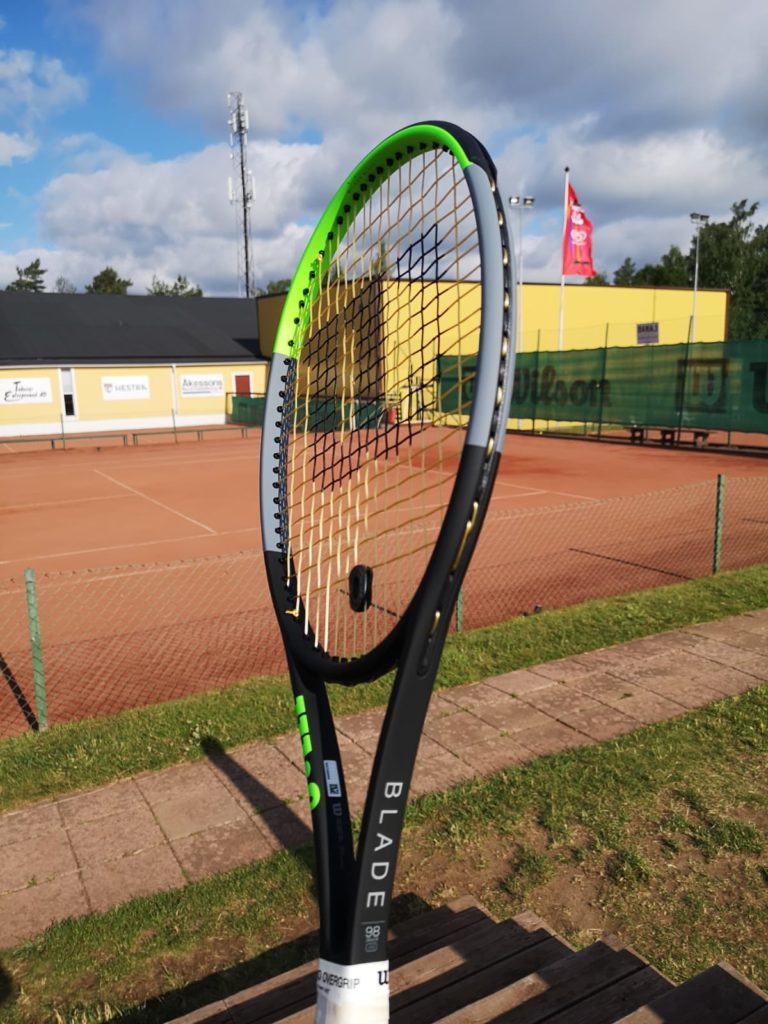 In the past, I have always felt that Blade, and actually most of Wilsons 16/19 patterns, have been somewhat erratic and unpredictable, but in this 16/19 it felt at home straight away. The control was like in a 18/20 version and the power-level was good, particularly on serves. One thing that I must point out though is that this is not a self-playing racquet like the Clash (well… you get the picture…) and you must really swing through every shot. With this new softer flex, you will also get more feel and control, but with that, you also must understand that the power level drops a little bit.
My 48 lbs with the 4G string were almost a bit too high. With the new soft flex, I could easily have used 40 lbs and got a bigger sweetspot and more free power and spin. That Wilson now seems to abandon the rock-hard flex that was so popular (among manufacturers) only some years ago, is a good thing. It will save a lot of elbows and shoulders among players on all levels. When Wilson launched the Ultra Tour, it was the start of something good.
Wilson Blade V7 Racquet Review – It is all about control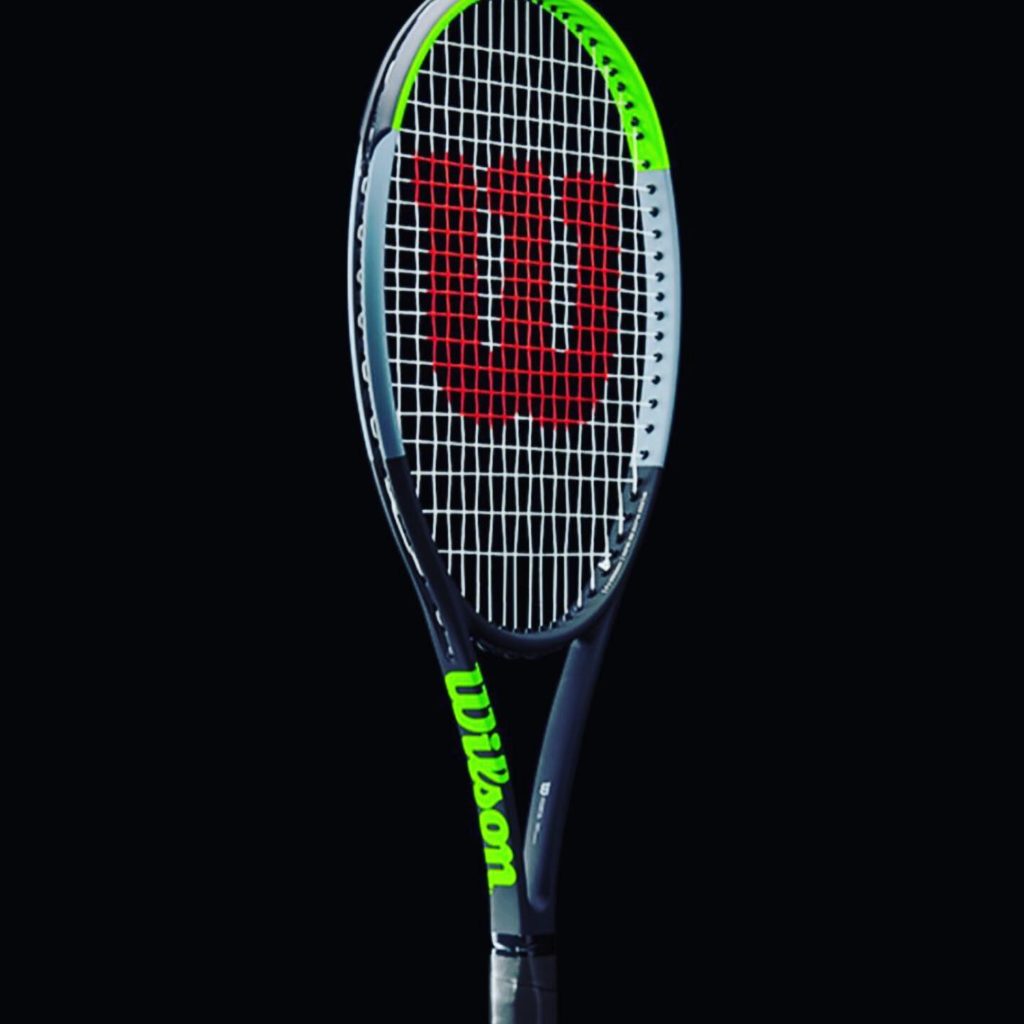 I must say I only had a very limited time with the new Blade, and these are just my very first impressions. I would really like to test it more with different string set-ups, leather grip, maybe some lead at 3 and 9 and so on, just the regular stuff a tennis nerd "must" do with new stuff.
Compared to Clash 98, the Blade offers much more control and predictable response, but the Clash gives more spin and free power. The 7th version of the Blade is a more demanding racquet compared to older versions. At least if you don't string it lower. Personally, I am looking forward to trying the new 100L version of the Blade. With some customizing, that frame could be very interesting.
In a time when the competition is really fierce, Wilson have stepped up their game again after the Clash-launch and created a really comfortable frame. Although the tested version is for more advanced players, the full line up of frames will most certainly have something for each and every category of player. The new Blade is really worth a demo and I´m pretty sure that this will be one of the most popular frames in a very long time. I actually see this frame as a future classic. A racquet that will be talked about in 10-15 years like we today talk about Head Pro Tour 630 CAP, Prestige 600, Wilson Pro Staff Classic 6.1, Babolat Aero Pro Drive original and so on. Well done Wilson, well done!
Wilson Blade V7 Racquet Review – Summary by Jonas
It seems like "Hank" was very smitten with the new Wilson Blade which just makes me even more curious. I am waiting for my demo racquet at the moment and will do an in-depth review and comparison with other 98 sq inch racquets on the market. I will focus on comparing it with the Clash 98 since they have similar technology behind them.
There is a reason the Wilson Blade is one of the most popular racquet lines. It simply packs a really nice combo of control and power and can be played in stock form and also customized to your own liking thanks to the low static weight. I am a big fan of the Wilson Blade 98 2015 versions and I hope this one can be even better. This first impressions review by Henrik gives me high hopes!
Are you curious about the new Wilson Blade V7? Which model are you most keen to try?