Some players prefer longer racquets. Here is my Yonex VCORE 98+ Review. A relatively maneuverable racquet that offers good power and spin.
I was not alone in doing this Yonex VCORE 98+ review. It was tested also by four other players, all advanced players around 5.5 NTRP. They all enjoyed this racquet a lot. Two players were ready to make the switch, while the other two preferred the standard length Ezone 98 for better maneuverability. We tested the racquet with Yonex Poly Tour Rev 1.25 strung at 51 lbs. It's the suggested string of the new line of Yonex VCORE racquets. (Click any of these links to read or watch my review).
The Yonex VCORE 98+ retails at $239 on Tennis Warehouse and 349 AUD on Tennis Only, but is sadly not yet available on Tennis Warehouse Europe. From what I've heard it's tougher to sell extended racquets in Europe than in the US for example. Not sure why. Ps. If you purchase anything through these links, I get a small commission which will help sustain Tennisnerd. Thanks. Ds.
Specs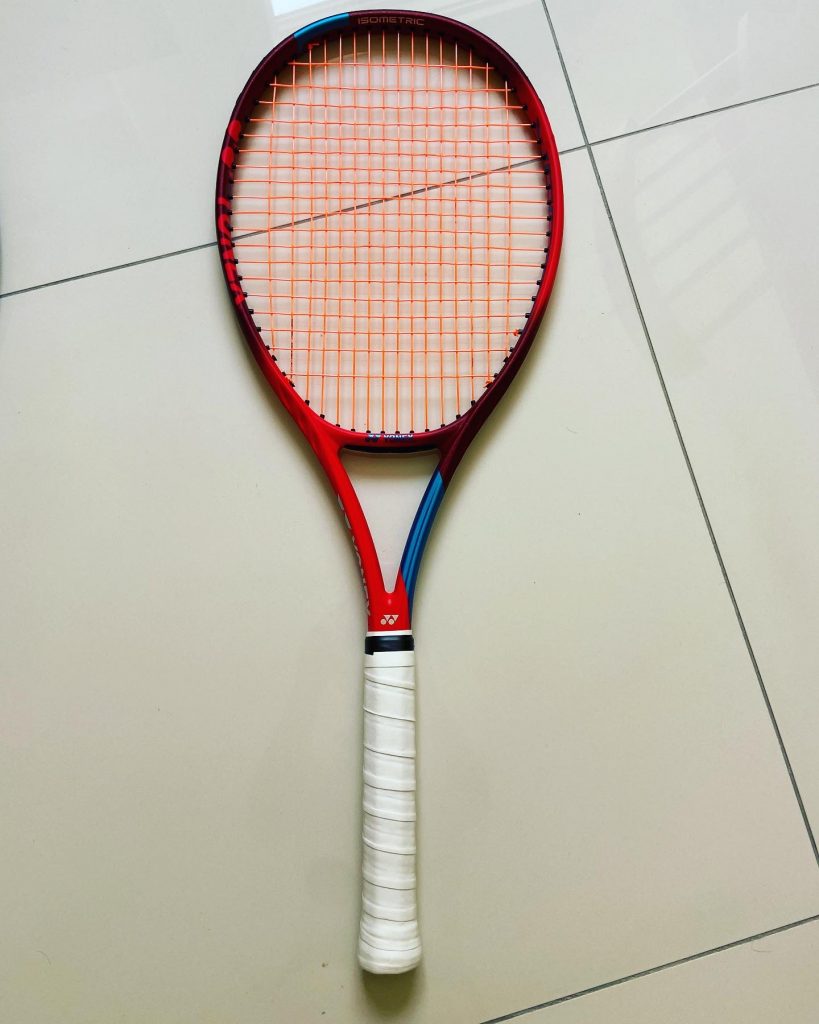 There is nothing out of the ordinary here compared to the VCORE 98. Just longer and with a higher swing weight (naturally). Mine had a slightly lighter spec, which actually made the racquet easier to maneuver. It came in at 324g with an overgrip (so 319g without) and a 32.6 cm balance leading to a 327.5 SW. The lower swing weight made most of us happy. It was one of the easiest extended racquets I've used as they usually go up towards 335-340 in swing weight when they're extended to 27.5 inches.
Head Size:98 in / 632.26 cm
Length:27.5in / 69.85cm
Strung Weight:11.4oz / 323g
Balance:13.18in / 33.48cm / 5 pts HL
Swingweight:334
Stiffness:66
Beam Width:22.5mm / 23mm / 21mm
Composition:HM Graphite/2G-Namd
Power Level:Low-Medium
Stroke Style:Medium-Full
Swing Speed:Medium-Fast
Racquet Colors:Red
Grip Type:Yonex Synthetic
String Pattern:
16 Mains / 19 Crosses
Mains skip: 8T,8H
Two Pieces
No Shared Holes
String Tension:45-60 pounds
How does it play?
The Yonex VCORE 98+ plays like the VCORE 98 but with a bit better plow-through, stability, and power on serve. The stiffness level was about the same, crisp/stiff and muted but not harsh on the arm. Good power, but not too much. The spin potential is nice and you have a clear sense of where the ball is going on all strokes. One of my hitting partners has decided to make the switch to this frame straight away from the Pure Strike gen 3 16×19. Like me, he is not the tallest guy, so the extra power he got on serves convinced him.
I personally prefer a slightly less muted feel in the string bed, but I heard no complaints about that from the other play-testers, so maybe that just means I've become a racquet snob 🙂 The power on serves was the most intoxicating thing for me and it handled flat shots really well. You could really blaze the ball through the court for a winner if you time it well.
I think extended racquets generally work better for players with double-handed backhands and that was the case also in this play-test. I struggled a bit with timing at first on that wing, while the other players (all two hands) got straight into the groove with this racquet. Yes, two struggled a bit with the power level, but after a while, they were all dialed in and thought this was a contender for the next frame of choice.
I personally prefer the Ezone 98 for its ease of use and maneuverability but for an advanced player that wants extra pop on serve and groundstrokes, this frame needs to be taken into consideration. Thumbs up to Yonex that they keep creating these extended versions of their bestselling racquets. If you haven't tried a longer frame, I think it's a great idea to demo one – it might be what's right for you.