I have been play-testing the new Ezone 98 for a while and it's been enjoyable. Here is my Yonex Ezone 98 Review.
The Yonex Ezone 98 series is likely the bestselling Yonex racquet of all time (just guessing). With players such as Nick Kyrgios (Xi 98), Naomi Osaka (Ai 98), Marton Fucsovics (Dr 98),  and plenty of other players using this line of racquets – it's been a blockbuster among competitive players the world over. I tried all of them and liked them all for different reasons. I thought I had given the 2020 Ezone 98 a proper test in my Yonex Ezone prototype review, but this one does feel slightly different to me (although it might be my memory playing tricks on me or just that my game has changed). That's why I felt the need to do this Yonex Ezone 98 Review (video to come!).
Yonex Ezone 98 Specs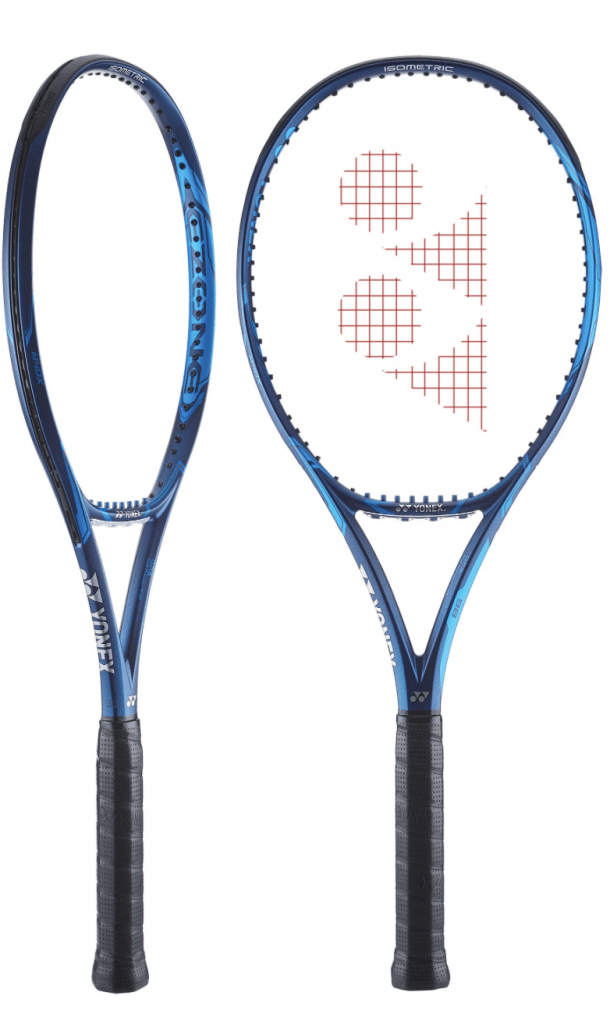 Yonex are usually one of the best in the business for quality control and my specs aligned to the T with the listed Tennis Warehouse specs. I strung the racquet with Yonex Poly Tour Pro 1.20 at 49 lbs or 22 kg, added a Yonex Supergrap overgrip and got: 327g, 32 cm balance (6 pts HL), and 315.5 SW. This does not include a dampener.
Head Size:98 in² / 632.26 cm²
Length:27in / 68.58cm
Strung Weight:11.3oz / 320g
Balance:12.75in / 32.39cm / 6 pts HL
Swingweight:317
Stiffness:64
Beam Width:23mm / 24mm / 19mm
Composition:M40X/HM Graphite
String pattern: 16 Mains / 19 Crosses (skip 8T, 8H)
The specs tells the story of a fast swinging and powerful racquet that will be relatively easy to use for a 98 – and that's exactly what it is!
How does it play?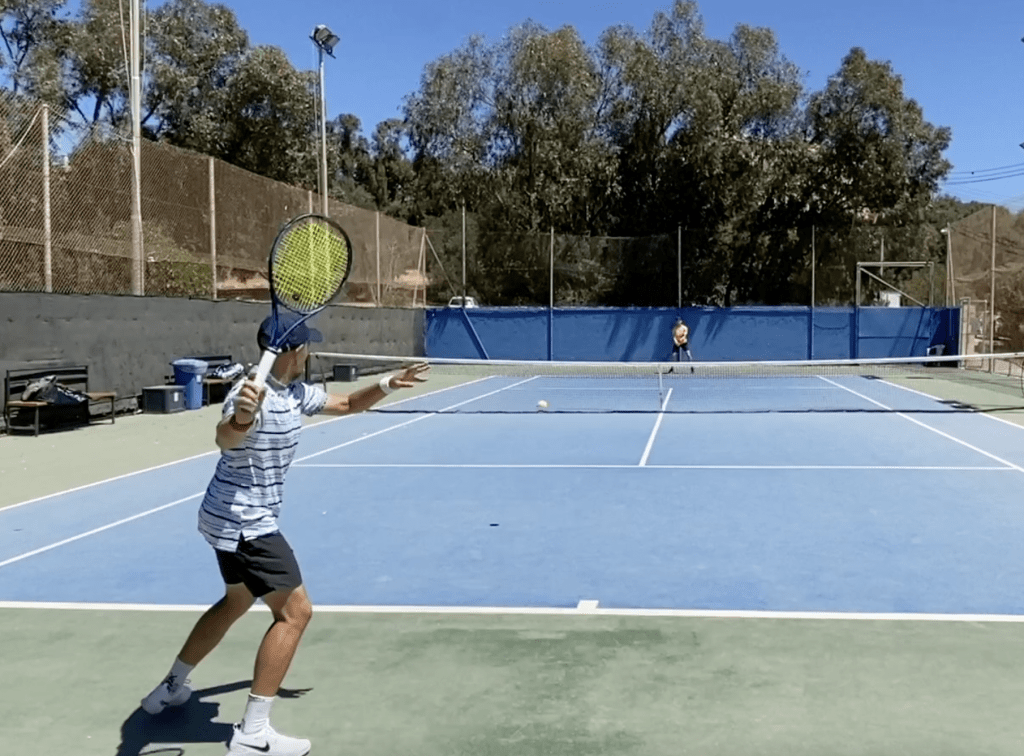 The Yonex Ezone 98 offers above-average power for the head size and pairs that with impressive comfort. I suffer from a stiff forearm and elbow niggles from time to time, but I had no such issues with the Ezone 98. The racquet is well-dampened (perhaps a bit too much for some players) and handles vibrations really well.
I got ample power on my groundstrokes, similar to what I did with the VCORE 98. I feel like the directional control is better with the Ezone 98 due to less string movement and a slightly tighter string pattern. The VCORE 98 is also perhaps a tiny bit more powerful, but that's hard to say because I tried them with different string setups. What is clear is that the VCORE 98 has a higher launch angle, which is great for spin players, but flatter hitters like myself will enjoy the Ezone more.
The Ezone 98 is probably the easiest 98 sq inch racquet I have ever used. Just point and shoot with decent control. I was more taken by this one than the prototype I tried in 2020. On one hand, I appreciate powerful racquets more these days, on the other hand, they could also be slightly different.
The Ezone 98 is best from the back of the court and aggressive baseliners should enjoy this frame a lot. It doesn't have the best feel on touch shots and volleys, where I feel it's a little too muted perhaps, but there is no issue with the stability despite the friendly swing weight.
Pros and cons
+ Power
+ Comfort
+ Large sweet spot
– A bit too muted
– Not the best racquet for touch shots
– Too powerful for many who enjoy the famous Ai and Dr versions.
All in all, I've been happy using the Ezone 98. It's much more arm-friendly than the Ezone 98 Tour that I fell in love with a while back and that's why I would consider using this racquet in matches where I need some help from the gear but don't want to go all the way to the power of most 100 sq inch racquets.
I can recommend this frame for players 4.0 and upwards who want a fast, powerful, and fun racquet that they can create havoc with from the baseline. Touch-players and players who like to get to the net, might not find the finesse here that they require. But perhaps this is where the Regna comes in? (Review to come!). PS. Patrons of Tennisnerd already know what I feel about the Regna 🙂 Ds.
Buy the Yonex Ezone 98
You can buy the Yonex Ezone 98 from one of our affiliates and a small commission goes to Tennisnerd.
Tennis Warehouse
Tennis Warehouse Europe (on sale!)
Tennis Only
Thanks for reading this review! Video to come in a couple of days.