The Tecnifibre TF40 was one of the best control racquets when it was released in 2019. It was a great blend of power, control and feel in one racquet. This post deals with the update. Here is my Tecnifibre TF40 2022 16×19 review.
In short: This Tecnifibre TF40 2022 16×19 review was a positive one. It's a subtle yet noticeable update and I prefer the newer TF40 thanks to its faster beam. Players will find a bit more spin potential with the 16×19 string pattern. Some players will love the lower swing weight, some might find the need to add some weight. Overall, one of the best control racquets in the market.
You can buy the Tecnifibre TF40 2022 16×19 from Tennis Warehouse, Tennis Warehouse Europe and Tennis Only.
Video Review
Cosmetics
I've been a big fan of Tecnifibre's racquet designs since they were acquired by Lacoste. And although some players prefer the design of the 2019 edition of the TF40, I thought this is even cleaner, which is something I personally like.
Some players have complained about the drastic font on the frame, but when you play with it, you don't notice that obviously. Overall, I feel like the racquet looks a bit less clunky with the new beam design and the clean cosmetics works well with that.
Tech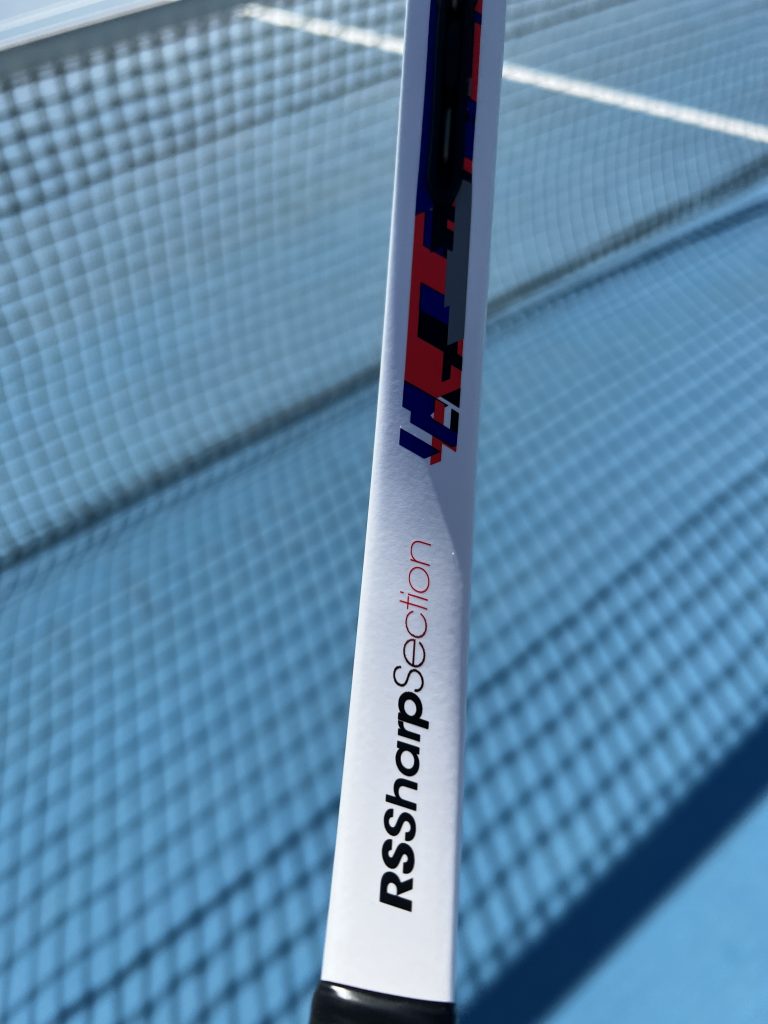 What's new in this TF 40 is the beam design, which feels like it makes the racquet faster through the air. Tecnifibre calls the new beam design (still the same beam thickness of 22 mm) RS Sharp beam. It also comes with Dynacore XTC like their previous models and is foam-filled for more comfort and dampening.
Specs
The specs are not changed much from the previous TF40, besides the addition of this 16×19 string pattern version with a slightly lower swing weight.
Head Size: 98 in / 632.26 cm
Length: 27in / 68.58cm
Strung Weight: 11.3oz / 320g
Balance: 13.07in / 33.2cm / 3 pts HL
Swingweight: 321
Stiffness: 64
Beam Width: 22mm / 22mm / 22mm
Composition: Dynacore XTC/Graphite
Grip Type: Tecnifibre Xtra Feel
String Pattern: 16 Mains / 19 Crosses
Playing level
Advanced
+4.0 NTRP
+6.0 NTR
For player ratings, check this post.
Playing style
All court players who like to get to the net, use angles and counterpunch.
Pros + and Cons –
Pros +
Maneuverability
Feel
Cons –
Some players would like a bit more weight for stability and plow-through.
Stroke by stroke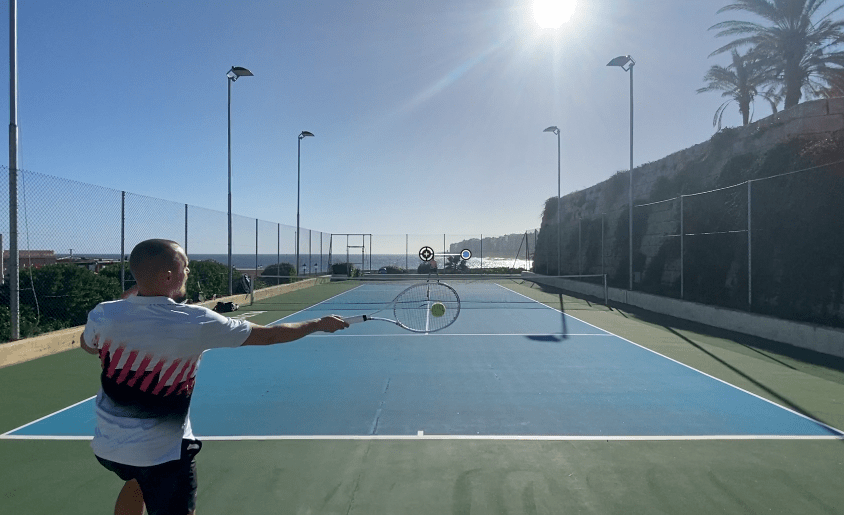 Serve: More precision than power
Groundstrokes: Excellent control, feel, but low-powered
Slice: Nice, but a bit more a weight would make it better
Touch: Great feel
Spin: Not bad, not the main selling point
Competitors (and how they're different)
HEAD Radical MP (slightly stiffer)
Wilson Blade 98 16×19 (close, different feel)
Tecnifibre RS 305 (heavier to swing)
Babolat Pure Strike 98 16×19 (more power)
Dunlop CX 200 (close, different feel)
Verdict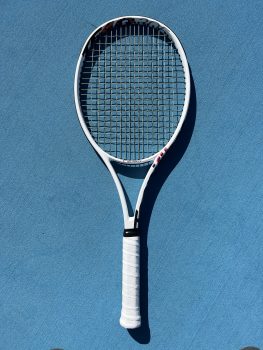 It was a difficult racquet to improve on and I can't compare the 18×20 versions yet. But one of the things I struggled with using the first edition was the TF40 was that it sometimes felt a little clunky. The re-engineered RS beam made the racquet faster through the air and the 16×19 pattern has a lower swing weight for improved maneuverability.
I liked it from pretty much everywhere on the court, but at times I would have liked a slightly higher swing weight for better stability and plow-through. It also would have increased the power on serve.
The racquet is not easy to use and most players will miss some free power/depth. But if you have the game to generate power and like to attack, move to the net and play aggressive tennis – this frame delivers. The spin potential is slightly better with the more open pattern over the previous generation.
Overall, a good update that is right in my wheelhouse. If you like racquets like the Blade 98 or Radical MP but want perhaps a tiny bit more power, the TF40 should be on your list.
Buy the Tecnifibre TF40 16×19
You can buy the Tecnifibre TF40 2022 16×19 from Tennis Warehouse, Tennis Warehouse Europe and Tennis Only.
If you buy this racquet or something else through my links, I get a small commission at no extra cost to you. This is a well-needed support for the website and Tennisnerd. Big thanks!