Wilson is releasing a new racquet model/line called Clash in 2019 and they have leaked some prototypes to companies like Tennis Warehouse and Tennis Express. Since the Wilson Clash tennis racquet has a prototype paint job inspired from the car industry, it is hard to make out the design of it, so we have to wait.
Will the performance of the Wilson Clash tennis racquet be worth the hype? Who knows. In the case of the HEAD MxG, no. But Babolat did a really good launch campaign for their new white/red Pure Strike (read my review by clicking the name), so maybe Wilson can be inspired by that.
Since the prototype paint job makes it hard to make out a lot about the frame except for that the throat looks like some kind of funky Radical racquet, we will have to go by the early previews from Tennis Express and Tennis Warehouse.
Wilson Clash Tennis Racquet – What will it play like?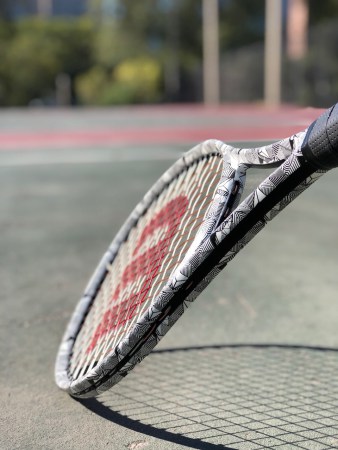 Tennis Warehouse legend Chris Edwards seemed quite excited about the racquet's playability when he said: "it is very fast, very spin-friendly, has tons of control and precision and yet a lot of power." If all that is true this is the best racquet of all time, so I think he is exaggerating a bit. Partly you need to take all reviews with a pinch of salt, but it can also partly be understood since it is always exciting for us tennis nerds when the big manufacturers release entirely new racquet models.
Judging from videos and pictures the beam looks relatively thin (22-23 mm), it comes with a 16×19 pattern, it looks like the head size is somewhere between 98-100 sq inches (maybe 99!). My hope is, as always with new releases, that they have kept the stiffness rather low. Maybe somewhere middle of the road like 63-64 strung instead of higher 60s. If the racquet can play with good comfort, I will be excited to try it and see what all the "fuzz" is about.
My prediction is that Wilson want to create a fast and relatively player friendly racquet with a broad target group, sort of like the Speed line from HEAD. We will see if they succeed. I would guess that the release date will be around the Australian Open.
What do you think of the new Wilson Clash tennis racquet? Are you excited about its release? Please comment below!