Wilson gets naked and releases limited edition blacked-out racquets for a better planet. Wilson Naked Racquets are stripped down!
Wilson are introducing their Limited Edition Naked Series, which they explain as a stripped-down, better-for-the-planet racket that keeps only what's necessary to make a racket without sacrificing performance. It's the first small step toward what could one-day be a fully sustainable tennis racket. Wilson Naked Racquets are available in four different racquets: Wilson Pro Staff 97, Wilson Ultra 100, Wilson Clash 100 and Wilson Blade 98. The links lead to my reviews, check out links to buy the racquets below. Each purchase through my links send a small commission to Tennisnerd.
Check out and buy Wilson Naked Racquets here:
Wilson Pro Staff 97 Naked
Wilson Clash 100 Naked
Wilson Blade 98 Naked
Wilson Ultra 100 Naked
To celebrate earth day (4/22), Wilson only have 422 Naked racquets for sale.
What are Wilson Naked Racquets?
(The video will be live at 10 pm CET.) This is how Wilson explains their Naked ltd edition racquets on their official website.
Highlighted by an eco-friendly design the first of its kind, the Wilson Naked Racquets strips out the paint, dyes, and one-use plastics in favor of biodegradable, recyclable solutions. This racket sports a water-based protective coating instead of the traditional painted finish, lending a subtle, yet powerful look on the court. Other notable features include Agiplast bio-based bumpers and grommets, a biodegradable PU grip, and an end cap comprised of no-dye Agiplast. As for packaging, this racket not only ships without a head card to reduce waste, it is also shipped in fully recyclable cardboard with a plant-based poly bag for added protection.
The idea is to create the most sustainable performance racquets ever made (only available on Wilson.com). Wilson has partnered with tentree to plant 2500 trees for every racket sold, adding up to more than 1 million new trees. One interesting fact that Wilson adds in their marketing is that: one mature tree produces enough oxygen for four people according to U.S. Department of Agriculture. So if the series reaches its goal of 400 rackets purchased, one million trees will be planted by Wilson and its partner tentree, creating enough fresh air for a city the size of Los Angeles.
Pros and Cons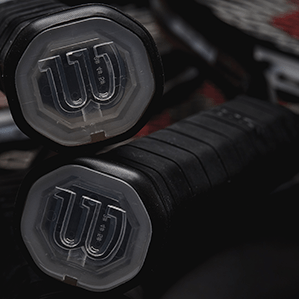 There are loads of pros
+ No solvent paints or dyes are used, which reduces the number of carbon compounds in the air.
+ Zero waste packaging – each naked racquet ships in a cardboard box that is 100% recyclable
+ Biodegradable grip
+ Agiplast, a biodegradable algae-based "plastic" for the bumpers, grommets and endcap
+ Reduced the amount of water it takes to produce a racquet by 10.8%
+ Looks COOL!
And only one big con
– The price! 499 USD is hefty, but I guess you have to see it like some kind of donation towards the environment.
Does it need to be that expensive? I don't know. I love the idea of the naked racquet though!