This Wilson Ultra Tour 95 CV Racquet Review will deal with the latest Ultra racquet as well as explaining why this is not the actual racquet of Kei Nishikori. Nishikori endorses the Wilson Ultra Tour 95 CV, but plays with something else.
As you might know, I really enjoyed the Wilson Ultra Tour, that was low-powered and required some lead to play well. The Wilson Ultra Tour 95 CV requires no customization since the swing weight is already high due to the extended length. If you don't know what CV means, it stands for Countervail and is the material that Wilson has chosen to dampen some of the shock and vibrations you get from stiffer frames. The dampening seems to work well, but the issue I have had with it previously is that it mutes some of the feel too much. Does it work better for the Wilson Ultra Tour 95 CV? Read on to find out.
The Wilson Ultra Tour 95 CV is endorsed by Kei Nishikori. Racquet manufacturers now use the word "endorse" instead of "use" which makes sense since in 99% of the cases the pro player actually uses something else. In Nishikori's case, he uses a racquet that was released some years ago called BLX Tour. My guess is that he has perhaps been playing with both the Wilson BLX Tour which is 27.7 inches long and the Wilson Ntour Two which is 27.25 inches long. Both specs have been found on Nishikori racquets if you check prostocktennis.com. Perhaps he went from the stiffer BLX Tour to the nTour Two to save his elbow and wrist a bit since the BLX Tour is quite a bit stiffer as well as longer. I don't know this for sure.
No matter what he actually uses, it is not the Wilson Ultra Tour 95 CV. But there are similarities since the Ultra Tour 95 CV is extended, 95 sq inches, and in case of the BLX Tour, has similar stiffness. The Wilson Ultra Tour 95 CV simply lands somewhere in between those two racquets.
Wilson Ultra Tour CV 95 Racquet Review – Specs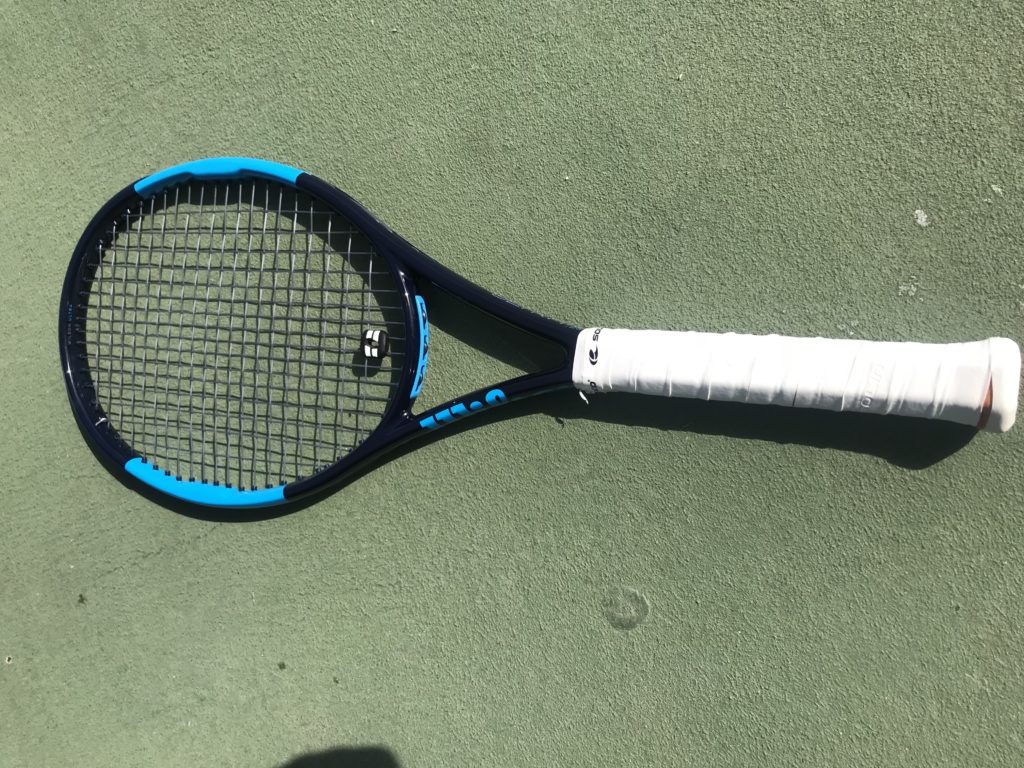 The reported swing weight of Nishikori is around 350, which sounds about right. The swing weight of the of the Ultra Tour 95 CV is not childish either at around 340. This means that this racquet plays quite stable and powerful, despite an unstrung weight of 309 grams. Extended length racquets naturally have higher swing weights and this one lands in my comfort zone, but a lot of players might find it too much to swing.
Before we head into the performance lets have a look at the listed specs of the Wilson Ultra Tour 95 CV:
Head size: 95 sq inch
Weight: 309 g
Length: 27.25 inches
Balance point: 32.5 cm
Tech and materials: Carbon fiber, BLX, Countervail, Crush Zone
Beam width: 22.0mm
String Pattern: 16×20
Stiffness (RA): 69
I strung up the racquet with Luxilon Alu Power
at 23 kg and I felt that string worked really well in this racquet. My first couple of session I played really well and noticed no timing issues with the extended length. But when the legs got tired it was a bit tougher to time the ball. The plow-through and power of this racquet is brilliant, but I had a tough time with touch shots. My favorite shots with the Ultra Tour 95 CV was the serve, slice and volleys that did not require a deft touch.
If you feel at home with the Wilson Six One 95, this could be an interesting choice to crank up the power, but I thought it was too powerful at times. And the extended length made it hard to get a bit more wristy with my shots. I had good results on the court with this racquet, but it required me to be tuned-in and focused at all time.
Wilson Ultra Tour CV 95 Racquet Review – Performance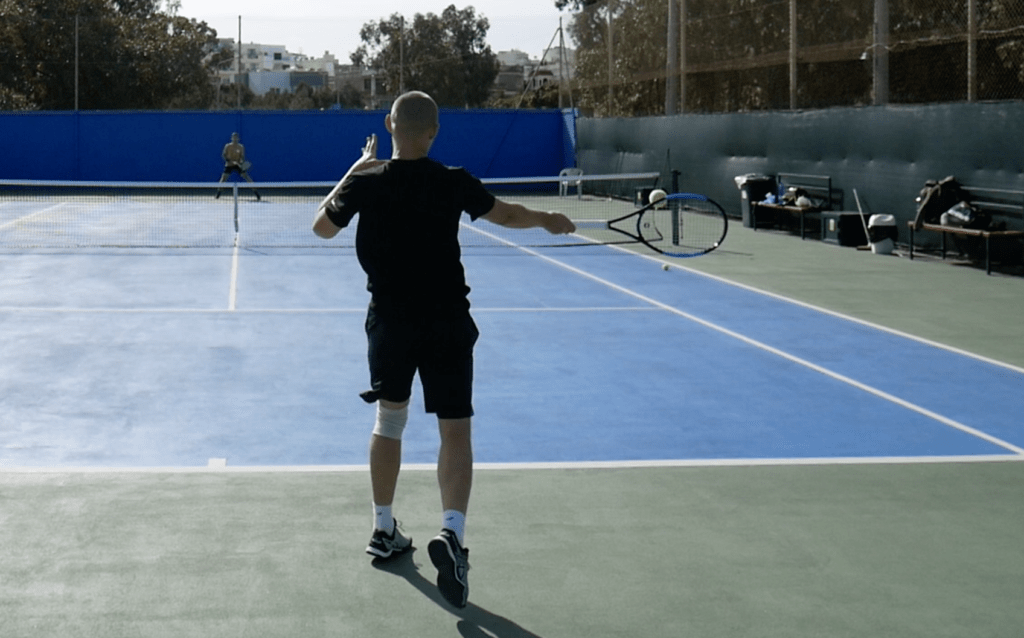 I must say I do like this slightly extended length. Some of my tennis friends swear by extended length racquets, but I have always struggled a bit with them. This one though was quite easy to adjust to. Definitely a racquet for advanced players who like to get enough power to end points quickly. I would not feel confident enough to get into long rallies with this stick, but if you are an aggressive player this could work to your advantage. You will hit plenty of flat winners and unreturnable serves.
I think Wilson could go down a bit in stiffness with this racquet which would have held back on some of the power and created a more flexible and enjoyable feel. That would be my sincere recommendation because I think the extended length makes sense, the string pattern is good and the weight and balance works in the racquet's favor.
I also want to add that this is close to an identical racquet to the Wilson Burn CV 95
. The only real difference is the throat grommet which is the so-called Crush Zone that is talked about in the Asian market but not in Europe for some reason. It is supposed to soften the feel a bit more as I understand it. To get back to that and countervail, I did not experience any discomfort from playing with this frame, but the SW and stiffness can bear some strain on sensitive wrists so it is always good to try before you buy.
Wilson Ultra Tour CV 95 Racquet Review – Summary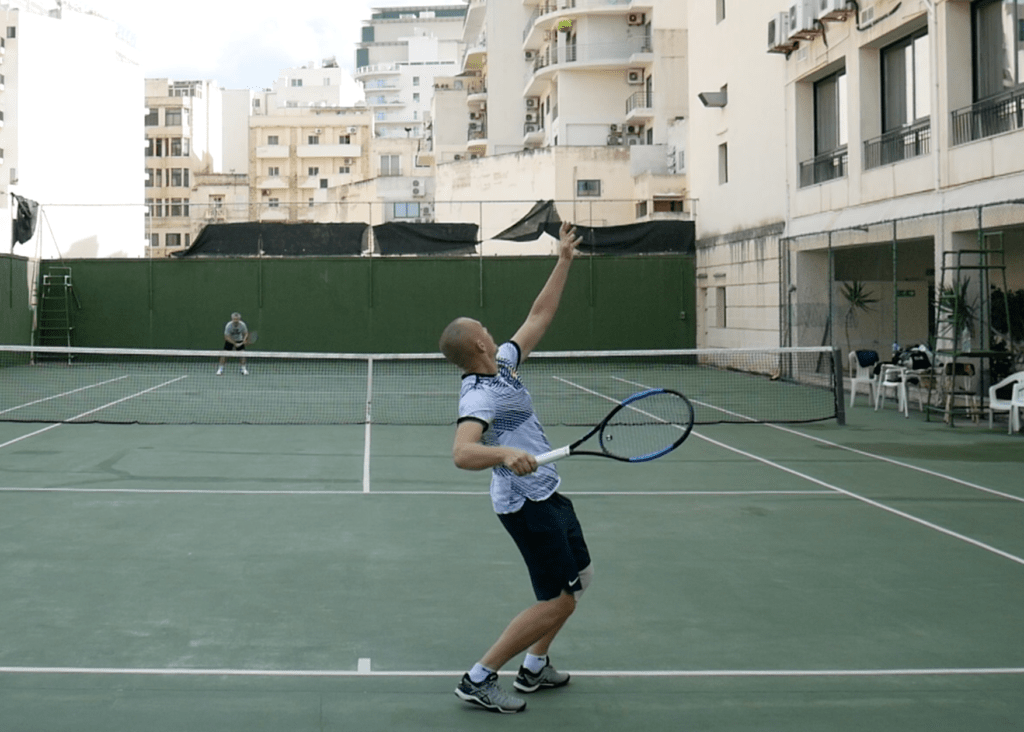 To summarize, this is a decent racquet. Quite fun to hit flat winners with. But it can be cumbersome to a lot of players and is not packed with feel. I wish Wilson would perhaps have implemented some more changes to the racquet instead of just changing it over from Burn to Ultra.
Or why not launch a Kei Nishikori Autograph model? More autograph models, please! I know the heft might not suit everyone though, but from a commercial standpoint, the Pro Staff RF97 Autograph sure was a success and you could perhaps imitate the strategy and release Light and Ultra-Light versions of the same racquet?
Wilson Ultra Tour CV 95 Racquet Review – Video

What do you think of the Wilson Ultra Tour 95 CV? Is it something you would be interested to try?
***
Do you like Tennisnerd? Do not miss a word or video by stalking us on social media. Every like and follow is appreciated!

YouTube
Instagram
Twitter
Facebook Page
Amazon Influencer
Racquet buying guides
Here is a great racquet buying guide to get you started.
What tennis racquet should I buy?
Top tennis racquets to buy right now
The Gear of the Year 2018
The Gear of the Year 2017
The Gear of the Year 2016
Tennis racquets for juniors
Tennis racquets for kids
Popular posts on Tennisnerd
What the ATP pros play
Questions about pro stock tennis racquets
Is a pro stock racquet better than a retail one?
Do professional players change racquets?
Racquet Commitment Issues