There are some new tennis shoes from HEAD on the market. I'm currently testing the Revolt Pro 4.0 and the Sprint Pro 3.5.
A couple of years ago, I mainly wore Asics or Nike Vapor Tours. They are still good shoes, but my daily drivers on the rough hard courts of Malta are the Sprint line from HEAD. Previously I used the Revolt because they are more durable, but comfort and speed-wise, I think the Sprint is my favorite. These lines have recently been updated, so let's look at these new tennis shoes from HEAD.
This post will deal with what makes the Sprint different from the Revolt and what is the audience for these shoes? Let's start with the Revolt Pro 4.0.
HEAD Revolt Pro 4.0 tennis shoes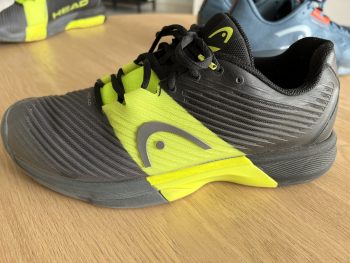 The Revolt series from HEAD is mainly about extreme durability and comfort. It's a roomy shoe that lasts a long time. I have tried several generations of the Revolt Pro, and they've been a good fit for my foot and game.
You can check the facts and tech of the shoe straight from HEAD.
These shoes are sturdy, solid, comfort-oriented, and durable. I always feel steady on the court with these shoes on, and I never worry about slipping or losing grip. It's all about support, which is enhanced by the lockdown strap.
The width of the shoe is about medium (don't worry about your toes being mashed together, it's a pretty roomy shoe), the arch is low-ish, and you're not going to need much of a break-in period. They feel good straight from the first hit to me.
As you can see from the reviews on Tennis Warehouse, this is one of HEAD's bestsellers. It doesn't matter if you use it for pickleball, padel or tennis – it's a solid all-court shoe.
The weight of this shoe is on the heavy spectrum at 386g approx, so if you're looking for a "fast" and light shoe, this ain't it.
HEAD Sprint Pro 3.5 tennis shoes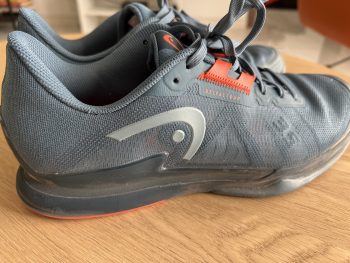 This is a low-to-the-ground speed-focused shoe. No break-in, just put them on and start springing around the court. The support is not bad but can't quite be compared to the sturdiness and lock-in feel of the Revolt Pro.
They have re-engineered the mesh and tongue material to improve comfort over the previous version (which was already very comfortable to me). There is half-sock system (not full-on like the Wilson amplifeel) but it helps to "hug the foot".
The HEAD Sprint Pro 3.5 is a far lighter shoe at 339.7 grams over the Revolt and is noticeable on the court. The comfort level is higher on the Revolts, but you will move faster with these. I don't find the stability bad, though, because otherwise, my aching and aging knees would complain.
You can check out more facts or purchase them at Tennis Warehouse or HEAD.com 
I think the 3.5 is a slight improvement over the 3.0 SF that I used previously. I would say a better fit and comfort and I would hope durability too. Shoes break pretty quickly for me on the gritty hard courts I play on 4-5 times a week, but performance is important too. I hope that the Sprint Pro 3.5 has found the perfect middle ground between speed and durability.
Summary
So the difference between these shoes is pretty straightforward. Do you want a lighter, low-to-the-ground, fast feel? The HEAD Sprint Pro 3.5 is worth considering. While, the HEAD Revolt Pro 4.0 is your best bet if you want stability and durability.
I have a hard time choosing between these two. I like to feel speedy on the court, but I'm also extremely keen on support, especially when playing on hard courts.
Let me know if you would consider any of these two. Or maybe there is another shoe or shoe brand that you prefer?