The NikeCourt Zoom NXT is a high-performance hard-court tennis shoe for players who like a fast-feeling shoe with no break-in.
I liked the NikeCourt Zoom NXT from my first step onto a tennis court. However, I always look for a shoe with maximum comfort and dampening since I have long-term knee problems. These are not the most dampened or comfortable shoes on the market, but they do a good job and I never feel sore after a session, which I do with a shoe like the Nike Vapor Pro or the Nike Vapor React for example.
NikeCourt Zoom NXT Tennis Shoe Review
I always talk about how personal a tennis racquet setup can be. But some factors often align between different players, and that is why reading or watching reviews is a practical way to understand if a product is right for you or not. Since if you order shoes online (I got these from Tennis Warehouse Europe and they're now on sale), you can't try before you buy.
I have talked to many players that have tried these shoes, and the feedback is somewhat polarized. Some players love them, and some don't. The durability is said to be an issue by some, but I have not noticed any problems regarding durability. Like I said above, I would have enjoyed a bit more dampening, but the fit was fairly comfortable, and I think they look great.
Specs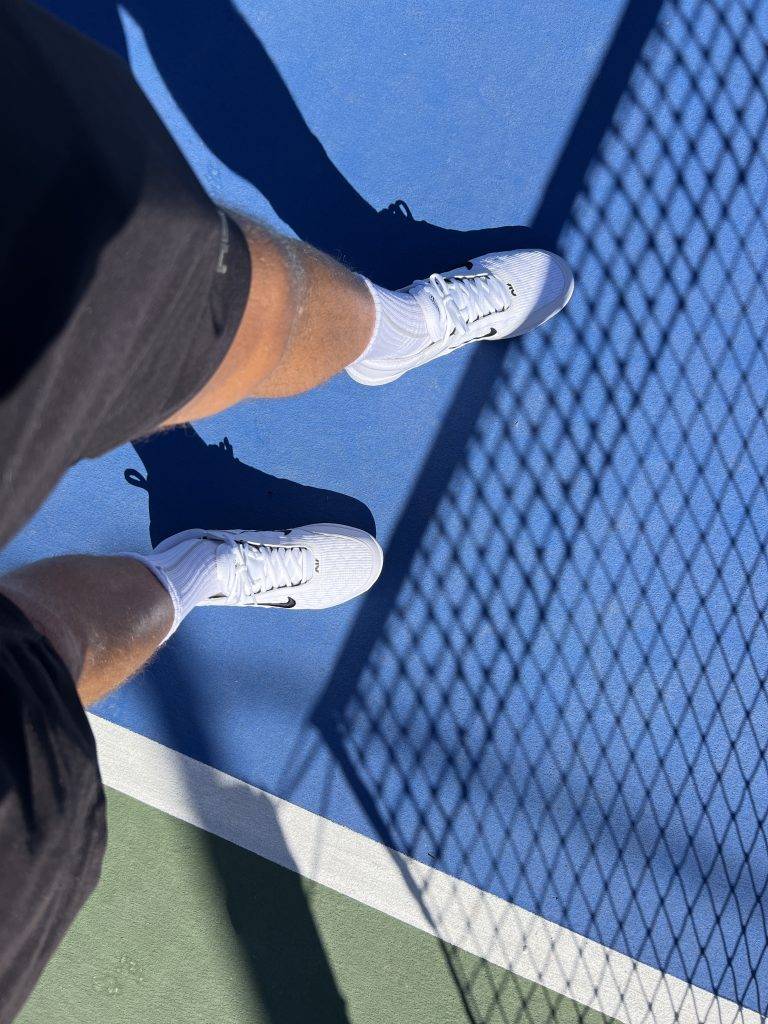 What is Zoom Air? It's an air-filled pocket in the forefoot to "supply you with energy return as you sprint towards the next shot." Nike themselves describes it like this: the technology uses pressurized air and tightly stretched fibers to absorb impact and then snap back for fast movement and reduced stress on muscles, joints, and tendons.
It's supposed to give an extra spring in your step, and although this is not the fastest shoe I've tried, they're not clunky either.
This is how Tennis Warehouse Europe describes the NikeCourt Zoom NXT tennis shoes:
Upper: Breathable mesh designed to keep feet cool during tough matches. Plush and padded ankle collar for added comfort. A partial internal sleeve supplies a glove-like fit and reduces heel slip. Pull tabs on heel and tongue to make it easy for taking on or off.
Midsole: Large Zoom Air Unit in the forefoot that is curved to respond to your stride. The Midfoot shank plate provides rigidity for stability while having enough flexibility for easy heel-to-toe transition.
Outsole: A data-informed outsole, which eliminates extra bulk, but is durable where most needed.
Colour: White / Black
Fit Details
| | |
| --- | --- |
| Length: | Long, we recommend going a half size down. |
| Width: | Medium |
| Arch: | Slightly low |
| Break-in: | No |
| Weight: | 428.1 grams (size 10.5 US) |
How do they perform?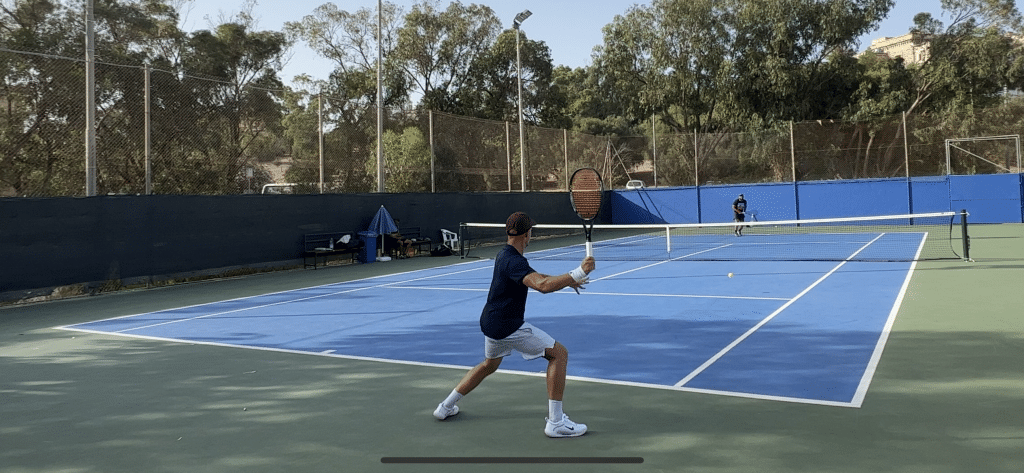 I used this for a while and played good tennis in these shoes. They feel solid, but the arch is slightly low, and sometimes I would have liked a bit more Achilles support. The weight is not an issue. Not the lightest on the market, but quite fast around the court.
Some players thought the shoe felt a bit firm and hard. I can see that, although, to me, they felt pretty good from day 1. It's not the most comfortable tennis shoe I've used, but I found the dampening to be the best of all the recent Nike tennis shoes I've tried. Although if dampening is what you're looking for, I think there are better tennis shoes out there, like the HEAD Revolt Pro 4.0, which feel more cushioned (but also heavier) to me.
Overall, I am not a shining star on the tennis shoe market, but a shoe I like and will continue using. I also think they look great, which is a plus!