I know many of you have been waiting for this HEAD Hawk Power review, but due to a flooding of the factory it took a while to get samples.
HEAD Hawk Power Review
What is HEAD Hawk Power? It is a petrol-colored, round polyester string. Like its source of inspiration, Luxilon Alu Power, It puts a premium on control without making the string unnecessarily stiff and firm on the arm. Compared to Luxilon's flagship string, I would say that Hawk Power is a tad softer in feel. I have used it in a full bed in a variety of different racquets, such as the new HEAD Radical Pro Auxetic, the Dunlop FX 500, the HEAD Speed Pro, the HEAD Extreme Tour and a few other racquets. And it has performed well in all of them.
Strangely, I wouldn't say I liked it as much in a hybrid setup. I don't know why. But in the Radical Pro, for example, the full bed was played much better than a natural gut, Hawk Power hybrid. Sometimes it is hard to understand why that is the case, but I was not alone in experiencing it. I tried it in a hybrid in both the Gravity Pro and Radical Pro.
How does it play?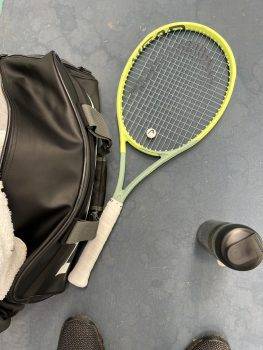 HEAD Hawk Power is only available in 1.25 gauge and petrol color. I have heard a few pros already switching to this string, so I am sure more options will be available in the future. If you'd like to know more about HEAD Hawk Power, I suggest you listen to the podcast I did with HEAD's Dennis Fabian.
I like this string a lot, and I think it competes on equal terms with the famous Alu Power. It seems a bit softer, which I think many players will enjoy, but I did not notice worse durability/tension maintenance than the Luxilon counterpart. This is a string that also plays nice at lower tensions, for example, try it around 20 kg (44 lbs) or lower and it will respond well with good spin and control.
I felt like I could swing out with confidence and the ball would drop in over and over again. It played equally well in a power racquet like the Dunlop FX 500, to a control racquet like the Radical Pro 2023.
If you're a fan of Alu Power or similar strings, HEAD now has an offering you must try. Check out HEAD Hawk Power as soon as it is back in stock with our friends at Tennis Warehouse, Tennis Warehouse Europe or Tennis Only.