The Dunlop FX 500 was one of my favorite power racquets when it came out. What is new in V2? Check out my Dunlop FX 500 V2 Review.
Dunlop FX 500 V2 Review
The previous Dunlop FX 500 was Dunlop's best power racquet (check out my other favorite power racquets here). How could you improve on it? The main downside of the FX 500 was the firm feel. I did most things well and I really enjoyed the dense center pattern that allowed for good directional control. However, my arm felt a little sore after playing it with a full bed of poly. The Dunlop FX 500 V2 has Sonic Core w/Infinergy (foam) in the upper hoop to soften the feel. And it feels like the overall stiffness has been lowered a bit.
It's still not a comfort racquet like a Wilson Clash or ProKennex. Still, it feels significantly softer on impact, and my elbow has been fine despite stringing it with a full bed of HEAD Hawk Power (HEAD's reply to Luxilon Alu Power) at 24 kg or 53 lbs. All the good things with the V1 generation remain. Easy power, a good feel, and very good maneuverability.
Purchase the Dunlop FX 500
You can buy the Dunlop FX 500 and FX 500 Tour from our friends at Tennis Warehouse, Tennis Warehouse Europe or Tennis Only. We are always unbiased in our reviews, but if there is any tennis product you like to buy, we appreciate you going through our links. This sends a small commission to Tennisnerd, which helps us keep going.
Specifications
Head Size: 100 in / 645.16 cm
Length: 27in / 68.58cm
Strung Weight:11.3oz / 320g
Balance: 13in / 33.02cm / 4 pts HL
Swingweight: 321
Stiffness: 69
Beam Width: 23mm / 26mm / 23mm
Composition: Sonic Core Infinergy/Graphite
Power Level: Low-Medium
Stroke Style: Medium-Full
Swing Speed: Medium-Fast
Racquet Colors:Blue/Black
Grip Type: Dunlop Synthetic
String Pattern:
16 Mains / 19 Crosses
Mains skip: 7T,9T,7H,9H
One Piece
No Shared Holes
String Tension: 45-65 pounds
How does it play?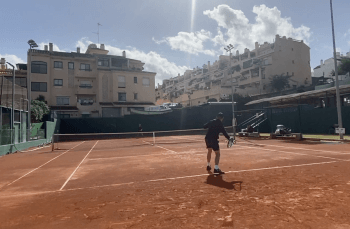 I really loved the previous generation and was sad that my arm was sore after my hitting sessions with it. It's not easy to get it right on the first try. But this one has remedied what I found to be the overwhelming weakness over the V1 and maintained all the good stuff. It's exactly what a V2 should be – fix the weaknesses, and keep the strengths. That is usually difficult as every racquet is a compromise. You fix one thing at the cost of another. But I did not see any real issues from the softer feel of V2. I still get ample power on my shots, the feel is not too muted, and it still moves fast.
Stroke by stroke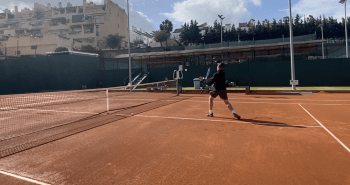 The Dunlop FX 500 is big on power, but thanks to the denser string pattern in the mains, it still delivers above-average directional control. I find the racquet incredibly easy to use. From the baseline you could hit big groundstrokes, it's not as spinny as an Aero or Dunlop SX, but responds exceptionally well to flat strokes.
Despite its fast feel, it felt solid enough at the net. Yes, I might want to add a tad of weight more personally because I tend to like my swing weight up to around 330 strung, but overall it performed well at the net with good feel.
Serving with it was great. It moves fast through the air and delivers a nice punch on the flat and slice serves. On the kick, you might want a slightly more open pattern like the SX 300, but overall, a great serving weapon.
Summary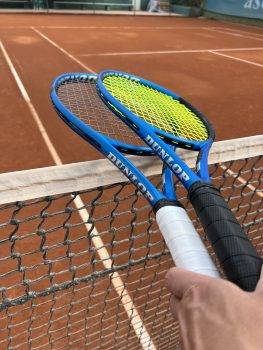 Alongside the Yonex Ezone 100 2022, this is now my current favorite power racquet on the market. I think these racquets stand really close. The Ezone is perhaps a bit more stable, but also more dampened in feel, while the Dunlop is more responsive. I like how many racquet brands are focusing more on feel and comfort in the last generation of racquets. We saw it with the Babolat Pure Aero 2023 and Pure Aero 98, both more comfortable and controlled. The new Yonex VCORE 2023, was also a significant improvement, as was the Wilson Ultra 100 V4 and the HEAD Speed MP, for example.
Recent racquet releases have all been high quality and that is a significant step in the right direction compared to only some years back were you had a few head shakes here and there. Yes, not every racquet is great, but it is hard to fault racquets like the Dunlop FX 500 V2. For some players it will be too powerful (you need to like that injection of speed), but most players will enjoy it, I'm sure.
Have you tried the Dunlop FX 500? Please share your thoughts below!