The FB group "We are all tennis nerds" is a great place to talk tennis to like-minded people. Amar was nice enough to share some pro player string tensions from Vienna Open.
What can we learn from pro player string tensions? Besides just the entertainment factor of understanding the racquets and strings of the pro players, it can also teach us something about how we approach our own gear. Thanks again Amar, for sharing.
Let's break it down so you know what you're looking at.
Name = Player
Schläger = Racquet brand
Schläger-Nr = Racquet number (the racquets are numbered)
Datum = Date
Längssaite = String in the main strings
Quersaite = String in the cross strings
Härte = Tension (main, cross)
DT = Dynamic tension measured by an ERT 300 device (which can't be bought anymore, sadly).
What stands out?
Firstly, it's good to point out that Vienna Open is an indoor event. Meaning that conditions are fast and controlled and tensions usually go up in general and they tend not to vary so much (conditions are constant). When players are playing outside the wind and the temperature, humidity, and so on will affect their string tension and they will string up several tensions to better handle the conditions.
The trend over the years is that tensions are going down overall. Players are hitting with more spin and pretty much everyone are playing with polys. Yes, we see some hybrid setups with gut and poly, but there is not one pro that I know of on the ATP tour that doesn't use poly on at least the mains or the crosses.
Things that stand out to me in the list is the low tension of Dan Evans racquets. 48 lbs on a Alu/Gut hybrid is remarkably low. But on the other hand, his racquet is a very controlled one.
That Casper Ruud uses a higher tension for his poly/poly hybrid is hardly shocking considering how he plays. Lloyd Harris' tension for his Yonex Polytour Pro 1.20 string bed 44 lbs is a bit surprising.
Should we be shocked that hard-hitting Jannik Sinner strings his HEAD Speed racquet with Hawk at 28 kg? That's a rare tension for a full bed of poly these days. But hard hitters like Wawrinka, Brown and Sinner might need it to control the kind of pace they generate. Sinner's seemingly effortless racquet head speed is something we can all dream about having.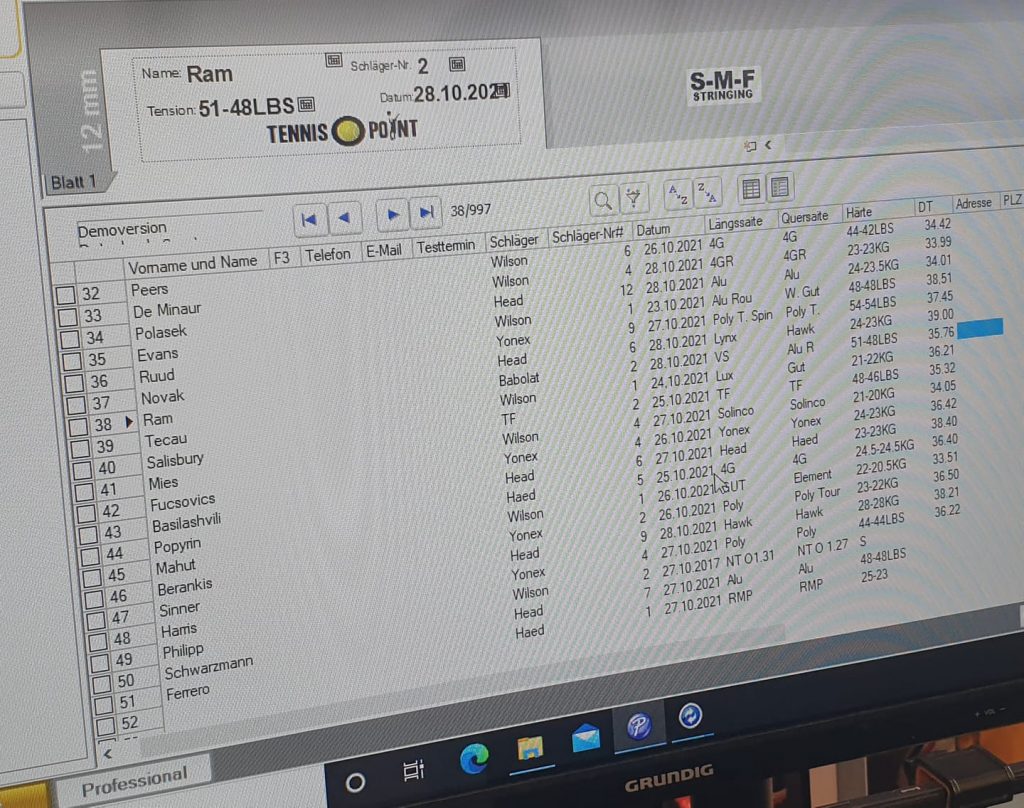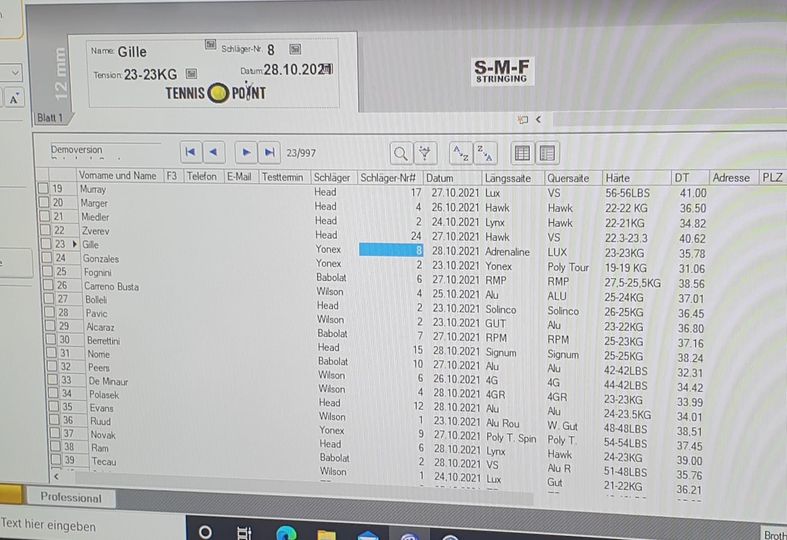 Pros are not always brand loyal
You would think sponsored pros would be forced to use the same string brand as their racquet sponsor, but in many cases that's not true at all.
Head players Gojowczyk, Köpfer and Murray use Solinco strings or in Murray's case a hybrid of Alu Power and natural gut. Hubert Hurkacz, who is sponsored by Yonex, plays with Solinco strings and Babolat VS gut. Hawk seems to be the most popular HEAD string for their sponsored players, while most Wilson players use Alu Power and most Babolat players use RPM Blast (Fognini and Alcaraz are two examples).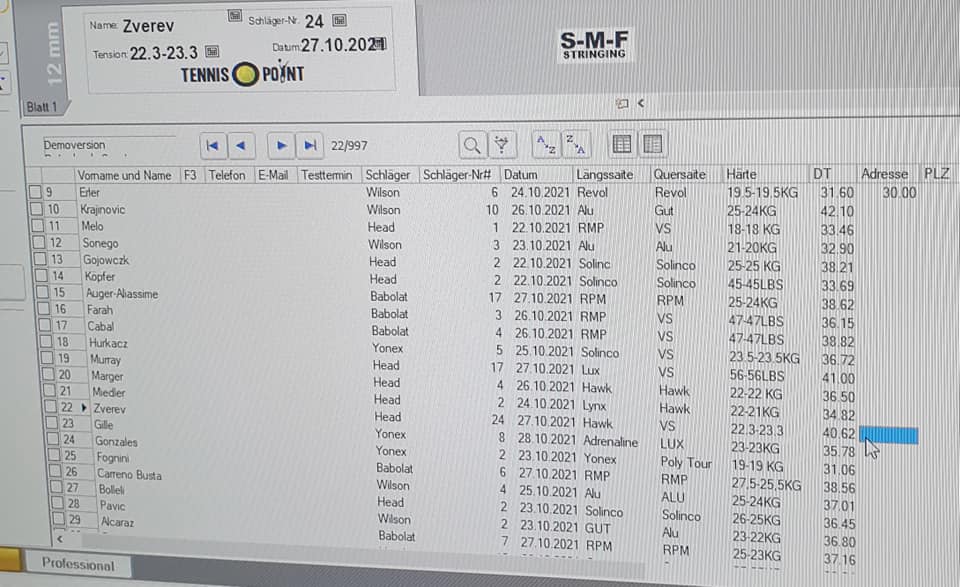 Summary
So what can we learn from all this? Well, as you can see there are no real rules and patterns to what strings and tensions pro players use. They play with what works for them. That's the same attitude you should have for your game. Yes, the trend is that tensions are going down, which is overall a good idea for players with arm issues, but you still see players like Fognini and Sinner needing higher tensions to control the ball.