String Project is a new Italian string brand on the market. They have focused on arm-friendly strings and are already selling 7 different kinds, focusing on co-poly (monofilament) strings. I am currently play-testing their strings so you will soon see a String Project review.
The competition on the tennis string market is increasing. Besides the typical flagship brands like Luxilon, Babolat and HEAD, there are some established string-focused brands like Solinco, MSV, Diadem and Signum Pro, and now we are seeing newer companies like TenX Pro and String Project (and more) venturing in the string industry. Is there enough room?
Well, as long as you create a good product, I am sure there is. So the question is therefore how good String Project strings are. This is what I aim to find out through my play-testing over the coming weeks. For now, let's look at some information about the company and their various strings.
String Project Strings – About the Company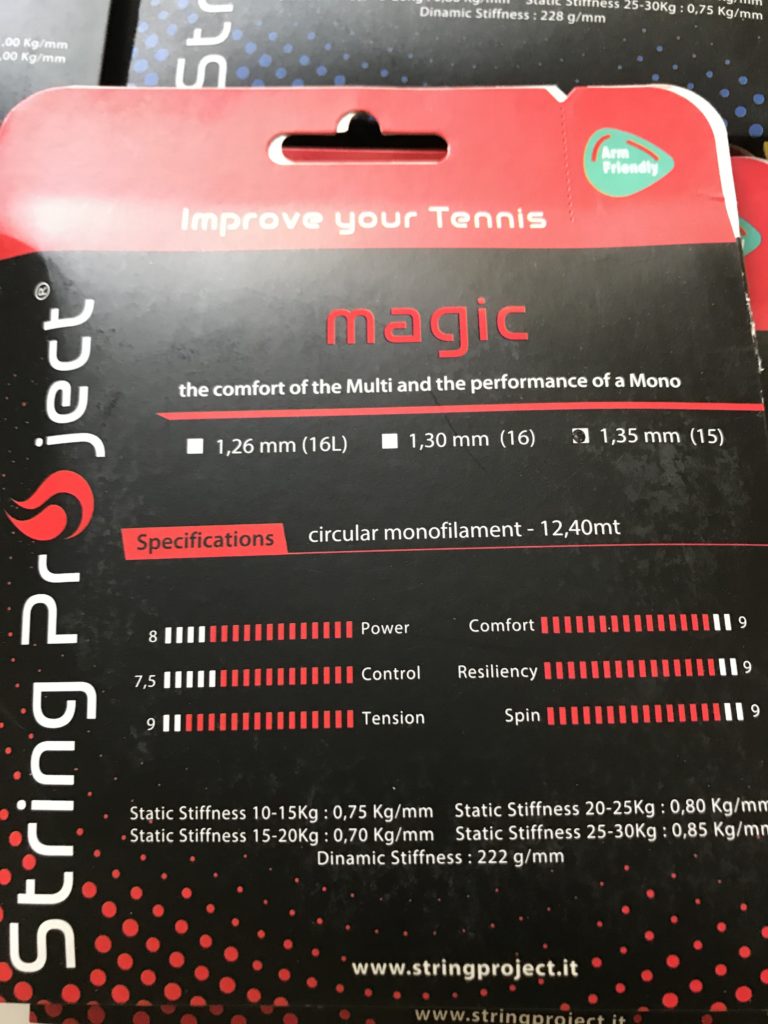 This is what they say about the company:
"String Project is an Italian brand born to have performing products and at the same time not harmful for the arm of the players. After 2 years of testing, the first models of strings are produced, which will see a further improvement in the production phase, making them definitive precisely when the company is launched and when the brand is born."
We use the best technologies available on the market. First quality materials, different chemical processes and 3 thermal passages to stabilize the materials and have a string with a medium-low rigidity and high performance. Moreover, our strings are finished with a liquid wax so as to have lower friction and longer duration.
String Project Strings – The different strings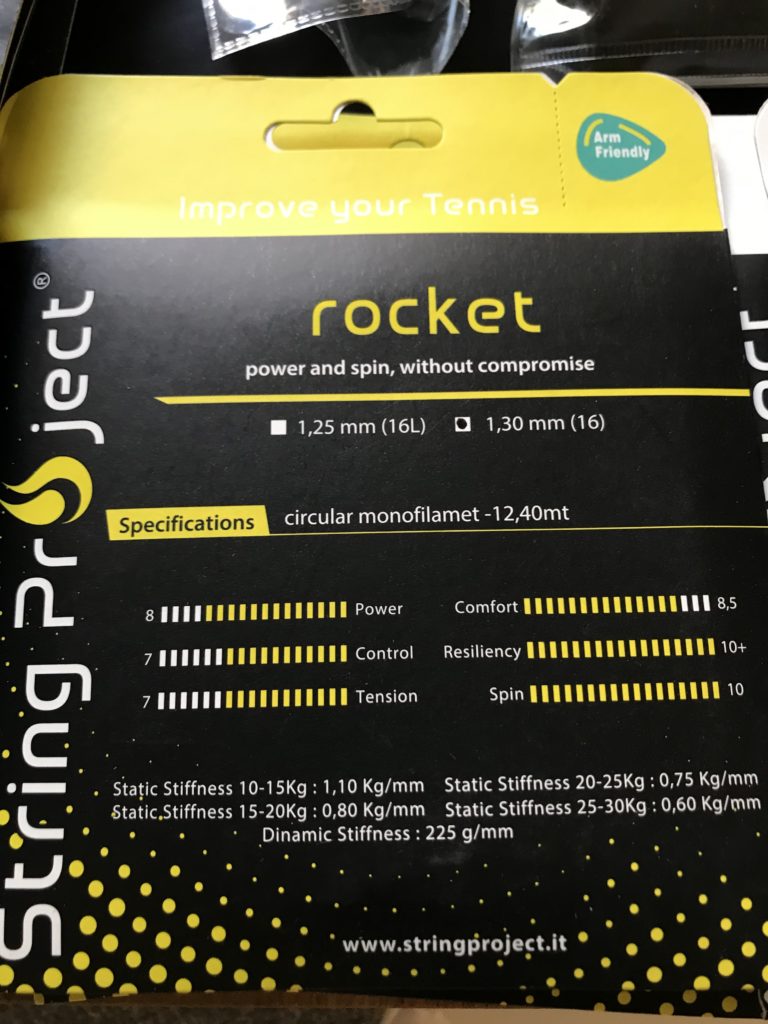 I received quite a package of strings from String Project and I will try to review as many of their strings as possible. These are the strings they produce and an excerpt of their descriptions:
Magic – is the first string created by String Project, a soft monofilament, elastic, with a notable ability for speed. Its particular construction, made of 7 different materials, of which only 30% are polyester, is secured through various thermal-fastening stages, making the Magic the only one of its kind.
Rocket – is a monofilament made of Soft Polyester, treated in Alpha-olefins and finished with Liquid Wax. The particular production process with the multiple thermal fixings make it elastic with a very fast return capacity and has a surface with a high gripping capacity.
Armour – A mono that derives from the Hexa Pro string, which is an evolution in terms of synch and ball-control, and, in spite of being a smooth string, it also performs well on heavy spins. With a good snapback and better shock compactness, it has been placed at the top of String Pro's professional range, for optimal conduct under every aspect.
String Project Strings – The different strings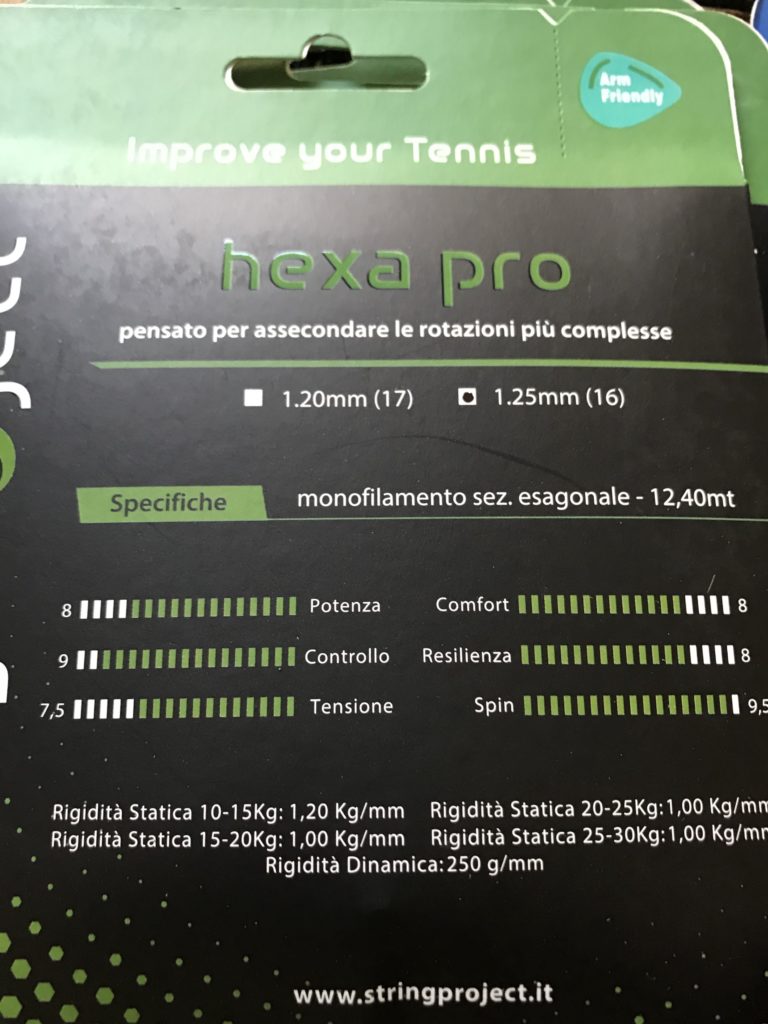 Hexa Pro – is String Project's proposal when it comes to molded strings. Of a hexagonal shape, it is a product which is thought to comply with the more complicated rotations, made of co-polyester containing 20% of soft Polyester and High-Density Polyester and it is treated with alpha-olefin.
Keen – is the narrowest string created by String Project. The cobalt-blue exterior hides a very narrow section, 1.18 mm, but just as strong as any other. The composition is a concentrated technological blend, a mixture of 5 different materials that make it incredibly solid and reactive after a snapback.
Armour Soft – is a professional string that eliminates any rigid or excessively dry impact-shock, maintaining only the pleasure that the impact with the ball can hold. It is a circular mono string which has been created from the Armour string, with a larger presence of polyester, 30%, and a lower calibre to give more resilience and a better natural propensity towards power and rotation.
Do these strings sound interesting to you? Let me know in the comments below!