String manufacturers have started to address issues with stiffer string setups. Enter Triax. This is my Tecnifibre Triax String Preview.
The new Tecnifibre Triax string comes at a thicker 1.33 gauge, contains 50% polyamide fibers and 50% thermo polyester. It's supposed to be 15% firmer than classic multifilament strings, which will allow for better control and a 50% improvement in durability. It's also supposed to offer 15% better shock absorption than polyester (so-called monofilament) strings. Tecnifibre Triax is made for players who use powerful frames, advance and expert young players and women and regular string breakers according to the Tecnifibre info sheet.
The idea behind the Tecnifibre Triax string is to increase control and spin compared to other multifilament and improve comfort and arm protection compared to polyester strings. It's supposed to fall in the middle of the total string segment and be a solid choice for a wide group of players looking for a string that gives them a blend of abilities.
Arm problem is a huge issue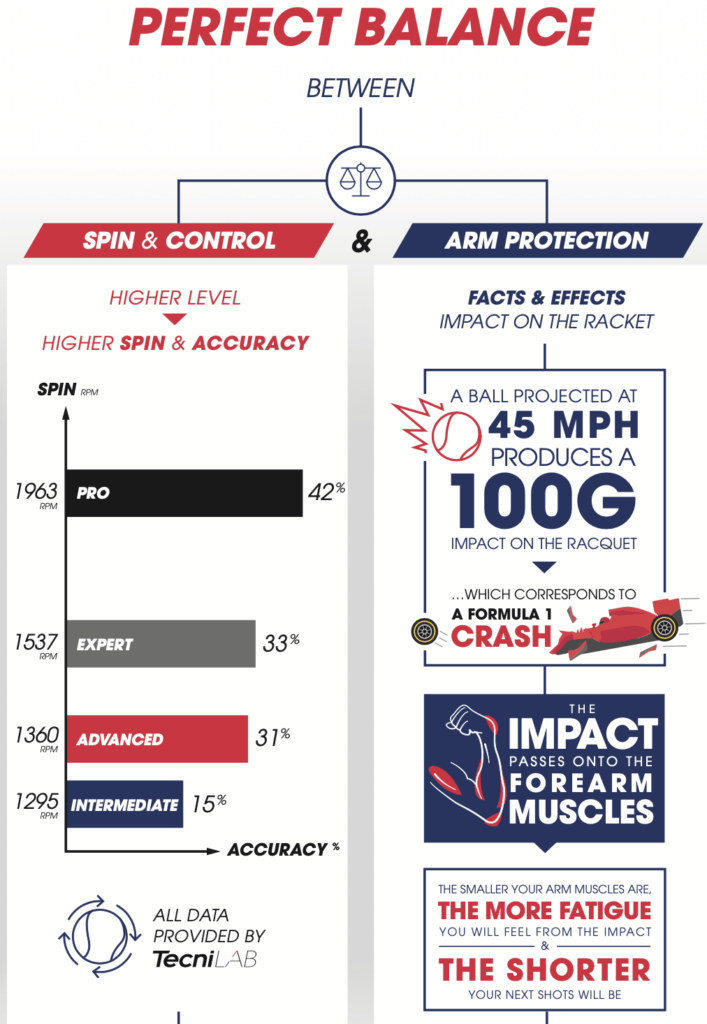 Many club players today suffer from arm problems. Based on a study from Brazil that I quoted earlier, closed to 50% of club level players suffer from issues like tennis elbow, wrist tendonitis, or shoulder pain. These kinds of issues tend to come partly from poor technique and footwork (hitting the ball late and not well in front), but also due to stiff racquets with stiff strings sending a lot of shock to the joints.
Using an arm-friendly string is very important for players looking for more comfort. I have previously advocated hybrids and other arm-friendly strings.  The racquet obviously makes a big difference as well and you can get some ideas for arm-friendly racquets here.
Most players today use polyester strings. Polyester strings are great for pros and advanced players hitting with plenty of topspin and breaking strings often. Most club players put that amount of pressure on their strings and could happily use multifilament strings. Yes, if you hit with a lot of spin, the strings might move too much for you, but these days you're also seeing softer polyester strings, so perhaps that's a good option then. The trend is definitely that we will see more soft polyesters and more durable multifilaments (like Triax). Don't let potential arm issues prevent you from practicing the sport you love.
Tecnifibre Triax Review
At the time of writing, I am waiting for my test sets of Triax to arrive. I am really keen to test this string as I generally prefer softer polyesters. Sadly, there have been significant postal delays due to Covid here in Malta, but as soon as I get it, I will keep you posted. A review should hopefully show up here in the near future.
If you have tried the new Tecnifibre Triax string, let me know what you think about in the comments below.