I thought it was about time to write a little Tennisnerd diary on the side of all the other, perhaps more relevant, posts. Just to update you on what is going on with my racquet testing and my own humble tennis journey. Let us call it: Thoughts of a tennisnerd.
Readers ask me questions every now and then what I am playing with right now. It has been a difficult question to answer due to my ongoing knee injury. Do not worry, I know I have been yapping on and on about this for quite a while, and I think most of you (including my dear wife) are tired of hearing about it. I will try not to mention my knee again, I am doing rehab with my physio, so I will leave the talk and details at the clinic! There is also the occasional light hit, so not to go crazy from not playing tennis. If you are a true tennis nerd, an injury keeping you away from the court can truly be a test of patience. But I am trying my best to let it heal in peace and doing as much as I can in terms of exercise. Foam-rolling is one example, hoping to get back to playing more competitively. Anyway, below are the first "Thoughts of a Tennisnerd".
I have written a lot about racquet confusion here on Tennisnerd and I have had a bad bout of it lately. All the racquet reviewing I have been doing has not been the best for consistency and confidence in my game and gear. I have previously felt like I need to sacrifice this for the fun of running Tennisnerd and connecting with all you tennis-loving readers. I really feel however, that I need to choose a racquet and stick with it as my main racquet.
Thoughts of a Tennisnerd – My main stick right now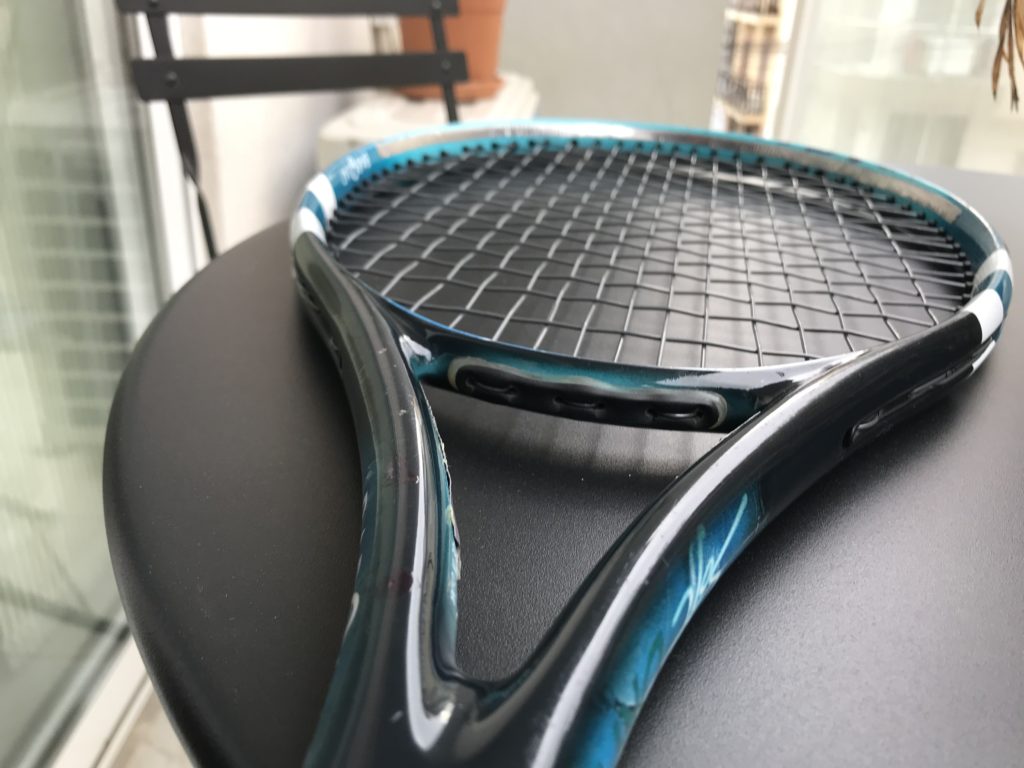 Right now, that main racquet would oddly be my Soft Drive Original that I have leaded up to 330 grams and 32,8 cm balance strung. I just love the kind of effortless power and spin I get with this racquet and from the baseline I can not really fault it. I am still struggling a bit with killing volleys as I am used to heavier 95 sq inch racquets, but for everything else I really enjoy playing with the Soft Drive. I am testing strings for it, but for the power it provides I felt like HEAD Hawk Touch
 (read my review) gives me the control and spin I need while not being too aggressive on my arm.
So that is my setup at the moment. A 1990 Soft Drive with silly amounts of lead tape bringing it up to 330 grams and 32,8 cm. I strung it with HEAD Hawk Touch at 24 kg.
On the other hand, I have been pretty impressed with many of the racquets I have reviewed recently. A few of them has made me want to almost make the switch. I thought I would list them and give some comments.
Thoughts of a Tennisnerd – Impressive recent racquets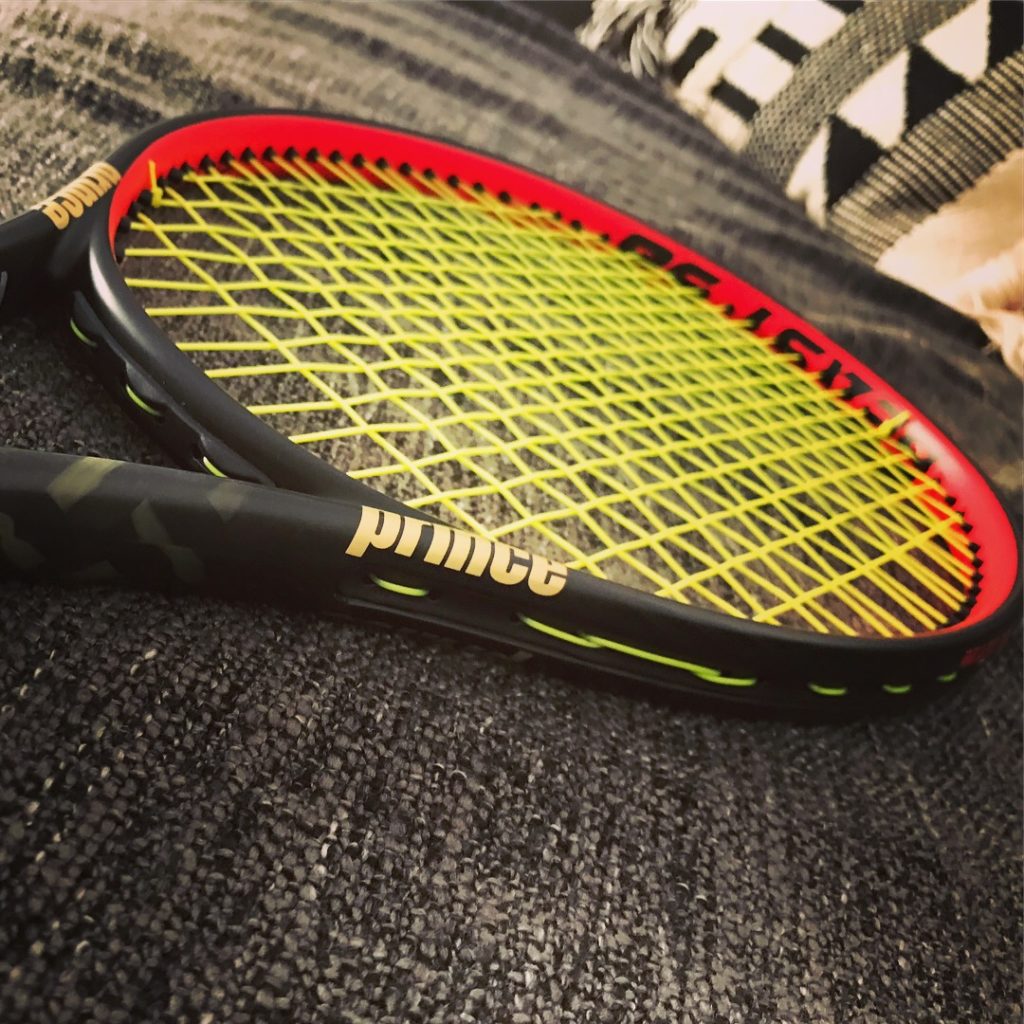 Prince Beast 98
(read my review here)
Nice racquet that does pretty much everything well even without customization. Good spin and power and a large sweet spot. One of the best 98 sq inch racquets on the market. This just shows how the Textreme family of racquets from Prince actually delivers…
Yonex VCORE Pro 97 330
(read my review here)
I am a little bit sad I sold my review racquets because this is a racquet that worked really well for my game. One I could have happily switched to. The grip shape felt like a straight line, which irked me a bit though. Otherwise this racquet is a fine piece of equipment for advanced players.
Thoughts of a Tennisnerd – Next up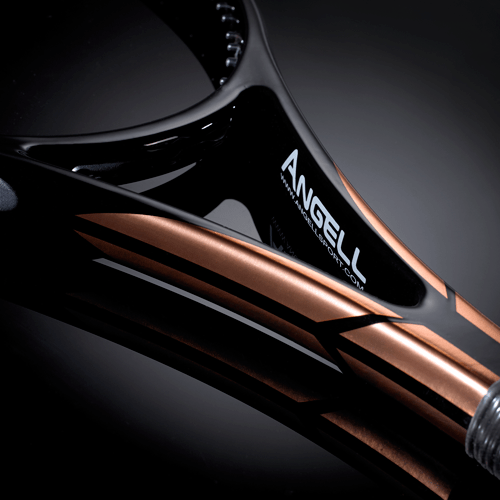 Next up in my review batch are two racquets from Angell that I have not tested yet. I really appreciate the attention to detail and direct communication you get with Angell Custom racquets. So now that I have tested TC97 string patterns and TC 95 18×20 and 16×19, it felt right to check out the new V3 TC90 and the TC 100. Expect reviews to come in a couple of weeks.
I have also reviewed a string called Laserfibre JB Tour 100 which I enjoyed quite a bit. A more powerful, and slightly cheaper alternative to Luxilon Alu Power. I can really recommend this if you want a poly that offers a bit more power.
Thoughts of a Tennisnerd – Mercedes Cup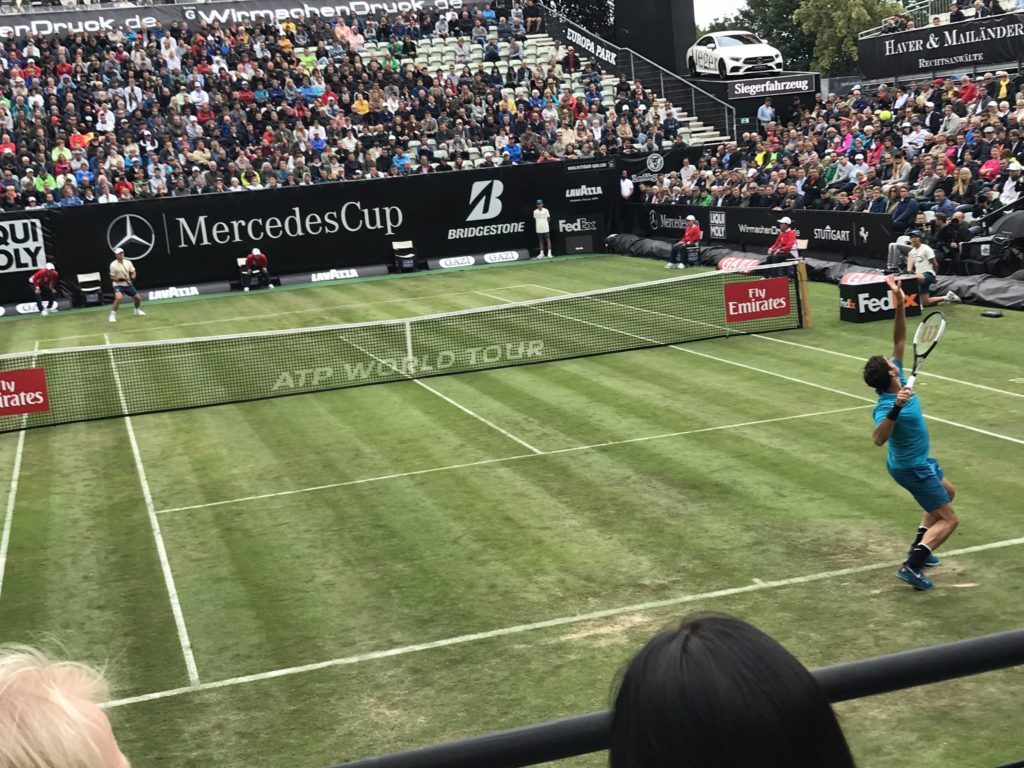 Other than trying to break a sweat while reviewing racquets, I had a good time in Stuttgart watching the Mercedes Cup for the fourh time in a row. I have the fortune to go there as a guest, as I have been involved in the sponsorship over there in various forms over the years. One day rained away but I could enjoy watching some Roger Federer magic which I captured on YouTube here and some Benoit Paire craziness as well. Can really recommend that tournament if you want to see grass court tennis up close!
Thoughts of a Tennisnerd – what else?
Besides watching tennis live, I am of course checking out the televised play and listening to the various tennis podcasts to keep up with the game. Really looking forward to watching Andy Murray return to the ATP World Tour today against Nick Kyrgios. I hope his hip turns out to be fine for match play and that he can resume his career after 11 months off. It is also good to see Kyrgios back after his elbow injury. He seemed to be in great form in Stuttgart last week, so he should have a good chance at beating a rusty Murray for the first time today.
I am also curious about watching Grigor Dimitrov. The Bulgarian had a fantastic finish to the season last year, but he has not been up to scratch in 2018. Let us see if the grass court season can revive him. I hope so, because he is entertaining to watch.
Same goes for Jack Sock, who finished 2017 in grand style, but has had huge issues stringing wins together this year. Grass might not be his best friend, but for US hard court season I think we will see him back in decent form.
What do you expect from these players and the rest of the season? Please comment below!