After a few weeks of intense and enjoyable play-testing, here is my Yonex VCORE Pro 97 330 Racquet Review. It is the update to the Yonex VCORE Duel G 97 330 and there are a few noticeable differences between the two frames.
I have already written the "early impressions version" of the Yonex VCORE Pro 97 330 Racquet Review that you can find here, and you can read about the other racquets in the Yonex VCORE Pro series here. But this post goes into more depth about the Yonex VCORE Pro 97 330 racquet, that you can buy here
. There is also a video review of the racquet below.
The Yonex VCORE Pro 97 330 is heavier than most of the racquets you find today. There are not many sticks that go above the 325 gram (unstrung) mark. Most notably is the Wilson Pro Staff RF97 Autograph (buy it here
) (read my review here) which I created a specific comparison post for here, but otherwise it is a diminishing market for heavy racquets. The Volkl C10 Pro
is a similar racquet that comes to mind, but otherwise I can not really think of any except for the re-issued Wilson Six One 95
.
Yonex VCORE Pro 97 330 Racquet Review – How does it play?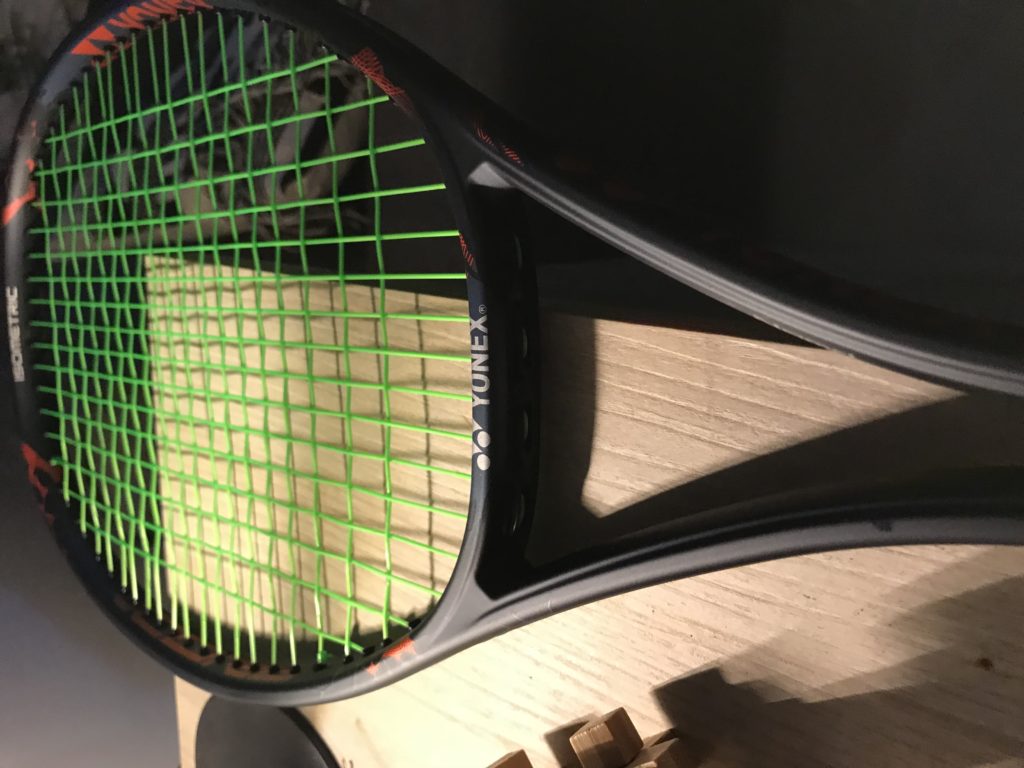 The Yonex VCORE Pro 97 330 felt good from the first hit. At 65 RA I thought it would play stiffer, but it was nice and comfortable. The thin beam (20 mm compared to the previous versions 20,5 mm or the RF97As 21,5 mm) does improve manoeuvrability, but does decrease stability somewhat. What I usually enjoy with heavier frames is the ultra-stable response, but here I felt I had sacrificed some stability for the sake of making the frame move through the air better.
Some players will love this trade-off and some will not. Personally, I am not so sure. I really enjoy rock-solid frames such as the RF97 Autograph or my own Liquidmetal Radical Tours and have gradually moved away from racquets that have significant flex. I tend to almost always add weight at 3 and 9 as I prefer a high twist-weight from a more spin-friendly polarized setup. But I was still surprised that I needed to add some lead tape (I use Tourna lead tape
) to make the 330 gram unstrung frame play more solid.
With or without lead tape, the frame excelled on being able to create heavy spin. It was more lively with the 16×19 string pattern over the predecessors 16×20 and it is clear that Yonex wanted this update to be easier to use, and to play with more spin and power.
Yonex VCORE Pro 97 330 Racquet Review – Let's break it down
Power: 7/10 – The RF97A packs more punch than this racquet, but it is powerful enough to satisfy most players.
Control: 7/10 – The string pattern is a little livelier than I would have liked personally. Think 16×20 would have still been a good choice.
Comfort: 8/10 – For 65 RA it definitely feels comfortable. Did not notice any discomfort despite stringing with stiff poly strings such as the Solinco Hyper-G
.
Spin: 9/10 – Spin production was easy with the thin beam and the open string pattern.
Touch: 8/10 – Nice racquet on touch shots. Think the RF97A is a little better though.
Groundstrokes: 8/10 – This racquet enjoys the baseline. Especially when you stay aggressive.
Volleys: 7/10 – I would have liked a bit more stability on my volleys. Lead tape at 3 and 9 helps, but this obviously makes an already heavy racquet even heavier.
Slice: 8/10 – Thin beam makes it nice, but again a little more weight in the hoop would have made it divine. Not a knife like the RF97A though.
Serve: 9/10 – Good manoeuvrability makes it easy to snap your wrist down on the serve and get some good action on your shots.
Returns: 8/10 – Easy to get your racquet in place, but with more weight the block shots would be even more effective.
Yonex VCORE Pro 97 330 Racquet Review – Summary
The Yonex VCORE Pro 97 330 is an excellent racquet and I would consider it one of the best frames of the year. My only issue is the lack of stability in the hoop for such a heavy frame, but the benefits are that it plays like a lighter racquet and is easy to whip around for extra spin. I could potentially switch to this racquet, but I would need to add some lead tape at 3 and 9.
Since this racquet is so easy to swing despite the weight, I personally would not consider the 310 gram version. It would simply require to much customization for me to make it play stable enough. I also think there are so many frames on the market around 305-310 grams unstrung which would make the competition quite tough for the Yonex VCORE Pro 97 310. The recently reviewed Prince Beast 98 being one of them.
What do you think of the Yonex VCORE Pro 97 330? Would you be keen to try it? Please comment below.
***
Do you like Tennisnerd? Do not miss a word or video by stalking us on social media. Every like and follow is appreciated!

YouTube
Instagram
Twitter
Facebook Page
Amazon Influencer
Buy tennis gear
EU
Racquet Depot
Pro Direct Tennis

USA
Tennis Express
Do It Tennis
Amazon.com
Racquet buying guides
Here is a great racquet buying guide to get you started.
What tennis racquet should I buy?
Top tennis racquets to buy right now
The Gear of the Year 2017
The Gear of the Year 2016
Tennis racquets for juniors
Tennis racquets for kids
Popular posts
What the ATP pros play
Questions about pro stock tennis racquets
Is a pro stock racquet better than a retail one?
Do professional players change racquets?
Racquet Commitment Issues