Many top players have opted out of playing the Miami Masters this year. Leaving the field hard to predict. Who wins the Miami Open?
The cancellation of Indian Wells, the ongoing pandemic and the more difficult travelling circumstances have decimated the field at the Miami Masters this year. This leaves the draw wide open for a new face to win a Masters title. Or will favorites like Zverev, Medvedev or Tsitsipas show that they're ahead of the field? And what about Karatsev? The draw is out, so let's have a look! Who wins the Miami Open 2021?
Miami Open 2021 Draw
You can find the Miami Open draw on the ATP Tour website.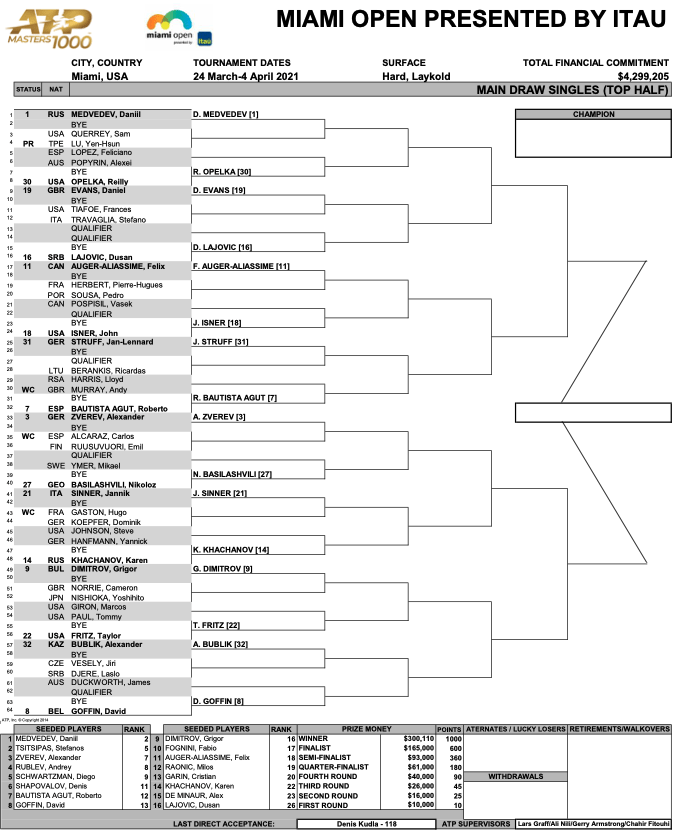 I think the key players and matches to keep an eye on at the upper part of the draw:
Murray got a wild card, but got drawn against in-form Lloyd Harris in the first round. That's a tough one. Let's see if Murray can find his top game in Miami. I think his experience might him through this one after three sets, but it won't be easy.
Another good first-rund match in this part of the draw is the one between Popyrin and Lopez. Popyrin recently won his first ATP Tour title, while Lopez is always a joy to watch with his classy game.
The players who seem to have the strongest momentum in the top part of the draw: Zverev, Goffin, Medvedev and Bashilashvili (a bit hit or miss though). My not-so-gutsy guess is that we will see Zverev and Medvedev in the semis.
Second half of the Miami Open draw
Tsitsipas and Rublev are the top names in this draw. But we have Karatsev as a strong contender if he is not tired after all the matches he's played lately. Shapovalov has also played well recently and Musetti is a player to watch.
Another player to keep your eyes on his Sebastian Korda, who can potentially go up against Fabio Fognini in round 2. Kecmanovic is also a player I will watch, partly because he recently made the switch to a Dunlop SX 300 from his Pure Aero and I'm always keen to see how racquet switches pan out.
For the semi-final, I will put Shapovalov and Rublev. Yes, I don't see any huge upsets in this tournament. It's a boring prediction, I know!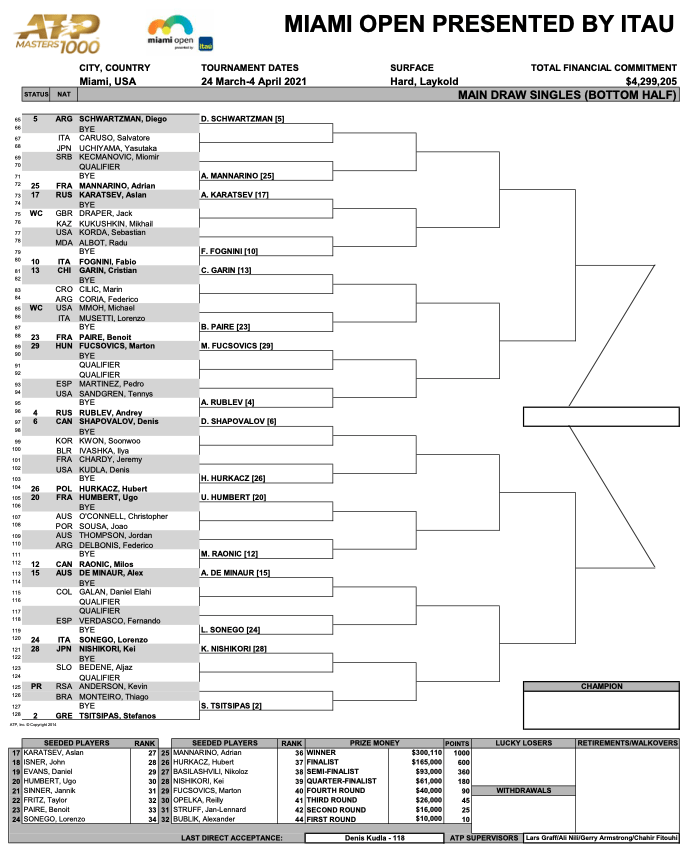 Who wins the Miami Open?
I think Alexander Zverev is on a roll and will likely win another title after his win in Acapulco. He doesn't have the most exciting game to watch, but it's pretty steady and effective and he seems to have found a solid formula to win tennis matches.
Who do you think will win the Miami Open?