Ukrainian tennis star Elina Svitolina joins the TopCourt pro player training platform. She will teach the return, the backhand and more.
Svitolina is a new addition to the platform that already has plenty of tennis stars. Denis Shapovalov is next for example and I wrote about Dimitrov's one-handed backhand course here and Kyrgios forehand and tweener videos here. I'm using the platform regularly for information and inspiration and I'm looking forward to watching Svitolina's videos as well. If you want to check out TopCourt, you can use my link for 14 days free TopCourt trial (just remember to unsubscribe if you don't like it). I liked the product so much that I now am an affiliate, so if you do sign up and pay for it, I get a small commission.
Svitolina on TopCourt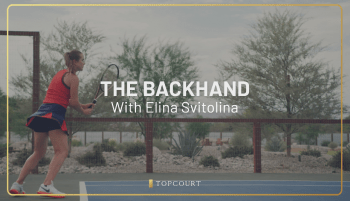 This is some of what Elina Svitolina herself had to say about joining TopCourt.
I want to begin by saying thank you for being here and supporting me and my home country of Ukraine during such a difficult time. My career has taken me all over the world but my heart will always be home in Ukraine.
In my class, I'm going to help you with your technique so that you can master the fundamentals on your backhand and return. I'm also going to give you the drills that will put those fundamentals to the test. The thoughts I take with me onto the match court and practice court will now be yours. Off the court, I'll share with you my journey and moments that have shaped my life and career.
Tennis has brought so much to my life and I'm honored to share my experience with you to help you in your journey. It is my hope that you take with you the knowledge and courage to always fight for what you believe and never back down.
Have you used TopCourt? What do you think about the platform?
Ps. Elina Svitolina endorses the Blade 98 V8, but is allegedly using a Wilson Burn 100S according to some websites. However, on recent pics she is using a 16×20 string pattern (like a Steam 100) and not a 18×16 like the Burn 100S. Ds.