Wilson have really moved into the collaboration space in the last two years and now they introduce Wilson Kith racquets.
The Wilson Kith racquets are a part of the Kith for Wilson collection, which Wilson claims "is inspired by our legacy in tennis with a new perspective brought by the iconic streetwear brand."
What is Kith? This is the dry sentence Wikipedia description: Established in 2011, Kith operates on two planes – a multifunctional lifestyle brand for men, women, and kids, as well as a progressive retail establishment.
The name Kith is derived from the phrase "kith and kin," meaning "friends and family." "Today, Kith is essential to sneaker culture in New York, a haven for 'heads looking for the most desirable kicks released each season."
You can check out the Wilson Kith racquets and collection at the Wilson official website. Not sure you can buy them online if you're interested, it says in the Wilson insider email that the "special-edition Pro Staff and Ultra rackets will be available for purchase at the NYC Wilson Pop-up Museum, 594 Broadway, beginning Friday, September 3rd at 11AM." So if you're in New York, this is probably a good chance to get your hands on a limited edition product. They look pretty cool/old-school, so might be nice to hang on the wall :)
Kith for Wilson ambassador – Ugo Humbert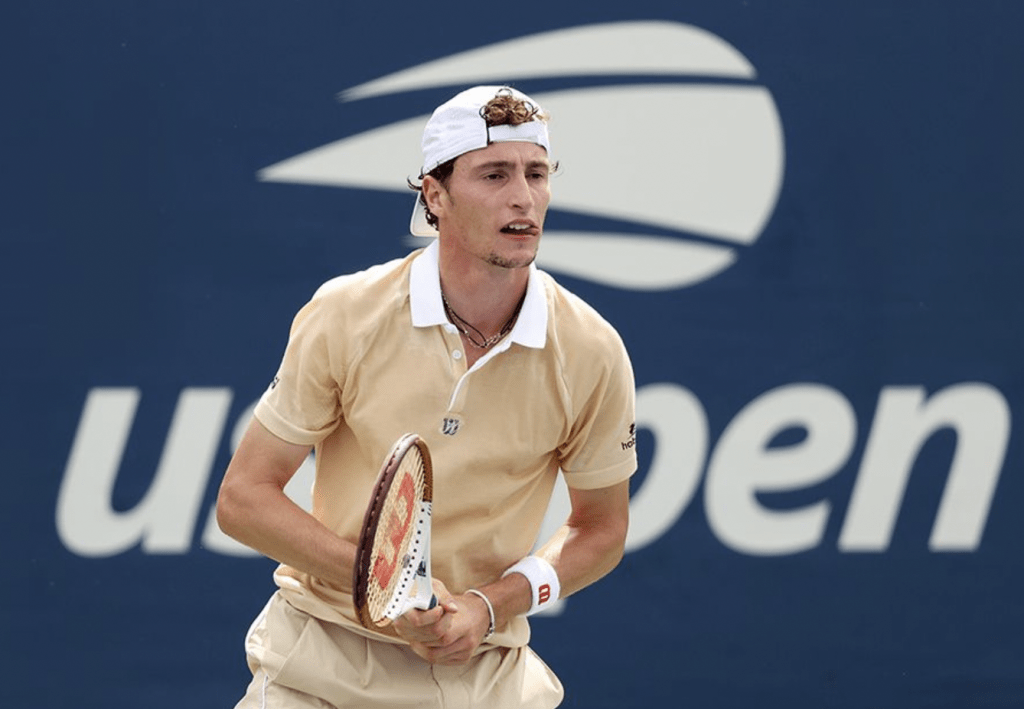 He is out of the US Open after a surprising first-round loss to Peter Gojowczyk, but he did look good doing so in his Kith for Wilson apparel – Ugo Humbert. He was using his pro stock Blade in a Wilson Kith paint job, which I must say appeals to me quite a bit. But I do like old-school stuff.
Wilson have done quite a few collaborations this year. Minion racquets, racquet collaborations together with Britto and launched a funky Chameleon-designed Blade V8. It seems like a lot of focus has been put into the design and expanding the brand outside the usual tennis audience. I'm keen to test the new Blade to see if the same kind of focus has been put into their new racquets.