This week I've been playing a bit with Novak Djokovic's racquet, which I am lucky to own. Does the best player use the best racquet?
I've tested and written about Novak Djokovic's racquet before, but now I own one from his batch, so I thought it would be fun to revisit it, several years later. Does the best player use the best racquet? No, because there is no "best" racquet and the pro players use what works for them. A racquet setup is so personal that you can't copy another player. You need to find your own path.
Professional players often use a customized version of the racquets they started having success with as juniors. Novak's current racquet, the PT 346.1 is based on an older HEAD Radical like the Liquidmetal Radical Tour which he was using in his younger years or an iRadical or TiRadical. But a few years ago, Novak wanted more power so he went to racquet expert Roman Prokes to get his racquets tweaked.
Together with HEAD, Prokes developed a batch of racquets for Novak to test. And quickly, Novak found the one.
Djokovic's current racquet
The specs of Novak's racquet are widely published. And I wrote this when I tried it last time:
Head size: 95 sq inches
Length: 27.10 inches
Weight: 353 grams
Balance: 32,4 cm balance
Swing weight: 360
String pattern: 18×19
Novak uses the classic HEAD rectangular grip (pallet TK57), grip size 3, HEAD Finest Calfskin leather grip and two overgrips (one overlapped) which makes the grip closer to a 4. He strings his racquets with natural gut in the mains at 27-28 kg and Alu Power Rough
16L at 26-27 kg (one kg less than the natural gut) depending on the conditions. This is quite a high tension these days and gives him an ultra-controlled response.
When I tested Novak's racquet, I didn't add that second overgrip and I went with a different string setup because I didn't have his strings in stock. Instead, I used Alu Power 1.25 in the mains at 51 lbs and Tecnifibre X-One Bi-Phase 1.30 in the crosses at 53 lbs. It played well and I got the following specs from that setup:
Weight: 348 grams (12.27 oz)
Balance: 32.6 cm (5 pts HL)
Swing weight: 363.5
Not something for the average club player to use! I think it works for Novak and only Novak. That's how personal racquet setups are. While a retail HEAD Speed Pro, works for a much wider audience.
A pro racquet won't make you a pro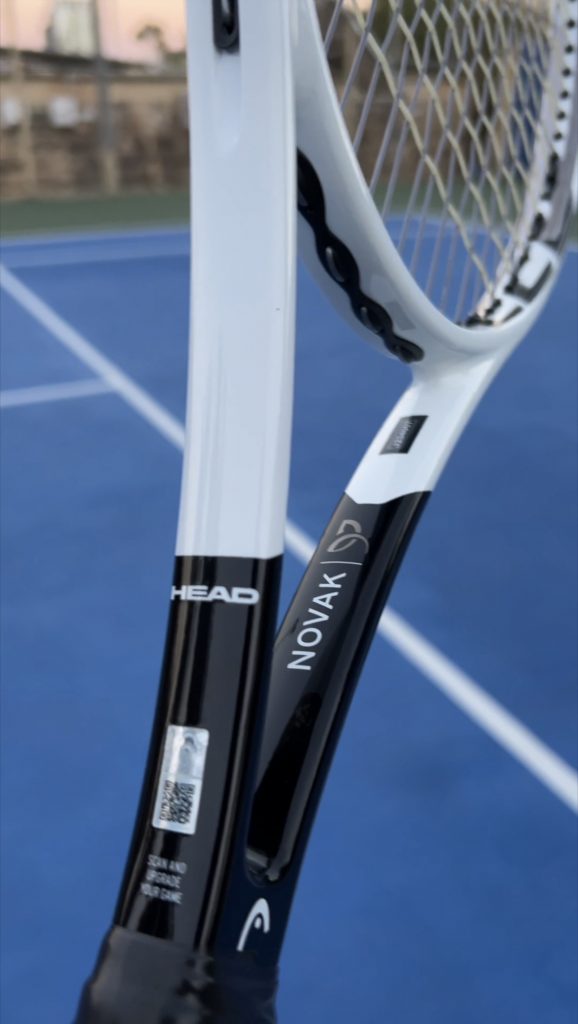 Professional tennis players use heavy and demanding racquets. Novak's is no exception. Wilson sell loads of RF97 Autographs every year despite the racquet being exceptionally demanding. Still, club players everywhere use it because they're Federer fans and believe that the best players must of course, use the best racquet.
No, you need to use what works for you. There are so many racquets out there that might work for us, but using a racquet endorsed or used by your favorite player is what many players seem to want, despite it not being in their best interest. And these types of heavy and unforgiving racquets are made for the pros, not for us recreational players, even up to the advanced level.
If you need help finding a racquet that might suit you better, consider checking out my consultation service here. It was fun to try Novak's racquet for a while, but besides being a great stick, it will not help me play my best tennis, which is what I want from a racquet.