There are a lot of fans of Roger Federer out there. And by right. He is the GOAT after all. Let's look at Federer's racquet history.
Federer's racquet history involves a couple of racquets and many different paint jobs. The pros simply don't change racquets every time a new model comes out. Too much work goes into grooving with their racquet and string setup. You can read more about this in our articles about pro stock racquets and pro player racquets. But Federer has made a few dramatic racquet changes in his career.
Federer's Racquet History – The First Switch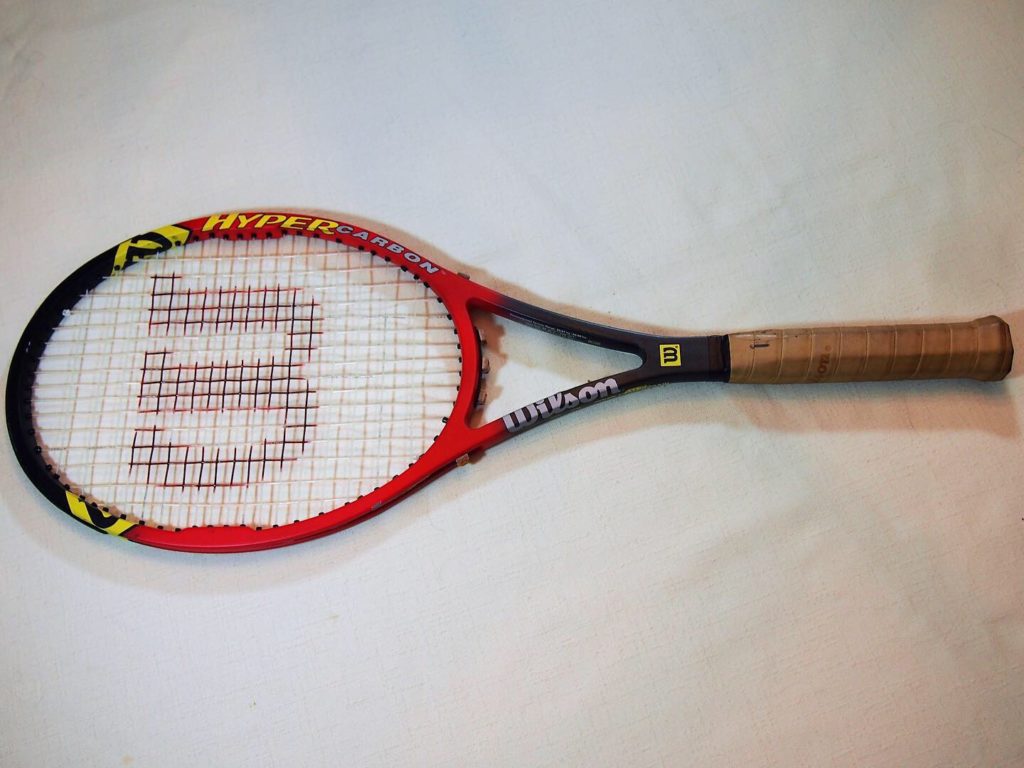 Federer started out on tour with a Wilson Pro Staff 85 (PS 85), the same racquet model that Sampras used. Federer's racquet was made in China and Sampras in St Vincent. Click the link to watch my review and hear the story about Sampras' racquet.
He used the Wilson Pro Staff 85 up to 2002. At the beginning of 2002 his racquet was painted as a Wilson Hyper Pro Staff 6.0 95, but actually the same PS 85 as he was using before. But before the French Open he transitioned to a bigger head size (90). This model was yet to be released to the market but came out as the Pro Staff 90 in 2003. This was the first racquet he won a grand slam with (Wimbledon) and remained his racquet of choice until 2014!
All the paint jobs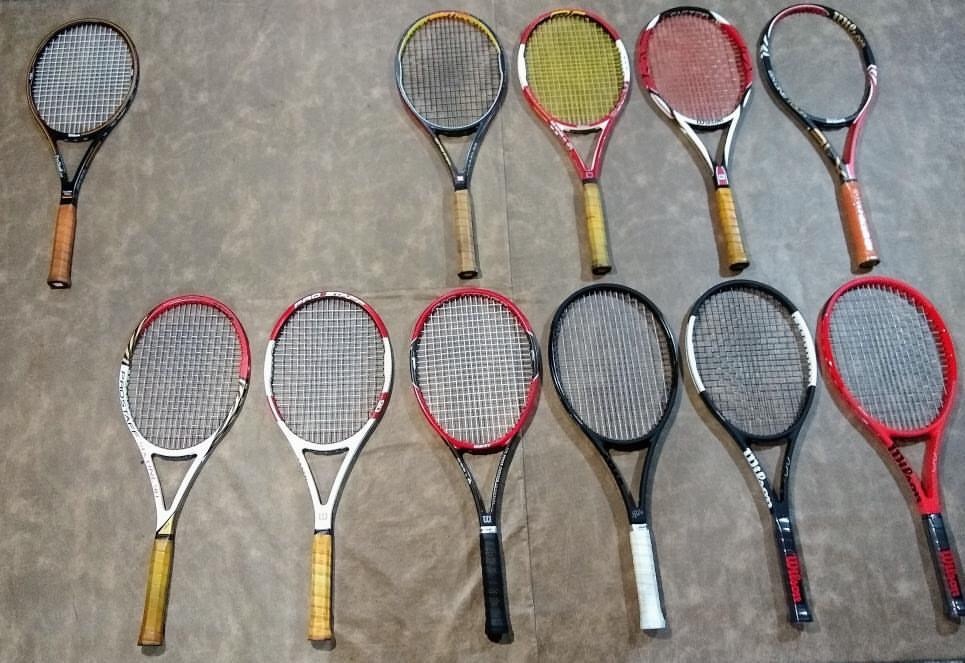 It is difficult to say whether Federer changed more than the paint jobs to the Pro Staff 90 over the years, but you can be sure that he didn't switch racquet every time a new model came out. In 2004 he switched to the Wilson Pro Staff nSix One Tour 90. He won 11 grand slams with this paint job and was utterly dominant on tour. The retail version of the nCode series was softer/more flexible than the rest.
In 2007, Wilson launched the Wilson k-Factor Six One 90 and Federer used that paint job up until 2009-2010. The k-Factor series was stiffer (more powerful) than the nCode series when it comes to the retail racquet versions.
2010-2011 Federer used the Wilson Six One Tour 90 BLX (black/red) and in 2012 he switched to the Wilson BLX Pro Staff Six One 90 (white/red).
As I wrote above, he likely used the same racquet all along, perhaps with some minor tweaks. But during the years 2002-2013, he used five different paint jobs of the same racquet.
The Big Change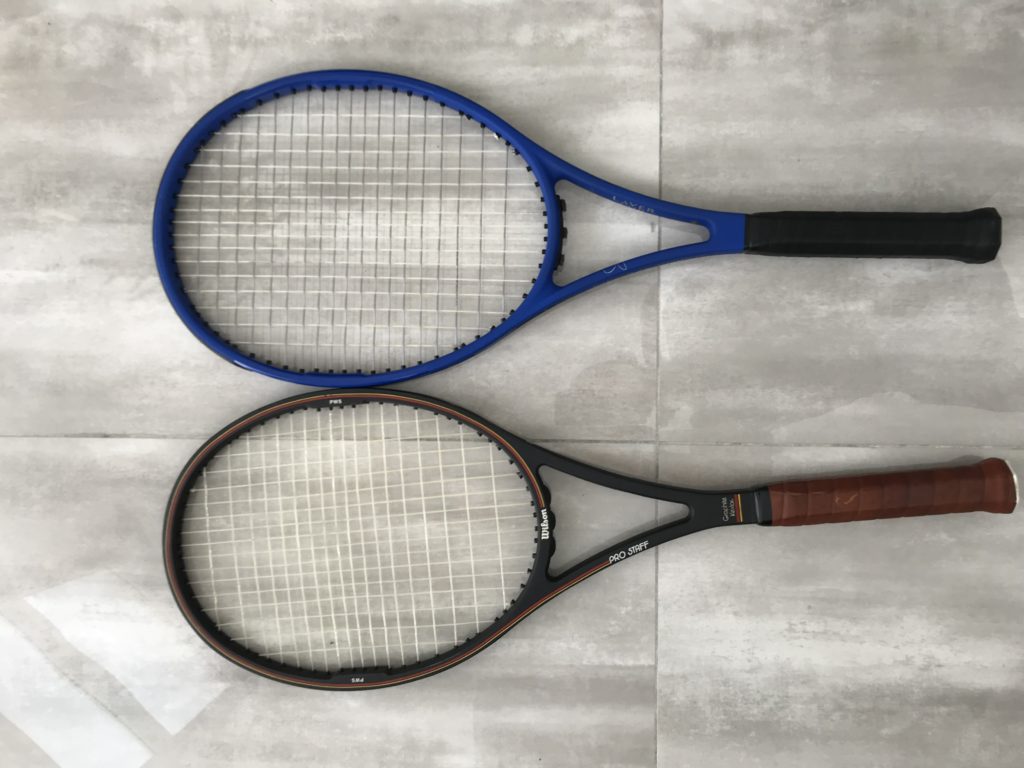 In 2014 Federer decided to switch to a bigger head size and thus the Wilson Pro Staff RF97 Autograph was born. The reason for the switch was pretty simple. He wanted a more powerful and more forgiving racquet to be able to:
Finish points quicker thanks to more power. It is a fact that since the switch, Federer has become even more aggressive and wins matches faster than ever.
Deal with the increase in topspin thanks to more forgiveness. Nadal was perhaps the guy who ushered in the change with his extreme topspin to Federer's backhand, but it is a fact that the level of spin in tennis seems to increase every year with the modern playing style and equipment.
It was pretty evident that the change to a larger racquet was beneficial for Federer and in 2017 he proved it by winning two grand slams in one year. The first slam he had won since 2012. Since Federer moved to the Wilson Pro Staff he has used these paint jobs:
Launch edition 2014 – Red/black
All black 2016 – He still uses this one
Tuxedo paint  2018 (black/white) – This one bothered his eyes and he used it only for the grass-court season.
He has also used an all-red Laver Cup edition in 2018 and an all-blue Laver Cup edition in 2019.
If you want to read more about Roger Federer's racquet setup, click here.
Thanks for reading! Which one is your favorite Federer racquet?