I've been thinking about this a bit lately – because I've been in another period of trying out and switching racquets. It's fun and a pain at the same time. How often do you switch racquets?
Since I like to try and review new racquets from time to time, it's difficult for me to groove with a racquet and maintain a consistent setup for tournament play. Right now I'm playing around with mainly two racquets and setups: The HEAD IG Radical Pro and the Angell TC 97 Custom 18×20. The IG is very happy with Solinco Hyper-G as the full bed string, while I'm not convinced about the Angell with Angell's own string Halo 1 (soft poly).
And then there's new alluring racquets on the market such as the Wilson Ultra Tour, a low-powered frame that begs for some lead tape and a leather grip. It does appeal to me on a lot of levels. But will it improve my game or just be fun to test?
When Roger Federer moved from his Wilson Pro Staff 90
to the Wilson Pro Staff 97 Roger Federer Autograph
, things really clicked for him in his game. The biggest impact on his game – he had a bigger sweet spot which resulted in more free power and far less shanks on the backhand side. Of course he introduced other changes to his game together with coaches Stefan Edberg and Ivan Ljubicic like the chip-and-charge technique later called the SABR attack and to attack a lot more on the backhand side (use less slice). But the racquet for sure helped to make these techniques easier.
So the racquet really worked for Federer and it is perhaps the most famous racquet switch in history. And the one that's improved results the most. On the other hand, Djokovic got a big lift in his game when he moved away from Wilson to his HEAD pro stock PT113B – maybe it's not so much the racquet as a mental change, or the switch in his diet (to gluten-free), but I'm sure confidence in your gear and what it can do for you is important.
For a happy tennis amateur maybe staying with one racquet isn't such a key element, but if you care about winning matches, I'm sure it's smarter to stay with a setup for a while to get accustomed to it and play your best. And this is where my head is right now personally, what will be a setup I can stick to for a year at least and not get seduced by switching to other frames I try?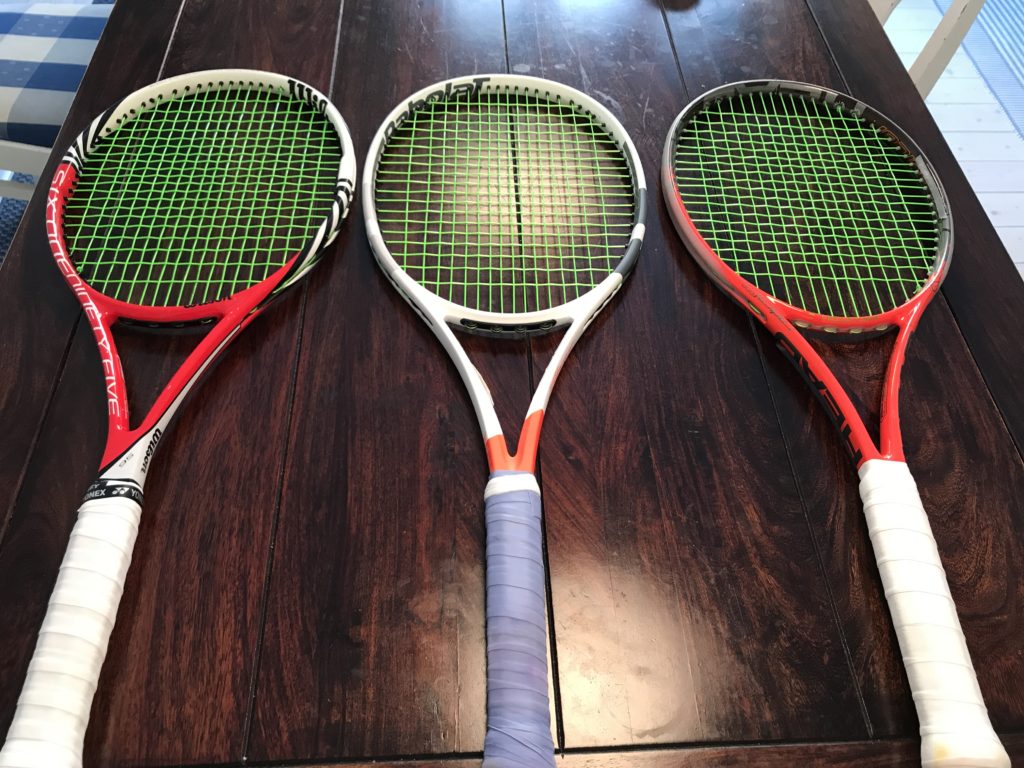 I thought it would be my Angell TC 97 Custom, but I'm yet to find the string setup to unlock its undeniable potential (haven't yet tested the Hyper-G). I'm so used to playing the Solinco Hyper-G
string that maybe I need to flip the equation around and find a racquet that works well with that string. Right now that is the HEAD IG Radical Pro for me, but will see what happens in the coming weeks. I've made a resolution to find a new before the 2018 season and stick to that for a whole year. Let's see if I can stick to it. I have a few months to test and find the right gear and right now there are many racquets to choose from. We have the new Wilson Ultra series, the latest Babolat Pure Drive (you can pre-order the Babolat Pure Drive now) and the coming Yonex Ezone line.
It will be an interesting journey the coming few months to find a racquet to settle down with for a longer period of time, because constantly switching racquets, which I've been doing for a while, isn't great for your game.
Where are you in your racquet journey right now? What racquets are you testing, using and considering? Let me know in the comments below.
Racquet buying guides
Here is a great racquet buying guide to get you started.
What tennis racquet should I buy?
Top tennis racquets to buy right now
The Gear of the Year 2016
Tennis racquets for juniors
Tennis racquets for kids
If you want to get a new tennis racquet, check out the online shops below:
Europe
Racquet Depot
Pro Direct Tennis
USA/CANADA
Tennis Express
Do It Tennis
Amazon