I've been playing with flexible racquets lately and although I enjoy it from a touch/feel point of view, I can't say I play my best tennis with them. There is a huge buzz around flexible racquets on tennis forums, partly because they do have a great feel, but also because they're more comfortable.
In a time where racquets get stiffer and injuries more common, playing with flexible racquets seems kind of intuitive. Does it mean that you're better off playing with flexible racquets? Well, there is no clear cut answer here. What works for one player doesn't necessarily work for the next. Even if you can detect that "this is a great racquet", it doesn't mean it will be the one you take to your next tournament.
In the end, the ultimate goal must be to play your best tennis. Not at the cost of health of course, but in general. Yes, yes, tennis should be fun and give you a good exercise, that's obvious. But if you're into tennis as a sport, you're probably also enjoying playing a few sets and matches here and there, right?
Playing with flexible racquets – What happens when a racquet flexes?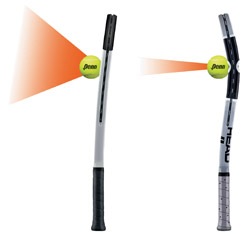 What happens when a racquet "flexes"? Instead of your arm receiving the vibration that occurs when the ball hits the string bed, your racquet absorbs the energy and gives less of it back to your arm, but also less of it back to the ball. This means you might feel the ball on the string bed longer, but you might not get the same direct feedback of a stiffer frame.
A stiffer frame has the ball bouncing faster from the strings back towards your opponent, giving your more power but also more vibrations towards your body. This is of course the tradeoff between flexible and stiff tennis racquets (read more here). I'm generally a strong advocate for playing with gear that doesn't hurt your arm, even if it hurts your score. But that doesn't mean that all stiffer racquets (medium to stiff, which I would say is between 63-69 RA strung), will hurt you. It also depends on the characteristics of the string you use, the tension you string it with, your technique and fitness. Lots of things are at work here.
Playing with flexible racquets – Weight comes into play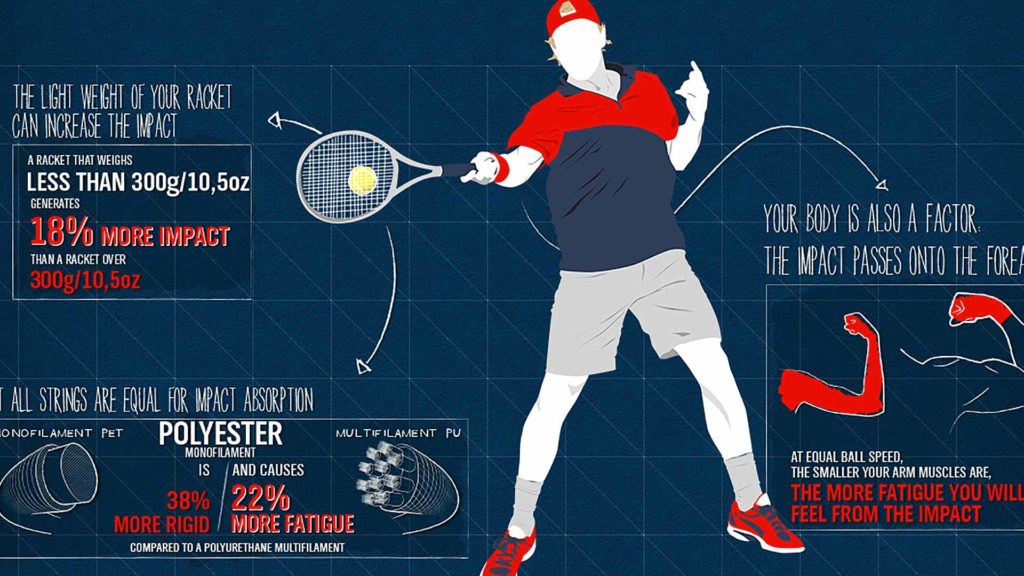 Weight is another element that comes into play. A lighter yet flexible racquet will not deliver much "oomph" to your shots and that's why most flexible racquets back in the days were quite heavy, up to 360 grams strung. A heavier frame will also better deal with impact vibrations from the ball just thanks to the sheer mass of it. But swinging a 360 gram racquet might take a toll on your shoulder and wrist. So if you like to play with heavy racquets, work on your technique and your physique to make sure you can handle the heft.
A stiff and light racquet is what we today call a "modern racquet". You can hit with a fast swing speed and get really good power and decent stability thanks to the stiffness. What happens though is that swinging faster requires a different type of technique (creating more spin) than if you're playing with a old-school, flexible racquet.
Just look at all the upcoming ATP pros today, the so called Next Generation. They swing the racquets so fast that it looks like their lives depended on it. (If you're a professional athlete, I guess in some ways it does!) This kind of swing requires lots of work and really good physique. As well as timing of course. With the racquet moving so fast towards the ball, it's obviously tougher to make sure you hit the centre of the strings.
Playing with flexible racquets – Confidence is everything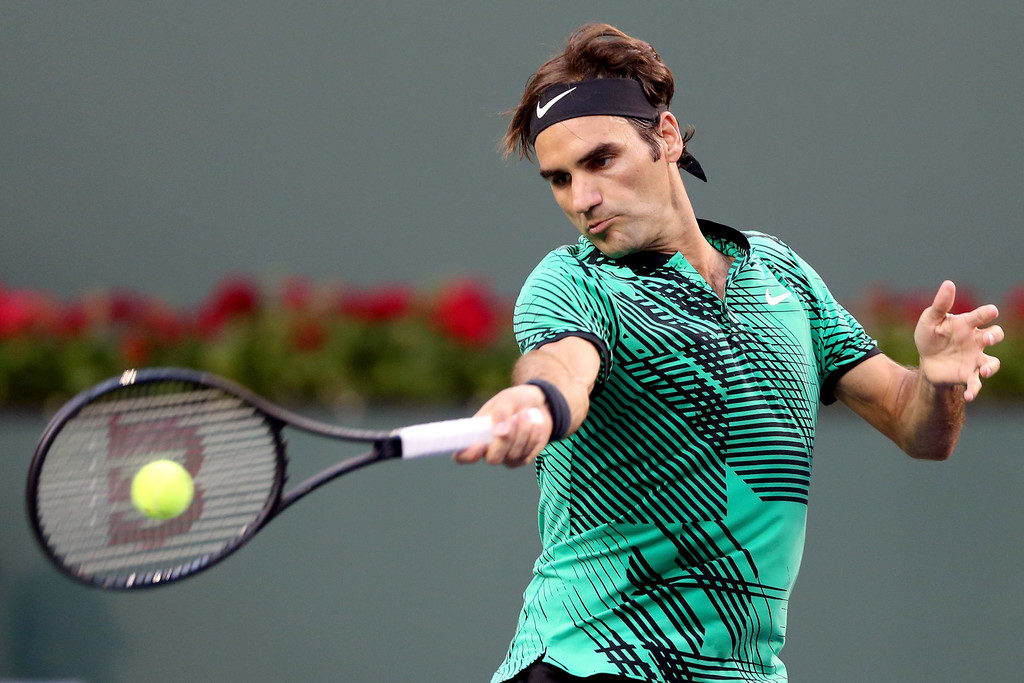 A heavier frame can slow down your swing, but still give you good power thanks to the weight. This is really up to your game style and your technique. I've been playing around with lighter racquets the last couple of years, although I always seem to revert back to the heavier, control-oriented frame. I simple feel more confident going for my shots with a 95 sq inch, 18×20 racquet. I've also realized I really enjoy a quite "even" response from the string bed. This means no "hot-spots" or a pronounced flex like for example the PT57A or the HEAD LM Prestige Pro stock I reviewed recently.
I tend to go back to where I started my player racquet adventures: the Wilson Six One 95
or a racquet quite similar to it, which I feel with HEAD LM Radical Tours. Not sure this will go on for ever, but feeling confident about your shots and being able to swing out is one of the most important things to play good tennis in my opinion. At least to be able play "freely" without holding back.
The arm and shoulder can get a little bit tired after two hours with a 350+ gram racquet. And that's when I wonder, again, if I should drop some weight (I have to switch racquet to do this, the 350 grams is the stock weight), do more work in the gym or see if my technique can be the issue. It's the see-saw of a passionate tennis player who enjoys fiddling with his racquets and setup perhaps a little bit too much.
Too many racquets – The land of confusion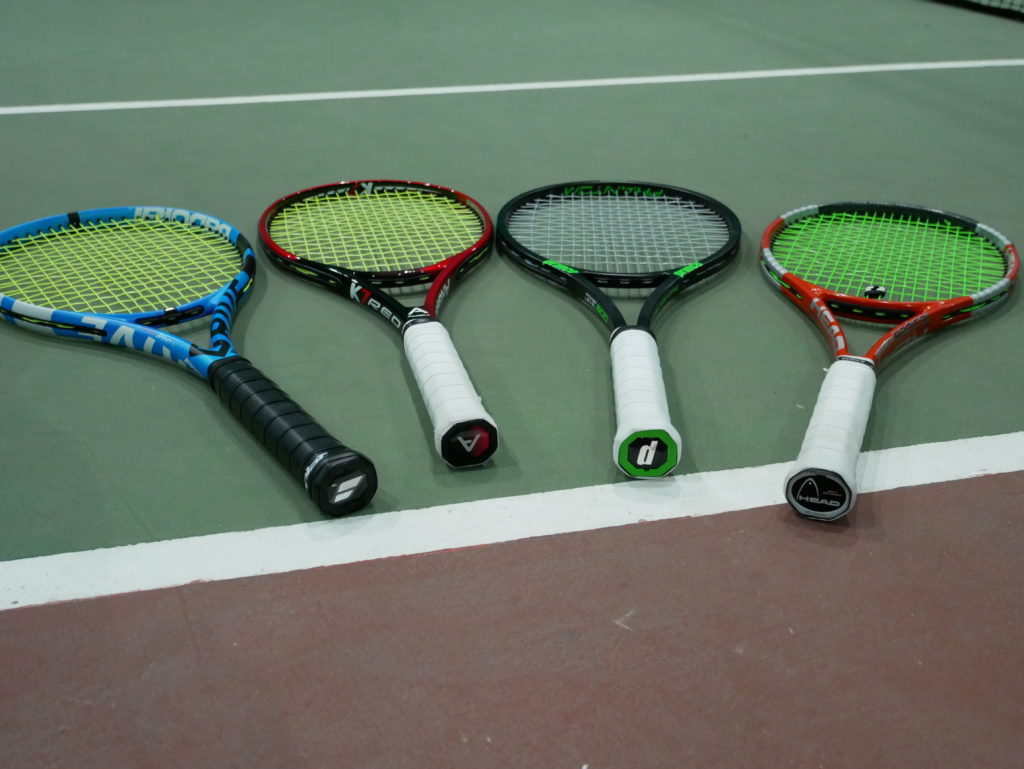 As you might know, I have really enjoyed playing with the K7 Red from Angell Tennis. It's simply a very nice racquet with a feel better than most moderns sticks out there today. I've been playing really well with the frame, but right now I'm in a period where if I add to much weight (aka lead tape
) it feels too clunky to swing (since I'm used to 95 sq inches) and if I don't add enough weight it doesn't give me the power on my shots to be aggressive. This ends me up over-swinging on shots and not really knowing where the ball is going.
In short, I'm in doubts of what racquet to take into a tournament. To add to the confusion I have upcoming racquet tests of the Yonex VCORE Pro 330
and the Angell TC 95 16×19. Hopefully they can help me find a solution to this racquet puzzle (for a few months at least!).
Are flexible racquets over-hyped? Will playing with flexible racquets reduce your chance of injuries? I would say "possibly" for both questions. It's really nice to play with a flexing racquet, but sometimes I feel I need the power from a slightly stiffer frame. And this case I'm not saying "Babolat Pure Drive", but a 64-65 RA strung racquet. Whether it should be 95, 98 or 100 sq inches, I simply don't know at this point. Why not 93? The Prince Textreme Phantom Pro 93P sure has me salivating, but then again I've heard it won't be shipped to Europe.
The journey continues…
Are you into playing with flexible racquets? Why? Let us know your racquet story in the comments below!
***
Do you like Tennisnerd? Don't miss a word or video by stalking us on social media. Every like and follow is appreciated!

YouTube
Instagram
Twitter
Facebook Page
Amazon Influencer
Buy tennis gear
EU
Racquet Depot
Pro Direct Tennis

USA
Tennis Express
Do It Tennis
Amazon.com
Racquet buying guides
Here is a great racquet buying guide to get you started.
What tennis racquet should I buy?
Top tennis racquets to buy right now
The Gear of the Year 2017
The Gear of the Year 2016
Tennis racquets for juniors
Tennis racquets for kids
Popular posts
What the ATP pros play
Questions about pro stock tennis racquets
Is a pro stock racquet better than a retail one?
Do professional players change racquets?
Racquet Commitment Issues