I acquired some HEAD Liquidmetal Pro Stock racquets that belonged to an ATP pro player and play-tested them over a period. Here is my opinion about these racquets.
The HEAD Liquidmetal Prestige pro stock racquets are the pro stock version of the HEAD Liquidmetal Prestige MP racquet which came out in 2003. What is a pro stock tennis racquet? You can read this post for more information about pro stock tennis racquets.
What is nice about pro stock tennis racquets is that they're matched for the player so there are no inconsistencies in swing weight, static weight or balance. Both racquets are supposed to play exactly the same, which is rare when you buy two racquets from an online shop for example. Depending on the quality control of the racquet manufacturer you can get two completely different racquets!
HEAD Liquidmetal Prestige Pro Stock Racquets Specs
My pair of HEAD LIquidmetal Prestige Pro Stock Racquets came in at 318 grams unstrung with 32,6 cm balance and 61 RA unstrung with HEAD Calfskin leather grips, silicone injected into the handle and plenty of lead tape on the handle and at 12 o'clock in the hoop. With over grip
 and strings
this racquet would be around 340 grams with a relatively head-heavy balance and a high swing weight. This would basically be a LOT to swing.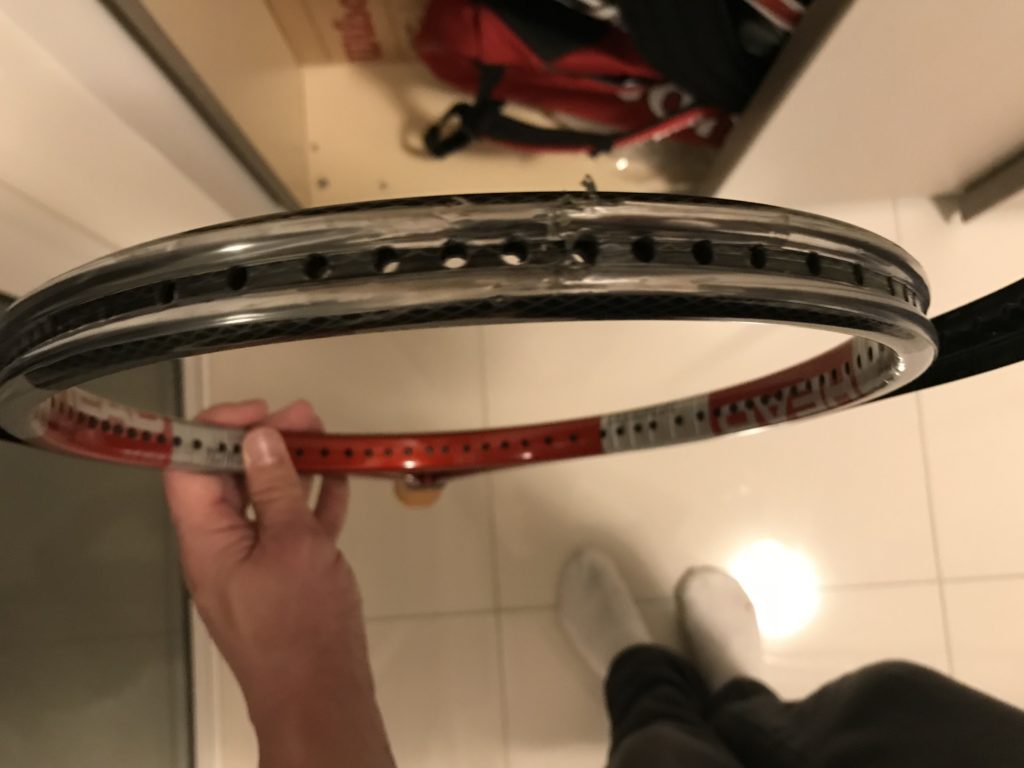 So what I did for my play-test was to remove the lead tape underneath the grommets as you can see in the picture above and also the tape on the handle. Then I strung with a hybrid of Babolat RPM Blast
and Babolat VS gut strings
and play around with adding back lead tape
but on the hoop instead to be able to adjust without having to cut out the strings.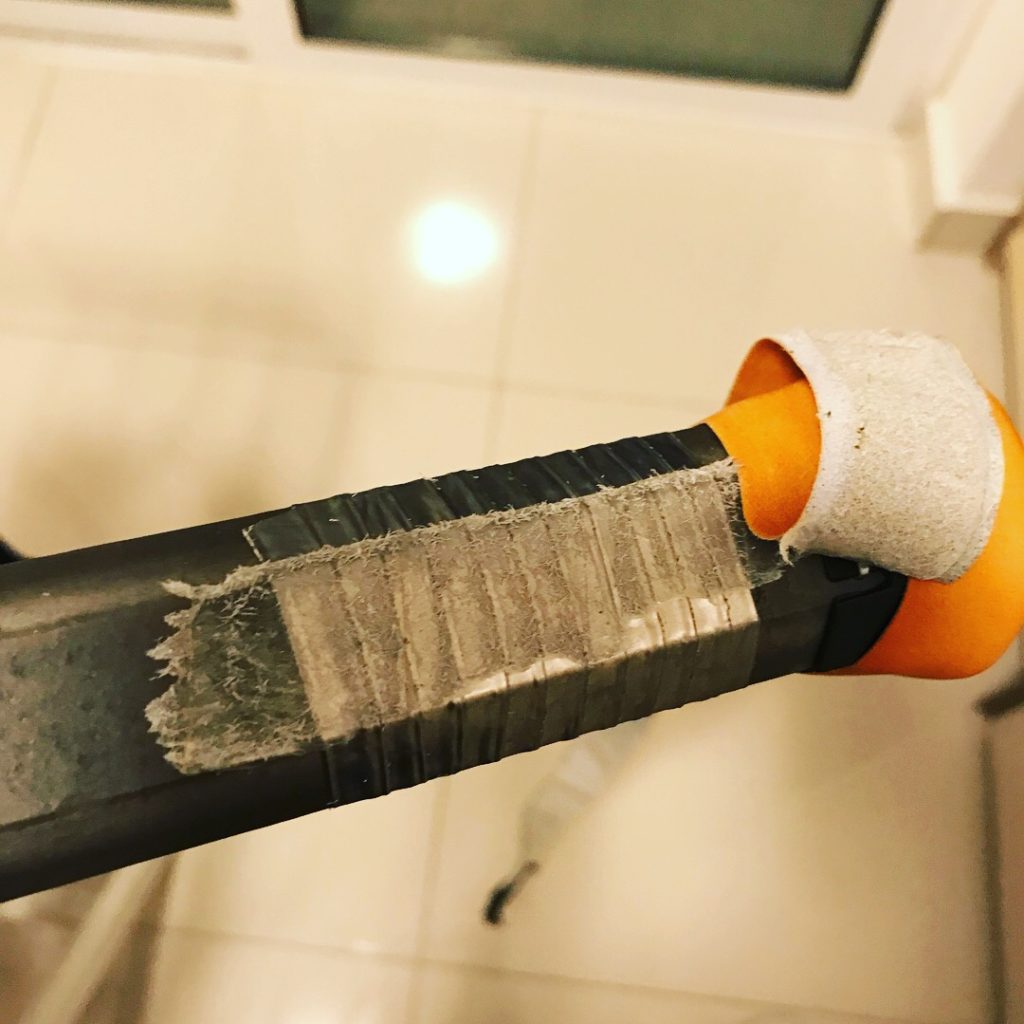 Professional players usually play with high swingweights
For a professional player, a heavy swingweight of 350-60 is not uncommon or particularly difficult to play with, but I prefer it around 330. I simply don't have the footwork or technique of an ATP Tour player and need to play within my comfort zone. I've played with plenty of ATP level racquet specs (Haas, Cilic, Enqvist, Wawrinka) to know that I simply am too late on the ball too often.
The HEAD Liquidmetal Prestige Pro Stock Racquets played really nicely with a static weight between 339-345 grams and a balance around 32 cm. They had a flex reminiscent of the legendary PT57A (based on the HEAD Pro Tour 630 racquet) where you could really feel the ball sink into the string bed. Also, I felt the spin potential was better on these racquets than with my HEAD Liquidmetal Radical Tour. But I did prefer the stable and more predictable response of my Radical Tours.
The racquets play nice, but I will not make the switch
What the Liquidmetal Prestige Pro Stock Racquets did have was a much better feel than the Radical Tours. The flex of the racquet makes it easy to feel the ball and caress a drop volley or hit a nice, skidding slice. I also felt like the power level was decent with the racquet, but I did notice a smaller sweet spot than the Radical Tours. Potentially since the amount of Liquidmetal is more pronounced on the Radical Tours.
The Liquidmetal Prestige Pro Stock Racquets play really nice, but I don't feel ready to make the switch to these racquets. The feel was great, but the sweet spot pretty small and I need a little help if I can with my tennis racquets. I simply play better with a bigger sweet spot, despite how sweet a racquet feels. That's why I also feel the hype around the PT57A is a little too big sometimes. The PT57A is a great racquet if you can handle it, but unless you have great technique and footwork (or you're specifically looking for that unique feel, you'll probably play better with something else.
Here is a clip of me hitting with the HEAD Liquidmetal Prestige Pro Stock Racquets
Do you enjoy flexible racquets with a small but significant sweet spot? Have you tried the PT57A? Please comment below!
***
Do you like Tennisnerd? Don't miss a word or video by stalking us on social media. Every like and follow is appreciated!

YouTube
Instagram
Twitter
Facebook Page
Amazon Influencer
Buy tennis gear
EU
Racquet Depot
Pro Direct Tennis

USA
Tennis Express
Do It Tennis
Amazon.com
Racquet buying guides
Here is a great racquet buying guide to get you started.
What tennis racquet should I buy?
Top tennis racquets to buy right now
The Gear of the Year 2017
The Gear of the Year 2016
Tennis racquets for juniors
Tennis racquets for kids
Popular posts
What the ATP pros play
Questions about pro stock tennis racquets
Is a pro stock racquet better than a retail one?
Do professional players change racquets?
Racquet Commitment Issues
***
Do you like Tennisnerd? Don't miss a word or video by stalking us on social media. Every like and follow is appreciated!

YouTube
Instagram
Twitter
Facebook Page
Amazon Influencer
Buy tennis gear
EU
Racquet Depot
Pro Direct Tennis

USA
Tennis Express
Do It Tennis
Amazon.com
Racquet buying guides
Here is a great racquet buying guide to get you started.
What tennis racquet should I buy?
Top tennis racquets to buy right now
The Gear of the Year 2017
The Gear of the Year 2016
Tennis racquets for juniors
Tennis racquets for kids
Popular posts
What the ATP pros play
Questions about pro stock tennis racquets
Is a pro stock racquet better than a retail one?
Do professional players change racquets?
Racquet Commitment Issues