In my series about the racquet families of the different mainstream brands, it's time to look at Prince tennis racquets.
Prince tennis racquets have been an integral part of the tennis scene for many, many years. We have all seen countless pros swinging Prince racquets over the years, but in recent times the number has dwindled. In 2021, you see John Isner use his Prince Beast 100 LB to hit countless aces, but Lucas Pouille has moved to Babolat and Iga Swiatek has gone to Tecnifibre. And before he hung up his racquets, Ferrer went from his trusted TX141P-100 28 TK4C pro stock (O3 Tour mold) to Babolat and then Wilson.
There are still a few tennis pros who persist with Prince racquets. We can mention Nicolas Kicker and his EXO3 Tour 100 racquets, Pablo Andujar with extended the O3 Tours, and Malek Jaziri with his Tour 100. All older models without updated paint jobs.
So what happened to Prince Tennis?
This Wikipedia page detailing Prince's history has some interesting facts. Here you can get a brief history of the company and an overview of the player sponsorships. As you can see below, it's quite an impressive roster of players. It's not up-to-date though.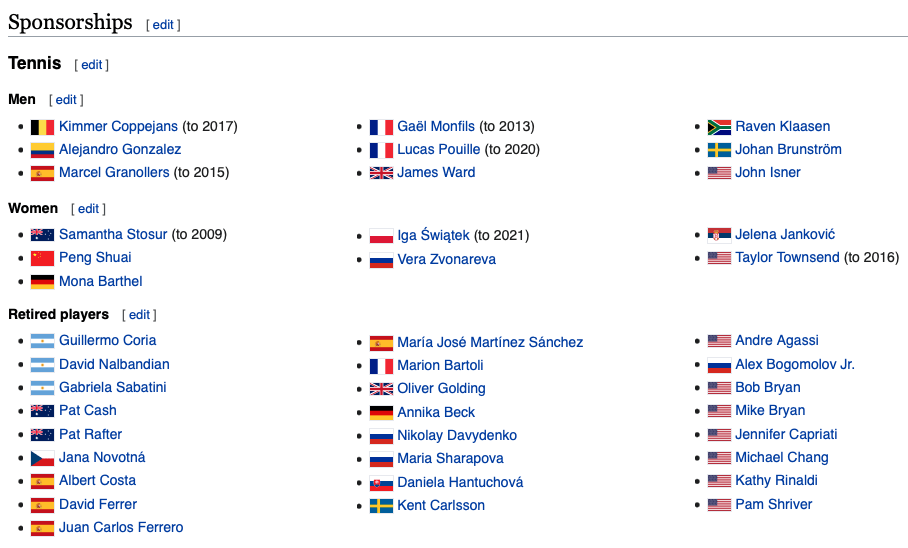 They describe Prince's history like this.
A brief history of Prince Tennis
The company was founded in 1970 by Robert H. McClure of Princeton, New Jersey (hence the name Prince) as a manufacturer of tennis ball machines, and went on to manufacture rackets. Howard Head, founder of the Head Ski Company, took tennis lessons following his retirement (his company was acquired by AMF in 1969). He used one of the tennis ball machines made by Prince, but was frustrated by his slow improvement in the game. Head joined the company in the early 1970s and developed the company's signature oversized tennis racket.[1] Although the Prince Classic aluminum racket was the first oversized racquet to be patented, the Bentley Fortissimo preceded the patent by two years, causing Germany to invalidate it.
In July 2012, Authentic Brands Group acquired the Prince brand name from Nautic Partners, in a procedure that filed a voluntary petition for Chapter 11 reorganization in U.S. Bankruptcy Court. Prince Sports' portfolio of brands included Prince (tennis, squash and badminton), Ektelon (racquetball) and Viking (platform/paddle tennis). Its tennis unit recorded $59 million in sales in 2011. 
By September 2012, the Waitt Company, an Omaha, Nebraska,-based investment company, agreed to a 40-year license to operate the Prince brand across North America, South America, Europe, Middle East, Africa, Australia, New Zealand and India. Prince Global Sports is now operating as a subsidiary of Athletic Brands Holding Company which is majority owned by the Waitt Company. The company's portfolio of brands also includes Ektelon, Viking and Battle.
Where do Prince go from here?
I am excited by some of Prince's recent releases and I detail them in my video about their racquets. The Ripstick wowed me with the fun form-factor and the power/spin potential, the Synergy 98 is an excellent frame for advanced players, and the throwback racquet, CTS Synergy DB 26, is also a quality stick. If you want to know more about Prince's recent releases (besides watching the video), please listen to my podcast with their R&D Director Tim Puttock.
Today I actually hit with one of their old pro stocks (the TX141P-TK4C), that was/is used by players like Ferrer and Andujar, and it played great. I have posted my first impressions review of that racquet on my Patreon page. Please consider joining and supporting Tennisnerd.
Let's hope Prince finds their way in the chaos and starts selling a boatload of racquets. The brand and their products deserve it.
What is your favorite Prince racquet?