Bianca Andreescu broke through on the big tennis scene when she won the title in Indian Wells after qualifying. Quite a feat! Now she is another name that can compete for titles on the ultra-competitive WTA tour. But what is Bianca Andreescu's racquet?
Bianca Andreescu is only 18 years old and currently the top-rated Canadian player. She is sponsored by HEAD and endorses the HEAD Graphene 360 Speed MP
. I reviewed the HEAD Graphene 360 Speed Pro here, which is an excellent racquet for the attacking baseliner and the MP is quite similar with a more open string pattern and a little less weight. But is the HEAD Graphene 360 Speed Pro really Bianca Andreescu's racquet?
Well, as with most professional players it is hard to know for sure. It doesn't make sense that they would change racquet every other year so they mostly just endorse the latest model and uses something else. This is called a pro stock racquet and you can read about it here: "What is a pro stock racquet?". Bianca Andreescu's racquet looks like an older HEAD Speed racquet and it could be either the first Graphene XT Speed
or Graphene Touch Speed
for example. According to a stringer on tour, she strings her racquet with Babolat RPM Blast
strings at 48 lbs (around 22 kg).
Check out Bianca Andreescu's gear at Tennis Warehouse, Tennis Warehouse Europe and Tennis Only. Any purchase will send a small commission to Tennisnerd. Thanks!
Bianca Andreescu's Racquet – A HEAD Speed Racquet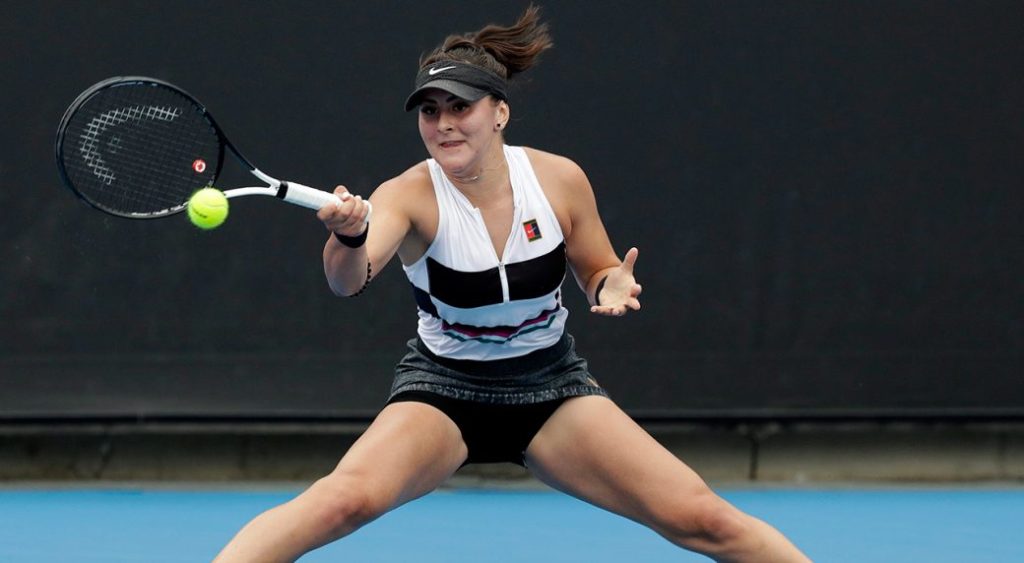 Many pro player racquets (click to find out what other pro players use) are very hard to figure out and that is the case also with Bianca Andreescu's racquet. It is highly likely an older HEAD Speed racquet, but sometimes you need to be a little bit of a detective to really figure out what racquet she really uses.
If you have any clearer insight into this, please e-mail tennisnerdnet@gmail.com and we will update this article.
It will be interesting to follow Andreescu's progress for the rest of the season. Can she back up her fantastic start with a good run at a Grand Slam for example? What do you think? Please comment below.
***
Do you like Tennisnerd? Please also follow and share our other channels. Every like, share and follow is deeply appreciated!

Patreon – Support and get VIP content
YouTube – In-depth video reviews and vlog
Instagram – Racquets, racquets, racquets
Twitter
Facebook Page – New content daily
Facebook Group – Join the discussion with other tennis nerds
Amazon Influencer
About tennis racquets
All racquet reviews
Here is a great racquet buying guide to get you started.
What tennis racquet should I buy?
Top tennis racquets to buy right now
The Gear of the Year 2018
The Gear of the Year 2017
The Gear of the Year 2016
Tennis racquets for juniors
Tennis racquets for kids