They ironically call themselves servebots. But John Isner and Reilly Opelka can obviously play good tennis outside their serve. What are the racquets of the servebots?
The reason I wanted to dive into the topic of the racquets of the servebots, is the difference in what they use. Just driving home the point further that racquets are highly personal in what feels good to certain players and not so good to others. Pros are also less prone to try new things as their career is always in motion. They hit thousands of balls per day and build incredibly muscle memory. To then rebuild that slightly using a different racquet can be costly.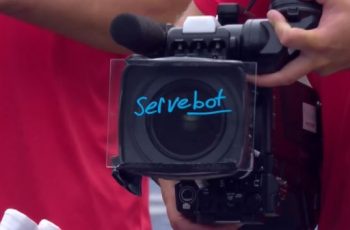 Still, you do wonder if pros should be a bit more open-minded when testing new gear. Maybe this is changing with the younger generation. Sampras lamented not moving on earlier from his PS85, Federer could maybe have switched earlier from 90 to the Pro Staff RF97A, Murray tried switching to a bigger head size, but went back to his old PT57A, Djokovic's switch in 2018 was a small tweak that seemed to benefit his game. There are players like Verdasco and Dimitrov that have been all over the place, but I think in their case their main issue on the court is more over-thinking and lacking some mental strength and not the racquets.
Isner and Opelka's racquets
There is no doubt that both Isner and Opelka are two of the biggest serves on the tour. But they use very different racquets to achieve that. Isner is using a racquet that is like made for a server. The Prince Beast 100 Pro LB (longbody) offers massive power on both serves and groundstrokes. The extended length makes the racquet even more of a weapon (you can get an even higher contact point and the swing weight = power is higher) as long as you can maneuver it.
Opelka on the other hand, uses the same racquet mold as Dan Evans, Roberto Bautista-Agut, Kyle Edmund, and Dusan Lajovic. The Wilson Six One 95 is made for control and stability. It does offer more power than many other 95 sq inch racquets thanks to its high stiffness, but it's still not the racquet you think of for a big server. A Pure Drive Plus or Ezone 100 Plus would probably get Opelka even more pop on serve.
But, even for servebots, tennis is not all about the serve. You're not going to ace or get unreturnable serves all the time. Just look at the recent matches in Indian Wells. Both Dimitrov (d. Isner) and Nadal (d. Opelka) found a way to return some balls and win the most important points. Still, both Opelka and Isner can play some great tennis when they're on their game. Naturally, they need to attack the ball and keep the ball short and can rarely afford to get into long baseline rallies. To get maximum confidence on their aggressive strikes, they need to use a racquet that builds confidence.
For Opelka that is the Six One 95, for Isner it's the drastically different Prince Beast 100 LB.
There are no easy rules for tennis. You need to play with what works for you. I think the racquets of the servebots serves as a great example of that.