The US Open 2023 has started with some interesting results. There are also some things to note about the US Open racquets.
US Open Racquets
I have two observations so far about US Open racquets for the 2023 edition. More will come in, I am sure. Don't hesitate to reach out via Instagram or contact us if you have seen something noteworthy. If you want to contribute to Tennisnerd with some writing, that is also possible.
Let us start with Frances Tiafoe's racquet.
Tiafoe is back to his old VCORE Pro
We can start by noting that the cosmetic of a racquet makes a difference for the pro players. One case is Frances Tiafoe, who has returned to using his old VCORE Pro-painted racquets instead of the new Percept cosmetic. Why is this? It is hard to know unless you talk to Frances, but there could be numerous reasons. If you want to check out the new Yonex Percept racquets, you can do so from our friends at Tennis Warehouse.
1. He prefers the feel of the used racquets. The graphite breaks down after a while, and racquets get softer. This is why Del Potro did not want to play with a new batch of racquets and used his K-Factor design until they were ready to be thrown into the bin. If he got a new batch of racquets, they would be stiffer and not "broken in," which changes the feel drastically. In the end, I think Wilson strung up the racquets loads of times (which also adds wear to the racquets) to ensure that Del Potro could play with them.
Sadly, the story about Del Potro was more about injuries than racquets in the end, but at least it relates to the situation with Tiafoe.
2. Something about the cosmetic adjusts the way the racquets play. A color changes how a string performs but can also impact how the racquet plays. He did use the Percept cosmetic during the tournaments leading up to the event but has now switched back to his old racquets. Something is bothering him, and we can only speculate what.
3. The cosmetic itself bothers him. Maybe he just prefers the old design. This is unlikely since he is "obligated" in a way to play with the new design, but it could be something superstitious.
Let me know your thoughts about Tiafoe playing with a VCORE Pro instead of the Percept design.
Tsitsipas's new strings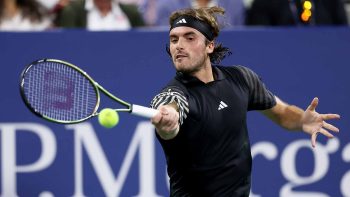 I have done several videos and posts about Stefanos Tsitsipas's string setup. I have also talked to him extensively about it. It's not easy finding a string setup that works for you, and once you start trying new things, it can be difficult to settle. He has been experimenting for a while, but for the US Open, he uses a full bed of Alu Power (like his brother Petros).
He has always been a fan and user of Luxilon 4G, either in a full bed or a hybrid, so we will see if this change can be positive for him. His straight-sets win over Milos Raonic in the first round is a good sign of things to come.
Shelton's new string setup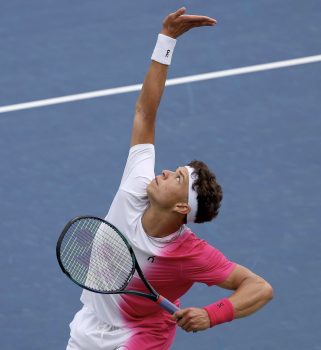 Ben Shelton has also been spotted using a new string setup. He has been experimenting with strings for a while now, as we have mentioned in previous mixed bag videos. He is now using a black string in the mains. My best guess for what it is? Yonex Poly Tour Strike, a more controlled option than Poly Tour Pro, which he puts in the crosses. Maybe this combo is excellent. Let me know if the comments if you have tried it.
Those are all the observations at the US Open for now. Thanks to you who sent your spots over Instagram. Both Lidor Almasi and Phillip Lam noticed the Shelton strings, for example.