Stefanos Tsitsipas has been going back and forth in his string choice in recent time. But what is Stefanos Tsitsipas strings?
Stefanos Tsitsipas strings used to be a constant in his career. He was using Luxilon 4G 1.25 at around 53 lbs or 24 kg. If you want to know more about his racquet, you can read this post. Tsitsipas is currently endorsing the Wilson Blade 98 V8 18×20, I review this racquet here. Tsitsipas racquet hasn't changed as far as I'm aware, but his strings have changed a bit since his elbow surgery. He has gone from a full bed of Luxilon 4G, to a hybrid of Alu Power and natural gut and now at the Australian Open 2022 he is using a Luxilon 4G in the mains and natural gut in the crosses. Sadly, I don't know the tensions, but if anyone knows, please comment below or reach out to me via the contact us form.
Why did Tsitsipas change his strings?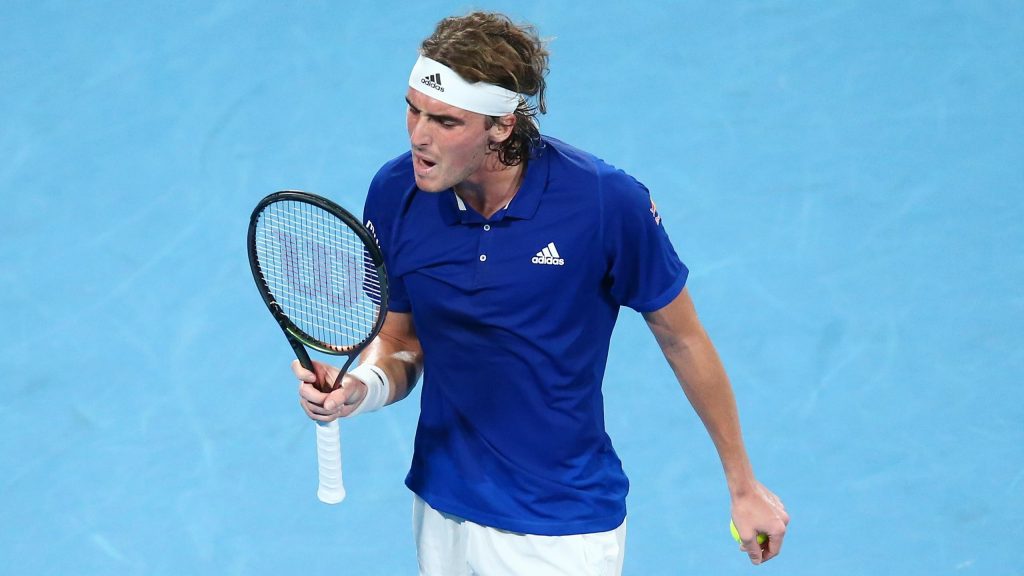 After his elbow surgery, I'm sure the team discussed how to create a softer setup for his arm. Luxilon 4G is a great string for control, but one of the stiffer strings on the market. It therefore seemed like a logical decision to try a hybrid with Alu Power (which is not the most arm-friendly string on the market, but softer than 4G) and natural gut. Hybrid setups is a great option for players who want more comfort but still retain some of the control and spin properties of polyester strings.
But it was clear during the ATP Cup 2022 that Tsitsipas wasn't happy with his string setup. He seemed to lack confidence and control. This can of course be mental, but it's clear that 4G is a far more controlled setup than a hybrid of Alu Power and Gut.
Now Tsitsipas is back to Luxilon 4G, but in a hybrid setup with natural gut in the crosses. He has found a middle ground that seems to work well for his game (he has just reached the 4th round of the Australian Open). We will see if he sticks with this setup or if he will keep experimenting. Players are more prone to experiment with strings than racquet setups as they don't require as much of an adjustment.
If you want to purchase tennis strings or other equipment, check out our affiliates Tennis Warehouse, Tennis Warehouse Europe and Tennis Only. It's a great way to support Tennisnerd as we get a small commission if you use our links, without any extra cost to you. Big thanks!
What do you think of Tsitsipas' string experimentation? Have you spotted any other interesting gear changes? Let us know in the comments below.