Aslan Karatsev has reached the quarter-finals in his first grand slam after qualifying to the event! Pretty impressive. But who is Aslan Karatsev?
Aslan Karatsev is the first qualifier to reach a Grand Slam quarterfinal since Bernard Tomic in 2011 Wimbledon, and the first man to reach a quarterfinal in his Grand Slam debut since Alex Radulescu in 1996 Wimbledon (according to Wikipedia). He was two sets down against Felix Auger-Aliassime in the fourth round, but fought back and won in five. In the round before that, he shocked Diego Schwartzman (and the crowd) by beating him in straight sets. He hits the ball fearlessly and has not shown much in terms of nerves so far in the Australian Open 2021. How far can he go?
Daniil Medvedev called Karatsev "Russia's secret weapon" during the ATP Cup, but as the third man on the team, Karatsev didn't play any doubles matches as Rublev and Medvedev won all their matches. Hanging around (and practising) with the Russian top players at the ATP Cup must have done Karatsev a world of good, because he just keeps hitting winner after winner (50 winners against Schwartzman) and fights through his matches in impressive form.
What is Karatsev's racquet?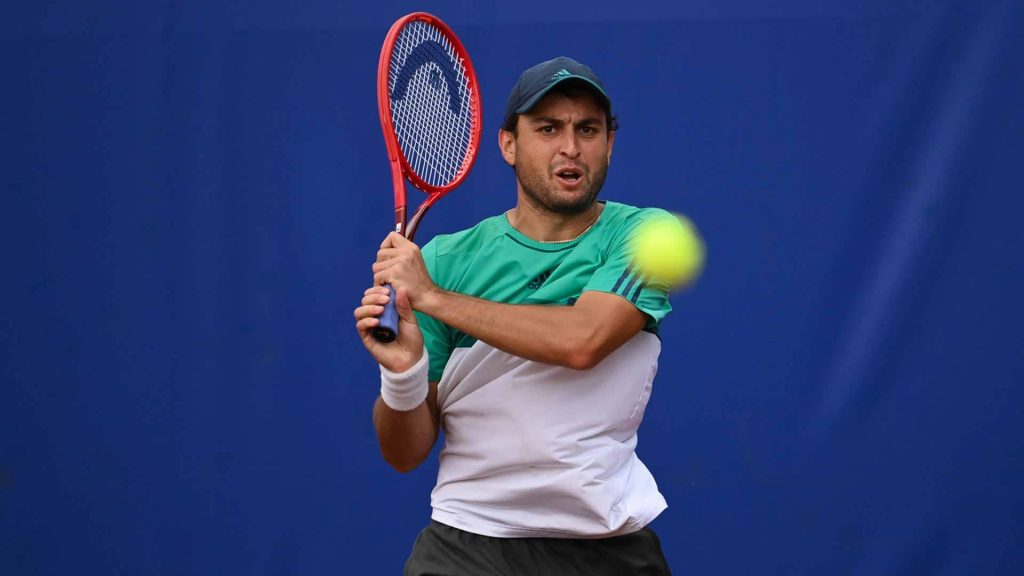 Aslan Karatsev endorses the HEAD Prestige MP, (click the name for my review), which is an excellent racquet in its own right, but actually plays with a pro stock frame. If you like a control-oriented frame with great feel, check out the Prestige MP at one of our affiliates: Tennis Warehouse, Tennis Warehouse Europe or Tennis Only (AUS).
The racquet nerds at the TW Forums have already started the discussion and one of the most respected posters, dr325i, has said that Karatsev uses a HEAD PT57A pro stock (based on the HEAD Pro Tour 630 from 25+ years ago) with the following specs.
Mold/Layup: PT57A2
String pattern: 18×20
Weight: 340g strung
Balance: 32 cm / 6 pts HL
Swing weight strung: 340
String: Head Hawk 1.25
The closest thing to a PT57A you can get today is the HEAD Pro Tour 2.0. Unless you shop around on pro stock racquet websites and forums.
Where do you see Aslan Karatsev going?
Karatsev is 27-years-old and ranked 114 in the world at the time of writing. After the Australian Open he should have improved his ranking considerably. Can he keep it going? The Russian has a big game relying on a powerful and precise serve and good power from both wings. It looks like a game that can work on all surfaces, but it's still hard to predict where he can go from here. If he can build on the confidence from the Australian Open, his game is definitely worthy of the top 30.
Where do you see Karatsev going?