I really enjoyed the FX 500 V1 but struggled with stability on the Tour. What is new in V2? Check out my Dunlop FX 500 Tour V2 Review.
Dunlop FX 500 Tour V2 Review
The previous Dunlop FX 500 was Dunlop's best power racquet (check out my other favorite power racquets here). How could you improve on it? The main downside of the FX 500 and its brother, the FX 500 Tour was the firm feel. I did most things well and I enjoyed the dense center pattern that allowed for good directional control. However, my arm felt slightly sore after playing it with a full bed of poly. As you can see in my Dunlop FX 500 V2 review, they have added Sonic Core w/Infinergy (foam) in the upper hoop to soften the feel. And the overall stiffness has been lowered a bit.
The downside of the FX 500 Tour compared to the FX 500 was the lack of stability. It has a smaller head size and the swing weight of all samples we measured at the office was around 315 strung. This is too low for a "Tour" racquet. So although the feel and comfort are improved also with the FX 500 Tour, the issue remains with the overall weight. I would have liked a higher swing weight and more weight in the head.
This can obviously be fixed with some minor customization. For example, adding some lead tape at 3 and 9 or 12 to increase the swing weight and twist weight of the racquet.
I strung my Dunlop FX 500 Tour with Toroline Caviar 1.24, which is one of my favorite softer polyester strings.
Purchase the Dunlop FX 500 Tour V2
You can buy the Dunlop FX 500 and FX 500 Tour V2 from our friends at Tennis Warehouse, Tennis Warehouse Europe or Tennis Only. We are always unbiased in our reviews, but if there is any tennis product you like to buy, we appreciate you going through our links. This sends a small commission to Tennisnerd, which helps us keep going.
Specifications Dunlop FX 500 Tour V2
Head Size: 98 in / 632.26 cm
Length: 27in / 68.58cm
Strung Weight:11.4oz / 323g
Balance: 12.79in / 32.49cm / 6 pts HL
Swingweight: 317
Stiffness: 65
Beam Width: 21mm / 23mm / 21mm
Composition: Sonic Core Infinergy/Graphite
Power Level: Low-Medium
Stroke Style: Medium-Full
Swing Speed: Medium-Fast
Racquet Colors:Blue
Grip Type: Dunlop Synthetic
String Pattern:
16 Mains / 19 Crosses
Mains skip: 7T,9T,7H,9H
One Piece
No Shared Holes
String Tension: 45-65 pounds
How does it play?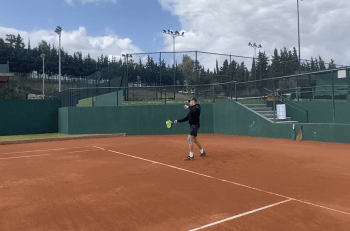 The lack of stability aside, this racquet takes up the battle against other 98 sq inch power racquets like the Yonex Ezone 98, Babolat Pure Drive 98 and HEAD Boom Pro. But with the other racquets you don't feel the need to customize, while with this one I personally feel it straight away. Yes, it can be a personal thing, but overall, a 315-strung swing weight is too lower for a 98 sq inch racquet to retain its stability and plow-through.
Other than that, it's a nice racquet. Easy to swing, has good power, and nice touch. For aggressive and advanced baseliners, this racquet can be a real weapon. However, in stock form, I prefer the Dunlop FX 500 V2.
Stroke by stroke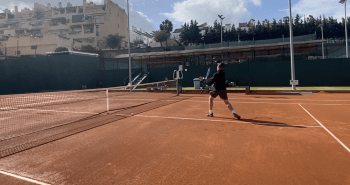 The Dunlop FX 500 Tour is the more controlled option in the new Dunlop FX family. The 98 sq inch head and denser string pattern allows you to take full swings with confidence. If you are a spin player, you should probably look into the Aero 98 or Dunlop SX, but the 500 Tour responds exceptionally well to flat strokes.
It is a little flimsy on some heavy reaction shots at the net, but nothing you can't get around.
Serving with it was very good, but not quite as much power as the FX 500, but it moves faster through the air than its big brother, which helps on for example kick serves.
Summary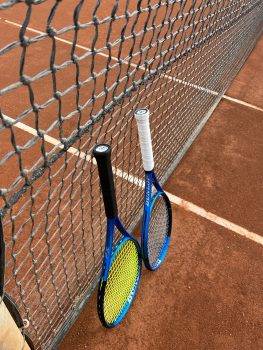 I am not quite as convinced by the 500 Tour as I am by the regular 500. But maybe some customization can change my mind and make this into a favorite 98 sq inch power racquet. In stock form, I do prefer the more solid feel of the Ezone 98, for example. But this one is whippier and allows you to be more creative in its lighter form.
The feel and comfort is the biggest improvement on the 500 Tour V2. You feel connected to the ball on all shots and the arm doesn't complain. A nice racquet, the only real knock is that it is a little light for a Tour racquet and needs more mass in the head.
Have you tried the Dunlop FX 500 Tour? Please share your thoughts below!