I enjoyed this ProKennex Ki 10 305 review. The kinetic technology is kind to my elbow and the racquet offers decent power and spin.
The only downside with the racquet in this ProKennex Ki 10 305 review was the swing weight. It's a little bit high for my liking and it's something I have noticed with many other ProKennex racquets too. While they are great for the elbow and arm, the high swing weights can make them sluggish and difficult to swing. That's why, for most players, I would recommend going for a lighter racquet than normal with ProKennex frames.
ProKennex Ki 10 305 Review
Many things appealed to me about this racquet. Its specifications are more towards a power frame but with a bit more weight. On paper, I was excited about the effortless power, spin potential, and arm-friendliness thanks to the kinetic system.
Below you can see the specs from Tennis Warehouse Europe.
Specifications
As you can see, the swing they measured is 331 strung. Mine was 337.5 with Lynx Tour (heavy string), which is a bit much for what I enjoy, especially in a 100 sq inch head size racquet.
Regarding the ProKennex kinetic system, I wouldn't worry too much about the stiffness because the system does a great job of dampening vibrations.
Sometimes I've felt that there is too much dampening in ProKennex racquets, but I felt very dialed in with this one and loved hitting drop shots and volleys with this racquet.
Head Size:
100 in / 645 cm
Length:
27in / 68,5cm
Strung Weight:
320g / 11,3oz
Unstrung Weight:
305g/10,8oz
Balance:
32,99cm / 4 pts HL
Unstrung Balance:
32cm/7 pts HL
Swingweight:
331
Stiffness:
68
Beam Width:
24mm / 24mm / 24mm
Composition:
SpiralTech Carbon
Racket Colours:
White/Orange
Grip Type:
ProKennex Synthetic
String Pattern:
16 Mains / 19 Crosses
Mains skip: 7T,9T,7H,9H
Tension:
22-29kg / 50-65lb
How does it play?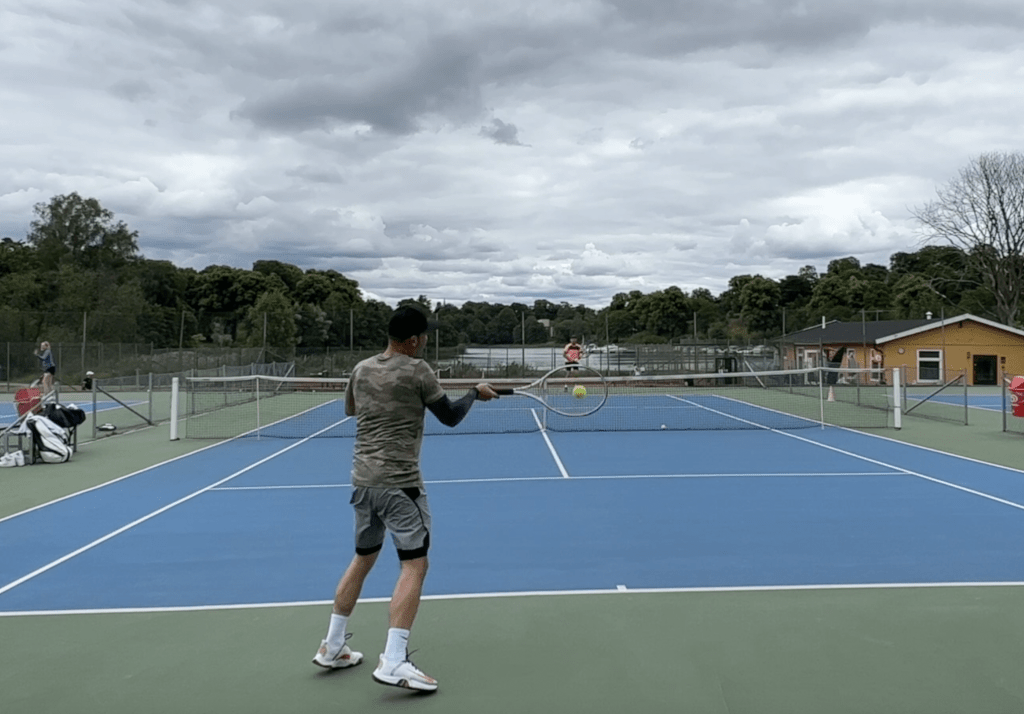 The Ki 10 305 doesn't hit with the outright power of power frames. We get a more balanced response, more similar to a HEAD Speed Pro 2022. But like with the Speed Pro, I enjoyed pretty much everything about the racquet but found the swing weight a bit too cumbersome. I handed it to a few other play-testers, and the response was mixed.
Henrik Wallensten really enjoyed this frame, while my buddy Fred didn't like it as much. It's one of those that I think you need to demo, it might be a smash hit or a no-no. A bit like a Clash, with a strong personality.
The racquet possesses good plow-through, stability and feel, but the it lacks some whippiness and top spin potential. You could slice and dice all day, but the racquet wasn't as forgiving on back-to-back spin exchanges from the baseline.
Doubles players or flat hitters will probably really enjoy the new ProKennex Ki racquets and just looking at the specs, I think either the Ki 5 or the Ki 10 290g will suit more players than this one. If you don't mind a high swing weight and want a lot of plow-through (tank-style!), then this one is worth a demo. But ease-of-swing and playability are on most players minds these days…
Summary
This is probably the best ProKennex racquet I've tried. I could hit with good touch, manuever the ball, and hit some flat winners too. The only issue that became too much was the high swing weight. At 325 strung, this racquet would have been much better, and that's why I think the lighter versions I write about above will appeal to most players looking for an arm-friendly modern racquet.
Technology-wise, ProKennex is still doing a great job filtering out nasty vibrations, thanks to their Kinetic tech. So if you suffer from arm problems, consider one of their racquets. The maracas-style sound while swinging it (the microbeads moving around) doesn't affect your play, but some racquet purists might not find it appealing. That's why I think you should try it before you buy it, if possible.
Nice stick, just a bit too much of it for my game.