The Tecnifibre T-Rebound 298 Iga, is now the Tecnifibre Tempo 298 Iga. The specs are the same, but the paint is slightly cleaner-looking.
I reviewed the Tecnifibre T-Rebound 298 Iga favorably last year (scroll down to watch my old review). It's a powerful and fast-swinging racquet for intermediate and advanced players who can generate enough spin to keep the ball inside the lines. A fun racquet to use and despite the high stiffness rating (71 strung!), I didn't sense any discomfort, probably thanks to the foam-filling. The Tecnifibre Tempo 298 Iga is basically just a name and a cosmetic change. I think Tempo is easier to remember and say than T-Rebound, so that part I understand.
And if this is actually the racquet that Iga Swiatek uses (it's her autograph or signature model), changing the specs or adding different tech doesn't make any sense.
If you want to buy the Iga racquet, you can check it out on Tennis Warehouse, Tennis Warehouse Europe (older version on sale!) and Tennis Only.
The specs
The specifications of the Tempo Iga 298 are unchanged.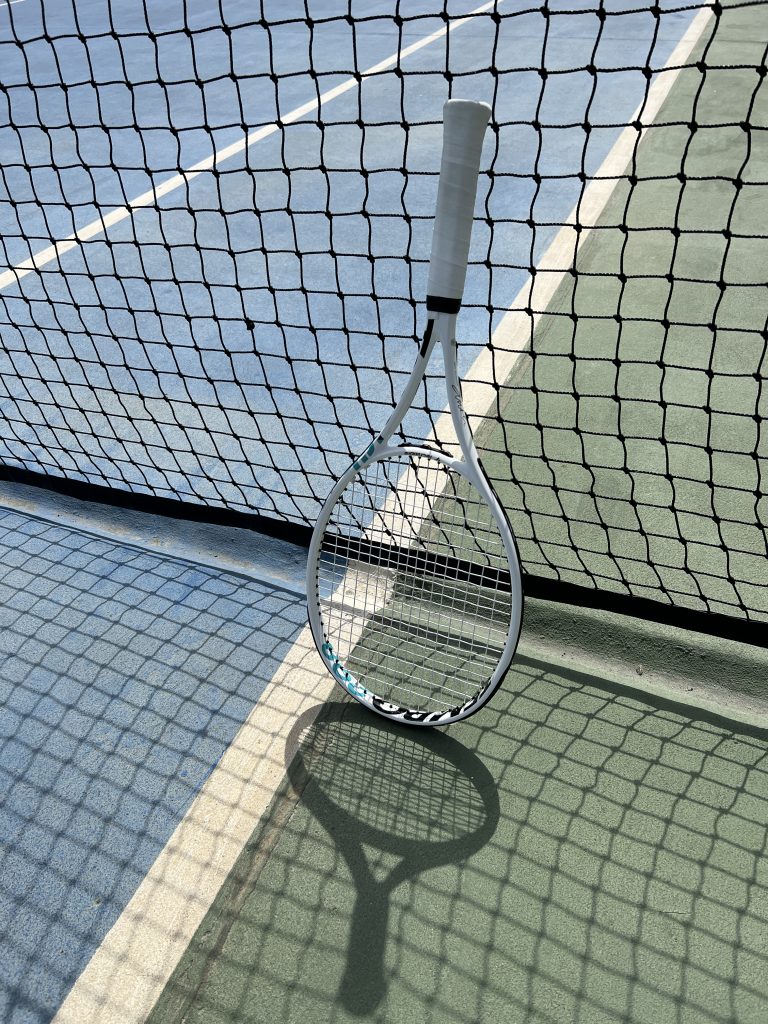 Head Size: 98 in / 632.26 cm
Length: 27in / 68.58cm
Strung Weight:11oz / 312g
Balance: 12.99in / 32.99cm / 4 pts HL
Swingweight: 319
Stiffness: 71
Beam Width: 23mm / 23mm / 23mm
Composition: Dynacore/Graphite
Power Level: Low-Medium
Stroke Style: Medium-Full
Swing Speed: Medium-Fast
Racquet Colors:White/Teal
Grip Type: Tecnifibre Synthetic
String Pattern:
16 Mains / 19 Crosses
Mains skip: 7T,9T,7H,9H
Two Pieces
No Shared Holes
String Tension: 50-55 pounds
How does it play?
Tecnifibre's quality control must have improved because my recent Tecnifibre racquets have all been close to listed specs. The Tempo 298 Iga I received for test specs out the same as the previous version. I tried it with Tecnifibre Razor Code White 1.25 (which is the string that Daniil Medvedev uses) at 51 lbs and can confirm that there are no differences between these models. Like I wrote above, just a name update and a face lift.
It's a racquet with surprisingly good feel for the stiffness, easy to swing and use, and not harsh like the stiffness rating might suggest. The differences between this racquet and the Tfight RS 300 (click for my review) are small, but this one feels a bit faster and more powerful (stiffer), while the RS 300 is perhaps a better choice for players concerned with stiffness and a history of arm issues.
If you like to swing big, with top spin and attack like Iga, the Tempo 298 is a great choice. It's a fun racquet to use and competes well with racquets like the Babolat Aero VS, Dunlop SX 300 Tour, Yonex Vcore 98. More control-oriented yet spin-friendly racquets.
What do you think of the Tecnifibre Tempo 298 Iga?
Video review of the Iga 298