A racquet without weaknesses? Here is my Tecnifibre Tfight RS 300 Review. A good choice for players looking for power/spin/control.
I was recommended to test this racquet by one of my patrons, Bruno. He said it offered a surprisingly good blend between power/spin/control in a whippy racquet. He was not wrong. Thanks to the Tennis Warehouse Europe demo program, I got some quality time with this impressive stick for my Tecnifibre Tfight RS 300 review.
The specs of the RS 300 are very similar to the Signature IGA racquet and they also play very similarly. Maybe the RS section is somewhat different, but they both seem identical when you put them next to each other. Foam-filled, whippy, good power. The power level of the RS 300 is perhaps slightly lower as you can see from the stiffness ratings. The IGA is in the 70s, while the RS remains in mid-60s, but the stiffness rating doesn't tell the whole story of a racquet.
Specs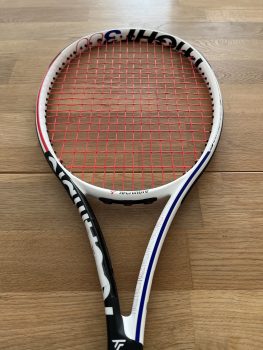 Head Size:
98 in² / 632 cm²
Length:
27in / 68,5cm
Strung Weight:
318g / 11,2oz
Unstrung Weight:
300g /10,6oz
Balance:
32,99cm / 4 pts HL
Unstrung Balance:
32cm/7 pts HL
Swingweight:
319
Stiffness:
66
Beam Width:
23mm / 23mm / 22,5mm
Composition:
Dynacore HD/Graphite
Racket Colours:
White, Black, Red, Blue
Grip Type:
Tecnifibre Xtra Feel Blazon
String Pattern:
16 Mains / 19 Crosses
Mains skip: 7T,9T,7H,9H
Tension:
22-24kg / 49-55lb
These are quite standard for advanced player frames today. 98 sq inches, 300-305g unstrung, 16×19, and a 22-23 mm beam profile. The Tfight RS 305 had a far beefier swing weight though, where this one travels through the air faster and allows for some quality control inconsistency.
Tech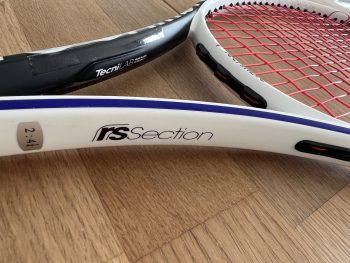 RS Section = 5-sided R-shape in the throat. Idea: To make the racquet more stable through impact.
Foam injections = Helps make the racquet more solid and dampened. Also a common tech from some other brands like Angell or Diadem.
Xtreme Touch construction = Increase stability
Dynacore HD = A softer layup
How does it play?
This racquet is fast. Easy to swing, offers a good blend of power and control and enough spin potential for most players. It's one of those racquets that I have a hard time faulting. It's simply versatile and seems to lack weaknesses. Does that mean it's the "best racquet of all time"? No. It doesn't shine anywhere either but considering there is no glaring problem with it, I'm sure it should find its share of fans.
Personally, I always struggle a little bit to get used to the very rectangular Tecnifibre grip shape. But that's no fault of the racquet. I just sometimes wish other manufacturers besides HEAD would try the pallet system, so you could get the shape you want without going to a customizer. But that's not really relevant to the Tfight RS 300 review.
Like I said above, no real weaknesses. Nice pop on serve, can carve the slice, solid power from the back of the court but not too much. Enough feel to hit touch volleys and good stability when you deflect shots at the net.
It doesn't do any of these things magically well, but it's a strong allrounder that should be on the demo list for plenty of players looking for an easy-to-use 98 sq inch racquet.
I didn't notice any issues with comfort either. The foam-filling is dampening out any noticeable vibrations. The feel from the string bed is crisp, but not harsh. If you're looking for a plusher-feeling Tecnifibre racquet, I would check out the TF40 instead, which has a slightly softer feel.
Summary
Overall this frame is easy to like. I don't feel as connected to the string bed as I do with the racquet I currently use, but it's definitely easier to play tennis with and something I think many players will enjoy.
Tecnifibre has vastly improved their player products over the last couple of years. They are creating some interesting racquets and with players like Medvedev and Swiatek endorsing them, I'm sure there is more success to come for the French company.
Check it out at Tennis Warehouse.